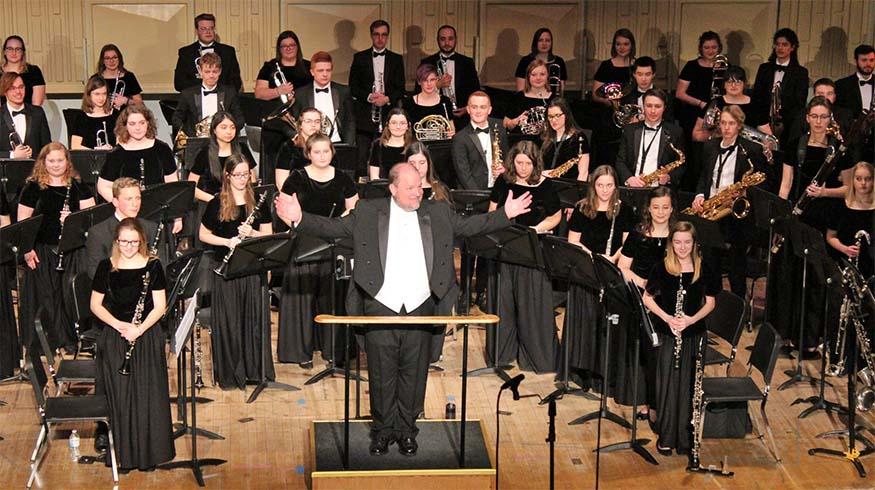 News
Symphonic Band to celebrate with 'Opening Day' Oct. 9
The Augustana Symphonic Band will celebrate its first official live performance in nearly 18 months in a concert Oct. 9 entitled "Opening Day."
The band, directed by Dr. James Lambrecht, will play four pieces, two of which highlight the many new pieces that the band  has been commissioning in the last two years during the pandemic.
The free concert begins at 7 p.m. in Centennial Hall and will last about an hour with no intermission. The public is invited. Guests must wear masks inside Centennial Hall and observe social distance seating by groups.
The two new pieces are:
"Passionately Curious" by Giovanni Santos, director of wind and percussion studies at La Sierra University, Riverside, Calif.
The title of the work is attributed to Albert Einstein, who said, "I have no special talent. I am only passionately curious."
The piece is dedicated to Santos'  teacher and mentor, Professor H. Robert Reynolds, former director of bands at the University of Michigan, and currently director of bands at the University of Southern California.
"For Those Who Wait" by Gregory Youtz, professor of composition at Pacific Lutheran University, Tacoma, Wash. It is "a meditation on the lives and thoughts of those who await the return of loved ones who are in harm's way, or await their recovery from wounds physical or psychological.
This piece is based on the Lutheran chorale best known in English as "O Sacred Head Now Wounded."
The two other pieces are works from the standard band literature. The first is "Passacaglia Homage on B-A-C-H" written by the Illinois-born composer Ron Nelson. Like the Youtz piece before it, the Passacaglia is influenced by Bach, in this case, his famous C minor Passacaglia.
In this piece, Nelson writes his own C minor passacaglia, which is repeated 25  times in variation. This work has become on of the most important examples of modern contrapuntal writing.
The concert concludes with Satoshi Yagisawa's "The Inventions of Thomas Alva Edison, The Wizard of Menlo Park." The work is a whimsical look at the creative process of Edison, both his successes and failures, but ultimately ending in triumph.