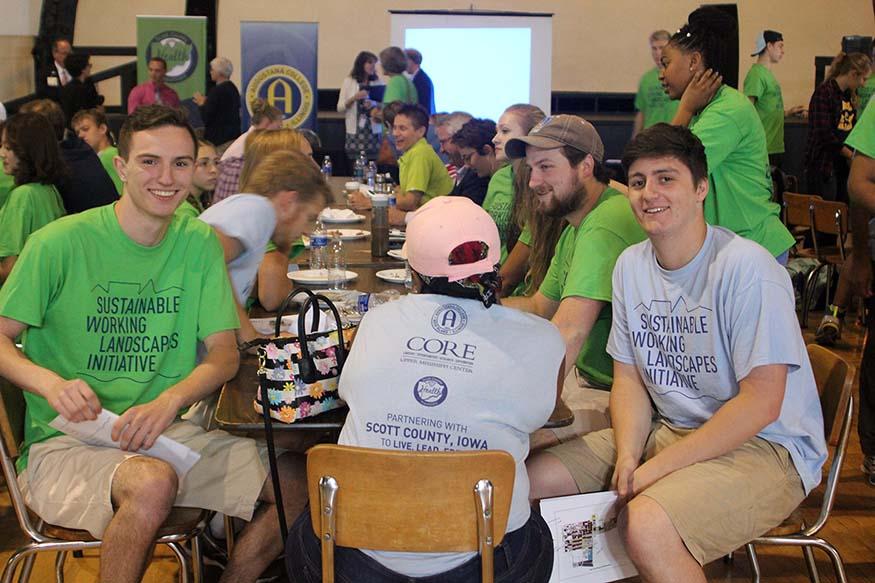 News
SWLI kicks off second year of lead project
Representatives from Augustana College, Scott County and Genesis Health System gathered Thursday to congratulate more than 100 Augustana students on their work to address lead contamination in Scott County, and kick off the second year of the project.
There is a critical need for their action. Genesis President and CEO Doug Cropper stated today that 1,600 Scott County children have been poisoned by lead paint since 2000.
"Assisting the county with solving a complex issue such as lead poisoning gives our students the chance to apply the theories, best practices and lectures from the classroom to a real problem impacting our community," said Dr. Michael Reisner, director of the Upper Mississippi Center.
"Our students are gaining invaluable experience and making a difference in the lives of others. We're proud to partner with Scott County and Genesis, and use our collective resources to help children in our area."
After the presentation at the Col Ballroom in Davenport, the students dispersed into teams to canvass neighborhoods in Davenport and Bettendorf. The project is being approached in phases, including identifying high-risk homes first, and determining what other structural issues in the home may need to be addressed before, or in conjunction with, removing lead paint.
The end goal is to create a cost-effective solution that the county can implement to drastically reduce, if not entirely eliminate, the number of children identified with lead paint poisoning.
Experienced Augustana faculty members lead teams of students, from first-year students to seniors, across a variety of disciplines including accounting, sociology, public health, and multimedia journalism and mass communication.
"These types of programs are essential in providing students with the opportunity to engage with real-world problems, gaining skills and expertise that is only attainable through hands-on work," said Augustana President Steve Bahls in an earlier statement.
"We're also proud to work with Scott County to promote the safety and well-being of our fellow Quad-Cities residents, and foster community involvement for our students that we hope will continue after this project is completed and beyond graduation."
This project epitomizes the work and the goals of the Upper Mississippi Center's Sustainable Working Landscaping Initiative (SWLI). Through SWLI the college partners with cities and/or counties to advance high priority projects that have the potential to build stronger local and regional economies, more vibrant and livable communities, healthier and happier individuals, and a healthier environment.
During the 2015-2016 academic year, the Upper Mississippi Center conducted its first SWLI project in Clinton, Iowa.