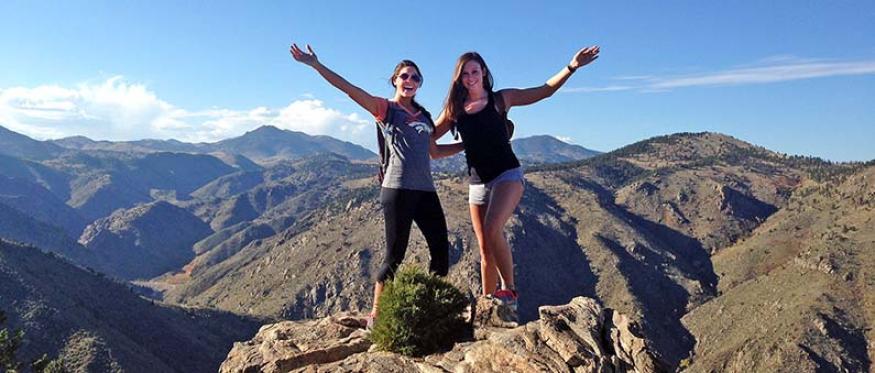 News
Students combine research and recreation in Denver
The Quad Cities is a rich location for internships and research. But some students want the added experience of practicing in their field while living in another part of the world. The Augustana in Denver internship program gives them that.
Since 2010, Augustana has partnered with Wartburg College's Wartburg West program to send students for three-month fall internships in Denver. Interest fields have ranged from biology to business, computers and IT, history, environmental science, fitness management, journalism, media, music, political science, religion and more. The 2014 interns had backgrounds in biology and neuroscience, creative writing and theatre.
"The internships are specially conformed to students' learning goals," said Karen Petersen, who directs Augustana's participation through CORE (Careers, Opportunities, Research, and Exploration). "Denver is a young, friendly, safe and growing city — a fabulous place for students to grow, academically and personally."
The college's connection with Denver has strengthened over the years. The city is home to many alumni, providing current students a strong career and internship network, and occasional invitations to potluck dinners. Augustana has a full slate of interns heading there in fall of 2015.
Research for a future free of Parkinson's
Two of the 2014 interns, senior biology and neuroscience majors Marcela Fitzpatrick and Megan Petersohn, researched Parkinson's disease at the University of Colorado Denver Anschutz Medical Campus. They worked in the laboratory supervised by Dr. Curt Freed, a premier expert on Parkinson's who in 1988 performed with his colleague the first transplant of human fetal dopamine cells into a Parkinson patient in the United States.
The Freed laboratory is staffed by graduate students, post-doctoral fellows and faculty — and these two undergraduates last fall, who integrated very well. Fitzpatrick and Petersohn helped the others in their search for a Parkinson's cure, and also worked together on a project to "isolate a stronger dopaminergic phenotype from an immortalized heterogeneous cell line, called N27 cells," as described by Petersohn.
"Each day was different," she said. "I calculated and pipetted specific concentrations, read numerous scholarly articles, learned about protocols and performed experiments that were new to me."
When they weren't in the lab, they took advantage of city life or Rocky Mountain adventures, including whitewater rafting and river tubing just 30 minutes outside Denver.
''It's great that Colorado is so diverse," Fitzpatrick said. " I could enjoy a night on the town and go hiking in the mountains, all in the same day."
Petersohn said she made it a "personal requirement to get out of the city at least once a week... even to Rocky Mountain National Park to hike, see the bright yellow aspen trees, and to hear and see first-hand elk bugling."
Back in the lab, every week Petersohn and Fitzpatrick presented their accomplishments to the rest of the Freed team. Near the end of their internship, they gave a presentation alongside the Ph.D.-level scientists at the UC medical department's research symposium.
"Everyone thoroughly enjoyed Megan and Marcela's participation in our lab," Dr. Freed said of their time at Anschutz. "Their enthusiasm for research and their skill at learning tissue culture and other methods was gratifying to us, as well as to them."
Impressed with the work ethic and level of experience they brought to the lab, Dr. Freed now wants more Augustana interns. He has written Fitzpatrick and Petersohn letters of recommendation for their future employment or graduate schools, and he and his team are continuing the work they began in his lab.
"Something that can make a difference"
As for the Freed lab interns, they both see futures in scientific research. "Thanks to this internship, I have found a passion for research and I hope to continue with it for the rest of my life," Petersohn said. "I like the idea of doing something that can make a difference."
Fitzpatrick said she is interested in neurodegenerative disorders and behavioral neuroscience on the cellular level. "I don't want to say I'm interested in pursuing Parkinson's because that's what I studied," she said. "However, the work being done is interesting, and there's so much to learn, still, that I think I could follow it.

"I think I've had a relatively firm understanding about my vocational goals, and being in Denver has only reaffirmed my interests. I understand the dedication it takes to be successful in this field."
The Augustana in Denver internship program accepts applications by early January for 9-credit internships, plus a seminar, running August through October the same year.
Hooked on research
Fitzpatrick and Petersohn's skill in the laboratory grew through their work in Augustana's psychology and neuroscience departments, especially in assisting Dr. Shara Stough with her research of post-traumatic stress disorder. In this video, Dr. Stough says the main goal of her research is to involve undergraduates in scientific research.