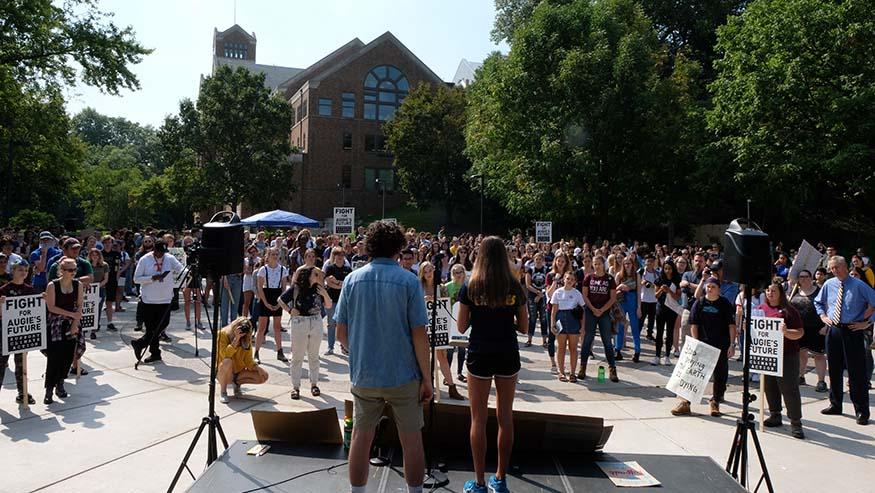 News
Solar project spurred by students begins this summer
On the eve of the 50th anniversary of Earth Day, Augustana College President Steven Bahls announced plans to place solar panels on four campus buildings.
Once fully installed, solar power will provide about 8% of the college's annual electric energy.
Solar units will be added to the rooftops of four buildings:
Centennial Hall
Roy J. Carver Center for Physical Education
Westerlin Residence Center 
PepsiCo Recreation Center 
Bahls credits a campus task force of students, faculty and staff for a renewed focus on alternative energy sources and efforts to combat greenhouse gas emissions and global warming. 
"Augustana students are thinkers and doers. And where possible, we want to support our students in realizing their ideas for the college," he said. "Augie students want to reduce dependence on fossil fuels, and that makes sense for the world."
The solar agreement will be a partnership between Augustana College and Keystone Power Holdings, a renewable energy company based in Paoli, Pa. The agreement will be a 25-year lease in which Augustana buys electricity at a fixed price while Keystone retains ownership and maintenance responsibilities.  
Augustana is working closely with Keystone. Plans call for installation of the solar panels to begin this year. The entire project is expected to be done in 2021 at the same time energy generation will start.
"I want to express how proud I am of all of the Augustana community, faculty, and students that were involved in last fall's climate strike event," said Hunter Ridley '20, a member of the task force. "Our hard work and dedication is paying off!
"I'm thankful for the creation of the Environmental Task Force and its ability to give the mission of the climate strike a tangible future at Augustana. This solar project is a great start to Augustana's investment in a sustainable future."
The work of Augustana's Climate Change Task Force also prompted:
• An upgrade to all campus lighting to LED, with anticipated savings of $120,000 annually
• The addition of pocket pollinator gardens on campus
• Renewed focus on composting
• Development of a new green initiative fund
• Continued focus on environmental studies as a growing major and minor 
• Further integration of the Upper Mississippi Center into the Quad-Cities community
"I'm really excited about this project and all that is to come," Bahls said. "It's as important now as ever that we strive to be stewards of the Earth."
Climate Change Task Force commitment statement: 
"It is the moral responsibility of Augustana College to take an active and effective role in reducing its environmental impact on the planet, and foster a community that values environmental sustainability. Consistent with our moral obligation, we will build an equitable culture of conservation that integrates principles of ecological stewardship into our curriculum, operations, and physical plant."