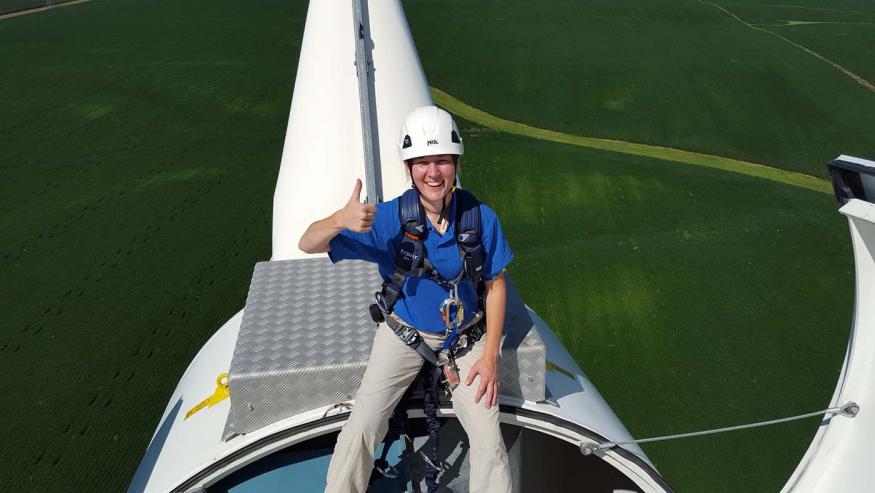 News
Schorg '06 helping solve a problem: wind energy and bats
Students hear a lot about the value of learning to solve problems and conduct research. Here's a real example of what that can mean.
Amber Andress Schorg '06 is working on this problem:
1. Iowa and Illinois are second and fifth in the nation for installed wind energy capacity, and,
2. Wind turbines in both states are killing large numbers of bats; some are threatened or endangered.
Wind is a non-polluting renewable resource. Bats are a vital part of the ecosystem. Schorg, a biologist with the U.S. Fish and Wildlife Service in its Illinois/Iowa Field Office, is helping to figure out how we can have both.
This means finding ways to reduce bat fatalities around existing wind turbines and putting new turbines where bats don't live in significant numbers.
In the Midwest, nine species of bat are affected, including federally protected northern long-eared bats and Indiana bats. Bats are killed primarily during the migration from their summer to winter homes.
"The mission of the Fish and Wildlife Service is to conserve wildlife and the ecosystems they need," Schorg said.  And, she added, "We get that done by being practical and forming partnerships in the wind energy industry."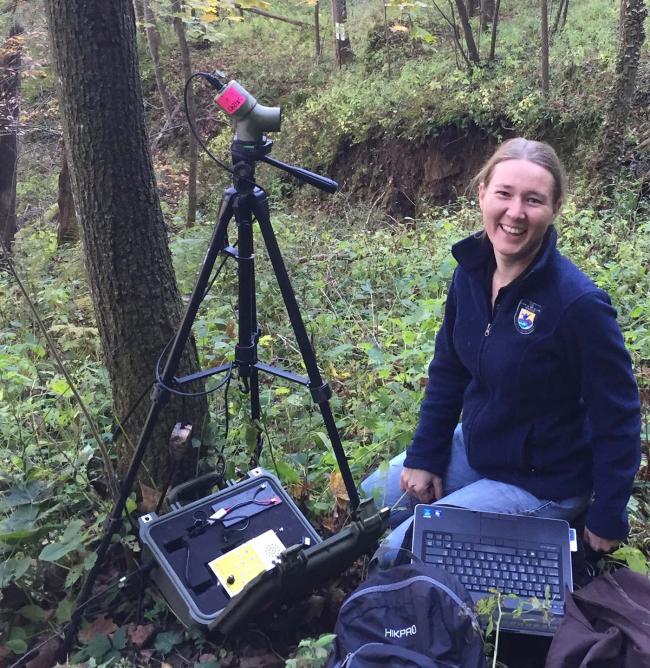 Getting the data
First hurdle in reducing wind-bat fatalities: a lack of facts.
"Until recently, we didn't know very much about how bats interacted with turbines in our two states," Schorg said. "Because bats can be killed in large numbers, we needed to figure out where, when, and why." 
With the number of wind projects in Illinios and Iowa, those are big questions and they are "landscape-sized questions," she said.
To solve the puzzle for federally protected species, Schorg needs three pieces of information: where they live in the summer, where they go in the winter, and how they get back and forth. That's where the partnerships come in. 
In Iowa, Schorg is working with MidAmerican Energy, the Iowa Department of Natural Resources, Iowa State University, IA/MN Conservation Corps, and several consulting firms to map out how bats operate in Iowa.
These partners helped gather data last summer about bat numbers and locations, using acoustic detectors, and radio-tagging, then tracking bats.
Right now, they are trying to find out where bats spend the winter in Iowa. To do this, they are collecting acoustic data around promising rock faces and using dogs trained to sniff out bats.
Earlier in the fall, researchers also captured and tagged bats around "maternity areas" to learn when they left their roosts and in what direction they went.
When the projects come together, Schorg hopes wind energy companies will use all this data to put their turbines where the bats aren't. This already is starting to happen, she said. Companies are contacting FWS early in their projects for site information.
Classroom to career
As an undergraduate, Schorg didn't foresee becoming an expert on bats and wind energy. "I was more of a plant person," she laughed.
At Augustana, she majored in biology and minored in geology and environmental studies, later earning a master's degree in biology from Western Illinois University.
She draws direct connections from things she learned at Augustana to her career:
Core classes: "The basics of conservation and ecosystems that I learned here have been a solid foundation for my career."
Logic: "I use critical reasoning and the scientific method each and every day."
English and writing: "I have to be able to write and speak well.  It is not enough to understand something, I have to be able to communicate it." For example, she has presented her wind-wildlife work to the Secretary of the Interior and recently wrote a briefing statement for the Federal Register that went all the way to Washington, D.C.
Schorg encourages students to be multi-disciplinary through internships and experiences, and then apply what they learn.
"Be able to dissect a problem, get information about its parts, and put that information back together in the form of a logical solution," she said.  "If not enough information exists, don't be afraid to be creative and go get it yourself!"