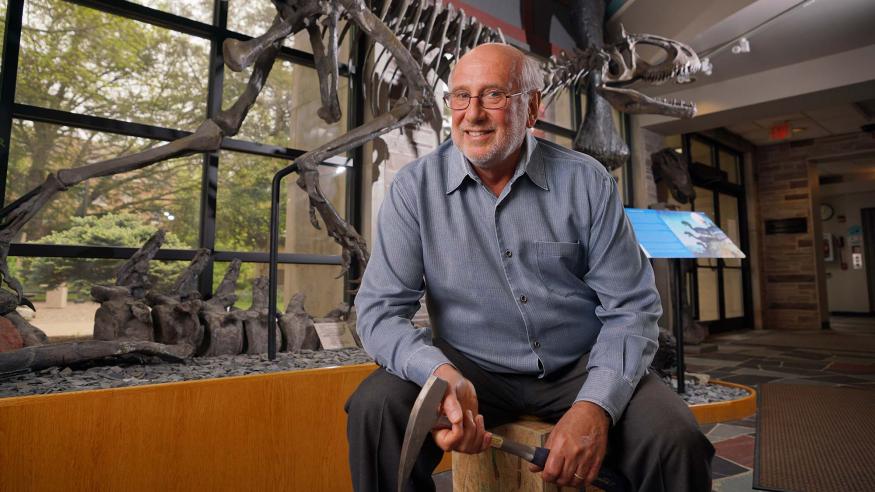 News
Retiring dinosaur hunter will miss students
Dr. William Hammer, who discovered a new dinosaur and got a mountain named after Augustana, is retiring in May.
The Fritiof Fryxell Chair of Geology and director of the Fryxell Geology Museum, William "Bill" Hammer has been at Augustana since 1981. He's made eight research trips to Antarctica in his career.
Although he doesn't plan to go back into the field, he's got another big project underway. For the next year, he'll serve as a consultant on a $2.6 million Chicago Field Museum traveling exhibit on Antarctic fossils featuring dinosaurs.
He's also looking forward to "kicking back a little bit" with his wife Karla, a retired nurse, and spending time with his two grandsons.
Always in nature
From an early age, Hammer enjoyed being outdoors. "I was always in nature, and then my career ended up being working outside in kind of extreme places," he said.
"I was more of a biologist than a geologist. Don't tell anyone," he said. "I got my master's in biology in the '70s, and I was taking classes in animal behavior. When you're studying vertebrates, that's more biology-oriented because you need to know bones and body part functions. I really liked it."
In 1975, Hammer's advisor got funded for a grant, and Hammer took the opportunity as a grad student to go to Antarctica. "I was into skiing and sailing, so I was excited to go," he said. "It was pretty grueling. We rode snowmobiles and hand carried everything out in backpacks. The last trip I went on, we had two helicopters and an airplane!"
Cryolophosaurus ellioti
"He brought to his faculty position an already-established vertebrate paleontology research program in Antarctica, and he has continued that program during his entire career," said colleague Dr. Jeffrey Strasser, professor and chair of geology.
Hammer's most notable find was the bones of a previously unknown Jurassic therapod, Cryolophosaurus ellioti in 1991. The cast of that dinosaur stands in the foyer of Swenson Hall of Geosciences.
His field research has been funded in part by more than a dozen grants from the National Science Foundation.
"His success in federal funding would be nearly unheard-of at a major research-focused university, let alone a small liberal arts campus," said Dr. Nathan Smith '02, associate curator of the Dinosaur Institute at the Natural History Museum of Los Angeles County, and adjunct associate professor in the Department of Earth Sciences at the University of Southern California. 
Dr. Smith will take over the Antarctica research project for Dr. Hammer. (See related story)
"I'm definitely striving to carry on the tradition of research that Bill has built, and continue to develop paleontology projects in Antarctica … which will help carry on Bill's legacy," he said.
When Hammer spoke at a press conference about discovering C. ellioti in 1991, he talked about its big, bony crest that swoops up as a display feature. He compared the crest to Elvis' hair.
"So then what do I see on the front page of 'USA Today' the next day? 'Kingosaurus Rex Found in Antarctica.' I've been trying to live that down for the last 20 years!" Dr. Hammer said. The concept even ended up in the PBS children's show, 'Dinosaur Train,' with Cryolophosaurus as an Elvis-like character who sings about his crest.
Love for students
"Bill will long be remembered by his former students for his enthusiasm for dinosaurs, his sense of humor, and his entertaining stories of his research expeditions!" said Dr. Strasser.
Alumna Allison Bormet, Ph.D. candidate at Indiana University, agrees. "Hammer was a wonderful undergraduate mentor who first introduced me to the paleontological community … Most memorably, his humor helped liven the classroom atmosphere, and I cherish the hilarious memories made," she said.
The most enjoyable aspect for Dr. Hammer about his time at Augustana was his field program in the Badlands. "It was a great experience for all of us and my favorite thing to teach," he said.
Bormet agreed. "Through his 30-plus years of teaching, field trips, and storytelling while at Augie, he has generated a tight-knit community of alumni who can all look back fondly on memories of Nebraskan summer nights around a campfire with plenty of singing, dancing, food and great company."
"I think his greatest legacy will be the students he's taught, mentored, and inspired," Dr. Smith said. "In his nearly 30 years of running a summer paleontology field program, there are also countless students in all walks of life and careers who gained a fundamentally transformative experience about the natural world because of Bill."
"I know I'll be remembered for the dinosaur discovery because that's out there," Dr. Hammer said. "But for me, the most important is the students, Nate and others doing work. I will miss them."
Hammer's honors
• Discovered Cryolophosaurus ellioti, the first carnivorous dinosaur unearthed in Antarctica, in 1991.
• Advanced scientific understanding of tectonic shift and evolutionary biology, particularly of large-scale carnivorous theropods.
• Due largely to Dr. Hammer's work, a mountain in Antarctica was named Mount Augustana in 2008.
• In 2009, gave the inaugural lecture for the Center for Polar Studies at Augustana, "From Giant Amphibians to Dinosaurs: Antarctica during the Age of Reptiles."
• In 2011, found a new type of dinosaur during an expedition to the Central Trans-Antarctic Mountains. The newly discovered species was a four or five-foot ornithischian or bird-hipped dinosaur.
• Received the Order of Lincoln in 2013. It is the highest honor awarded to an individual by the state of Illinois.