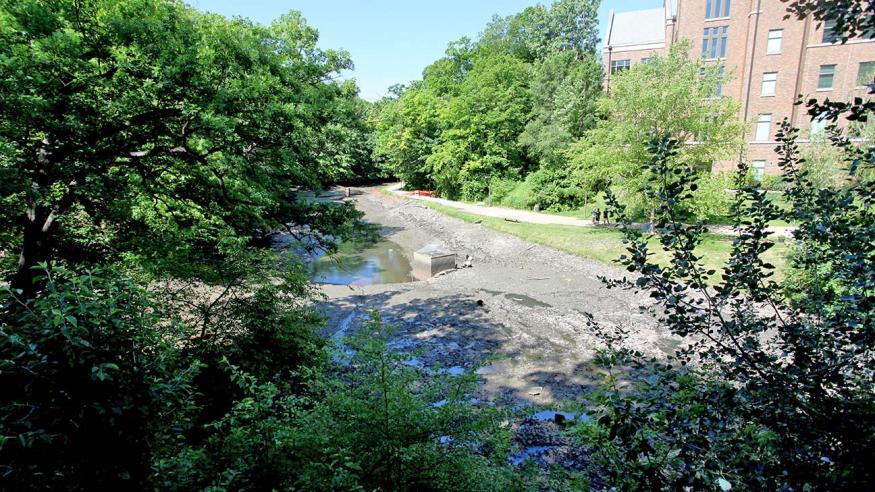 News
Repairs to Slough begin; college plans improvements
City workers arrived this morning to begin repairs to the Slough on campus, which was drained after a pipe under it collapsed about 8:30 a.m. Saturday.
The pipe's failure resulted in water from the Slough being released on campus, causing damage in Bergendoff Hall, Centennial Hall, the Carver Center, Knowlton Outdoor Athletic Complex and the surrounding parking lots. College employees arrived on site quickly to assess and clean up flooding.
College representatives met with Rock Island officials Monday to begin discussions on thedrainage pipe repairs.
Operations today are normal on most of the campus. Areas that remain impacted are the Slough Path and parking lots near Carver.
Augustana President Steve Bahls said he hopes the Slough can be restored in time for the start of classes in August.
Better than before
Kelly Noack, Augustana's director of alumni relations, emailed alumni today to let them know the bad news, but also to envision something better.
"This accident can be an opportunity to improve the Slough and the Swanie Slough Path," she wrote. "Improvements could include updated lighting, pavement, landscaping and erosion control... Let's find the good in something sad."
Alumni or friends of the college who wish to contribute to the Slough fund can do so on the Giving page.
Read more about the Slough:
Drain pipe failure sends water into Augustana buildings ("We were lucky,'' said Mike Zapolski, Augustana athletic director. "It could have been a lot worse.")
Turtles on the loose near Augustana College (Dozens of turtles could be roaming around Rock Island after water drained from their home pond at Augustana College.)
Augustana campus cleanup begins ("I didn't realize the slough was that deep, when I was a student here back in the 1960's we'd swim in the slough as a prank, or something like that," said Dennis Norling, associate professor of business administration.)