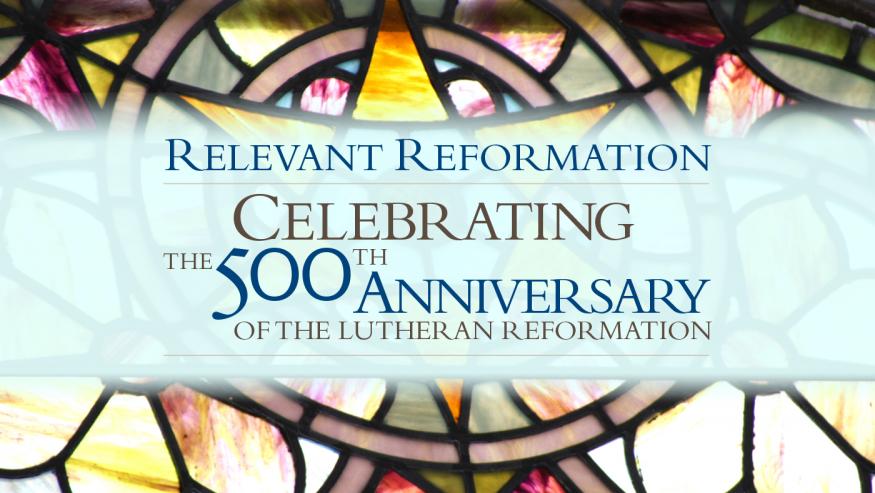 News
Relevant Reformation: Celebrating 500 years
On Oct. 31, 1517, Martin Luther nailed the 95 Theses to Castle Church door in Wittenberg, Germany. That day a momentous religious revolution began, and it has since transformed millions of peoples' understanding and relationship with God, religion and the church.
As a college related to the Evangelical Lutheran Church in America (ELCA), Augustana will celebrate the 500th Anniversary of Luther's theses by hosting a number of forward-looking opportunities for discussion and learning.
"For Augustana College, the anniversary of the Reformation provides an opportunity to reflect on how Augustana's roots in Lutheran higher education can continue to grow in relevance," said President of the College Steve Bahls.
According to President Bahls, what especially matters today is the generation of Augustana students and young alumni who are making an impact because of how they learn, what they learn and what they do in the world.
"I am constantly heartened to see how our current students and young alumni live out Augustana's mission and connection to the values of the Lutheran church," he said.
Read a Q&A with Dr. Mahn about the relevance of the Reformation to students and others today.
Dr. Jason Mahn, an associate professor of religion, is the director of Augustana's new Presidential Center for Faith and Learning. He sees connections between spirituality and service as some primary strengths of higher education based in Lutheran ideals.
"Lutheran institutions principally educate students so that they can discern the material and spiritual needs of other human and nonhuman creatures, and then respond with committed service and out of a sense of gratitude," Dr. Mahn said.
"Relevant Reformation" events at Augustana
Three-part discussion series on the The Freedom of a Christian by Martin Luther 
Wednesdays – October 11, 18, 25 at 11.30 a.m. in the Wilson Center
Discussions will be led by chaplains Kristen Glass Perez and Richard Priggie, and by Dr. Jason Mahn, director of the Presidential Center for Faith and Learning
Hymn Service with Holy Communion
Sunday, Oct. 15 at 10:30 a.m. in Ascension Chapel, Founders Hall
Featuring Hymns of the Swedish and Reformation Tradition led by the Augustana College Chamber Singers
A continental breakfast will be provided before the worship service, at. 9:30 a.m. on the first floor of Founders Hall, compliments of the Presidential Center for Faith and Learning. Those not able to attend will be able to enjoy part of the service via Facebook Live. This event coincides with Homecoming 2017.
Four-part book discussion on Radical Lutherans, Lutheran Radicals, ed. Jason Mahn (Cascade Books, Eugene, Oregon, 2017).
Mondays – Nov. 13, 20, 27 and Dec. 4, starting at 4:30 p.m. in the Wilson Center
Free food and drinks served
Each week the group will discuss a chapter of the book, so reading in advance is suggested. Discussions will be led by the book's author, Dr. Mahn. Books can be purchased on Amazon or in The Augustana College Bookstore. Reservations are requested for this book discussion, so reserve a spot by emailing conniehuntley@augustana.edu.
Lecture by Rev. Nadia Bolz-Weber, pastor from House for All Sinners and Saints in Denver
Thursday, Jan. 17, 2018 at 10 a.m. in Gävle inside the Gerber Center
This lecture will take place on Symposium Day, a once-per-term tradition that encourage students to learn outside their regular classrooms. Bolz-Weber will be one of the day's keynote speakers. She is the author of New York Times bestsellers Accidental Saints: Finding God in All the Wrong People and Pastrix: the Cranky, Beautiful Faith of a Sinner & Saint.