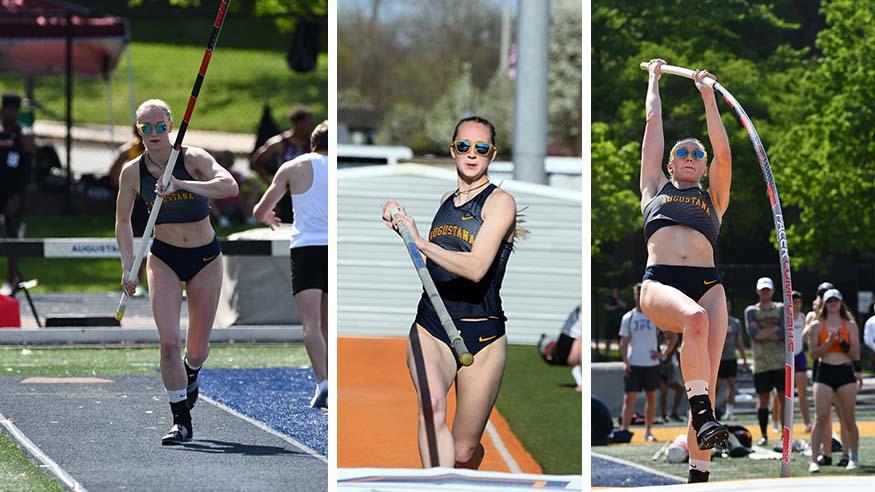 News
Pole vaulter Krebasch '22 now All-American
Pole vaulter Kat Krebasch '22 became Augustana's first All-American in the event on the women's side since 2007, earning third place at the NCAA DIII National Track and Field Championships on Thursday.
Krebasch's best vault at 3.90m was just behind Emma Rudolph of Westminster, Pa., and Gracie Holland of Whitewater, Wis., at 3.95m.
On top of her third-place finish, Krebasch ends her season with a ninth-place standing in the pole vault at the indoor national meet, a CCIW title in both the pole vault (indoor) and high jump (outdoor), and a school record in the pole vault.
For Krebasch, it's all about the adrenaline.
"In the track world, the people that pole vault are considered crazy because it definitely takes a certain type of person," said Krebasch, from Wood Dale, Ill. "But I love the rush of adrenaline and the feeling when you clear high bars. The free fall on the way down is exhilarating."
In the Vikings' final meet of the season, she jumped from No. 11 to No. 2 in the country with a school-record mark of 3.97m, which qualified her for nationals.
"In the track world, the people that pole vault are considered crazy because it definitely takes a certain type of person."
Although it wasn't her first time to qualify for the national stage, it was no less exciting. Placing high enough to be recognized as an All-American was the goal.
"Nationals is a big deal," she said. "Even though this isn't D1 or the Olympic trials, it's saying that I am in the top 20 vaulters in the nation … out of the whole country, hundreds of schools and thousands of people — the best of the best in my division."
For Krebasch, as has been the case for many collegiate athletes, COVID-19 curtailed the opportunities to compete. She has qualified for nationals for four out of her eight seasons (indoor and outdoor) during her Augustana career, but the 2021 indoor competition was canceled.
"I still take four qualifications as a win," said Krebasch, an accounting and business administration double major. "It's an honor to be able to represent Augie on the road as well!"
The former gymnast admits she was too scared to try pole vaulting until her junior year in high school. Her friends from the gymnastic team were trying it and encouraging her, but it was the school's pole vault coach who finally convinced her to take a shot.
"That's when I found out that I have the 'crazy gene' for it, and haven't stopped since," she said.
Mentally, Krebasch has been focusing on being easy on herself and credits assistant coach Chad Thomas as her main motivator. 
"He lives vicariously through his athletes and wants them to succeed as much as we do," she said. "It makes the hard days worth it and the rewarding days so much more rewarding. He has really helped me get out of my head, have fun and enjoy the ride."