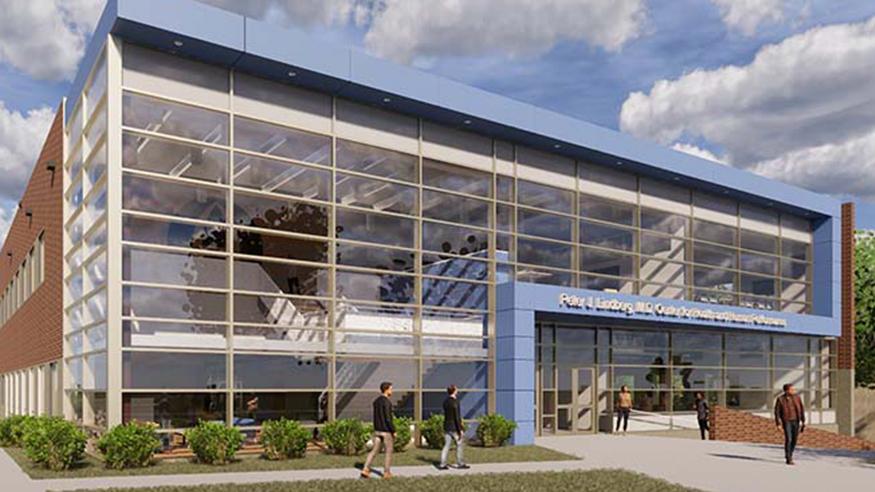 News
The Peter J. Lindberg, M.D., Center for Health and Human Performance
Augustana's new Peter J. Lindberg, M.D., Center for Health and Human Performance will stand at a prominent entrance to campus, between the college's academic center and its main athletic facilities. Similarly, the purpose and primary work of the $18 million, 52,000-square-foot building will intersect academic and athletic programming.  
Within the Lindberg Center, Augustana's excellent public health program and new major in kinesiology will have classrooms and laboratory/active learning spaces. Faculty in these programs will have new offices in the building, which also will house a director of student well-being and an executive director for the center. 
Athletic and physical activity programming will include an aquatic center with a state-of-the art pool to replace the Carver Center pool, and a swim performance lab. With these facilities, the college will add new teams in men's and women's water polo.
The Austin E. Knowlton Foundation made a lead gift of $8 million for this project, named for Peter J. Lindberg, M.D.

 
After graduating from Augustana College in 1961, Lindberg completed his doctorate of medicine at the University of Chicago Medical School. He devoted his life to the field of oncology. 
In the words of his daughter Katherine Lindberg, Peter J. Lindberg was a "skilled healer" with a "desire to save people." He also "truly wanted to make other people happy." 
The Augustana community is honored to have Lindberg's name on a building that will advance health and performance in athletics, and educate professionals who can address growing challenges in the fields of kinesiology and public health.