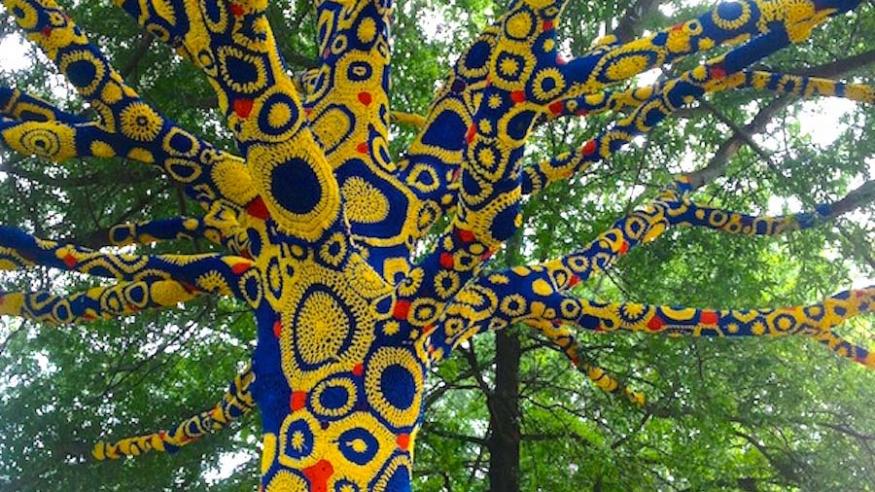 News
National Endowment for the Arts funds community art project at Augustana
This fall, Augustana will seek the help of Quad-City citizens to yarn bomb a site on campus.
The National Endowment for the Arts has awarded the Augustana Teaching Museum of Art a $15,000 Art Works grant to fund a community yarn bomb project on campus this fall. This is the first National Endowment for the Arts grant awarded to the college.
The grant will bring the artist Carol Hummel to Augustana to work with the Quad-Cities' community on a public art project. College students, seniors, high school students and others will work with Hummel to create smaller crocheted pieces, which Hummel will stitch together and install on a campus site for seven months.
Hummel says her work is meant to traverse "the socially constructed constraints of difference by exploring the ties that bind human beings to each other through culture, kinship, history, social interaction and friendship."
Carol Hummel has been active in her collaborative public art installations in Switzerland, Norway, India, Mexico, and at multiple venues across the United States, including Long Island, New York; Morgantown, West Virginia; and her hometown of Cleveland, Ohio.
The project on Augustana's campus, like much of the art by Hummel, will draw diverse sectors of communities together in a positive, celebratory way to create a major art work for the people, by the people.
"We're very excited to involve not only our campus community but the larger Quad-Cities community in this fun project," said Dr. Claire Kovacs, director of the Augustana Teaching Museum of Art. "Soon we'll be soliciting the community's help with the crocheting."
The active portion of the yarn bomb project is slated for the college's fall term, when several community partners, including Augustana and the Figge Art Museum, will host workshops. The finished work will remain on view for the entire academic year.
Individuals and groups wishing to participate in the project may email augieartmuseum@augustana.edu. More information about the project will be communicated later this year.