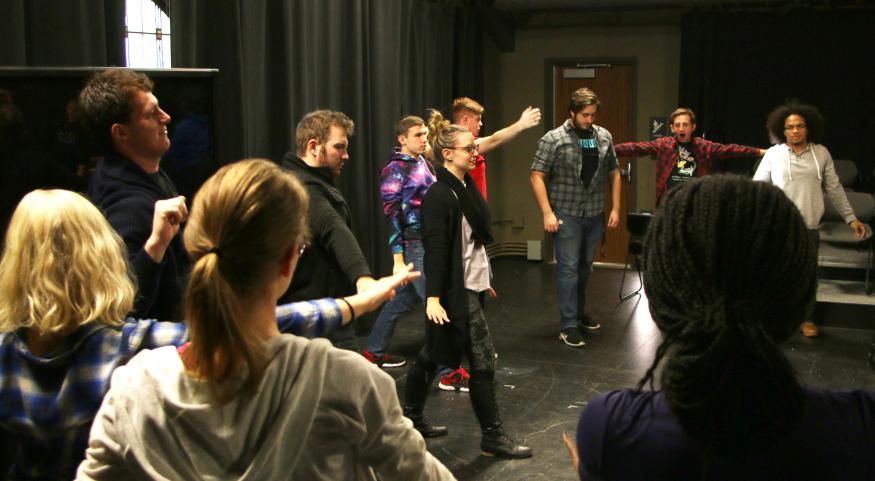 News
Musical theatre is right on cue
Augustana has a long history of staging first-rate musicals, with recent productions including Something's Afoot, Sweeney Todd, and this past spring's Titanic. In previous years, however, students weren't able to pursue a BA in theatre arts with a concentration in musical theatre.
Enter Shelley Cooper.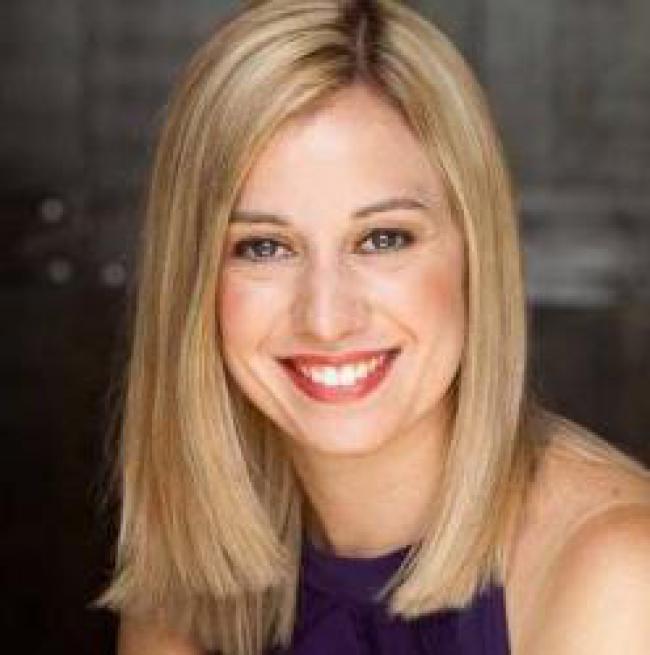 A recently hired assistant professor of theatre arts, Cooper holds a BA in theatre from Hanover College and an MFA in musical theatre from the University of Central Florida, and boasts all manner of national and international professional experience in teaching, directing, choreography and performance. Taken together, that made Cooper the perfect choice to help develop Augustana's new musical theatre program.
She was drawn to Augustana for its liberal arts approach, but the primary factor was that it involved building a program. "I liked the idea of having that input with the faculty—being able to start something from the ground up for the students, and the college."
As theatre arts majors, students take a series of core classes that include Acting I, Stagecraft, and Theatre History. Like all students they also complete a Senior Inquiry project. With a concentration in musical theatre, students also will take voice lessons, choir, and a voice and movement course.
And they'll take dance lessons, for which Cooper currently is planning a curriculum. "I'll teach it more as a kinesthetic course than lecture-style, and students will get to cover a myriad of dance styles in one crash course," she said. "So they'll learn about Bob Fosse, they'll learn tap, they'll learn 1920s, 1930s… ."
They'll also learn Disney-style dance. "That's a fantastic style that musical-theatre performers will certainly have to know. It's very precise in making sure you hit all of your marks, it's upbeat and high-energy, but it has so much attention to detail…. It may not be the most technically difficult dance, but it requires every single person to hit their marks at the exact time, because every mark has a meaning."
Beyond their coursework, Cooper added, "I hope that students take advantage of every practical performing experience, because getting onstage is so important as an undergrad. I always tell my students: 'I'm not going to say I didn't learn anything from my classes, but I learned more just by falling on my face onstage!'"
Enter with enthusiasm, exit with a stacked résumé
Current students have an opportunity this spring with Augustana's production of The Drowsy Chaperone, which Cooper is directing. A satiric celebration of roaring-20s entertainments that won five 2006 Tony Awards, the show was a suggestion of Cooper's that she said was met with instant approval.
"When I came for my interview and met the students, they were all these kinds of individual, quirky, funny people—and I thought this could really work for them. Plus, Augustana had done two [musical] tragedies in a row—Titanic and Sweeney— so I thought, 'Let's laugh a little and have some fun!'"
'I would say that what the musical-theatre concentration does is open doors to having skills in multiple areas—and that's what's kept me employed since I graduated.'
Cooper added that the renovated Brunner Theatre Center, which housed its debut productions last fall, is an ideal performance space not only for The Drowsy Chaperone, but for all students interested in theatre arts.
"Oh my gosh," she said, "when I first saw the Brunner, I went,'These students are so lucky!' The Brunner is like what you would see off-Broadway.
"I love that it's a thrust space … so many colleges that I've gone to have a proscenium, and the action is so far removed from the audience. But this space allows really close audience/actor interaction, which gives you all these interesting directing possibilities, and acting possibilities for the students, where you can feed off the energy of having the audience that close to you."
She can already sense an enthusiasm for Augustana's new musical-theatre concentration among her students.
"I taught an Intro to Theatre course last trimester, and students were asked to do presentations on musical theatre, and I ended up having to put a time limit on them—of 15 minutes—because they wanted to talk so excitedly about these shows. And these were mostly non-majors wanting to talk about musical theatre. That kind of made it clear that this concentration is coming at the right time.
"I would say that what the musical-theatre concentration does is open doors to having skills in multiple areas—and that's what's kept me employed since I graduated. It's not simply being an actor or a singer or a dancer. It's having skills as all three and then some. Because you learn about playwriting. You can try directing. You can work in the scene shop. You can design."
She also pointed out the value of the smaller size of the theatre arts department, which can offer students individualized attention to everything they undertake.
"So when you graduate, the special-skills section of your résumé is stacked," she noted. "And really, the special-skills section is what gets you the job."