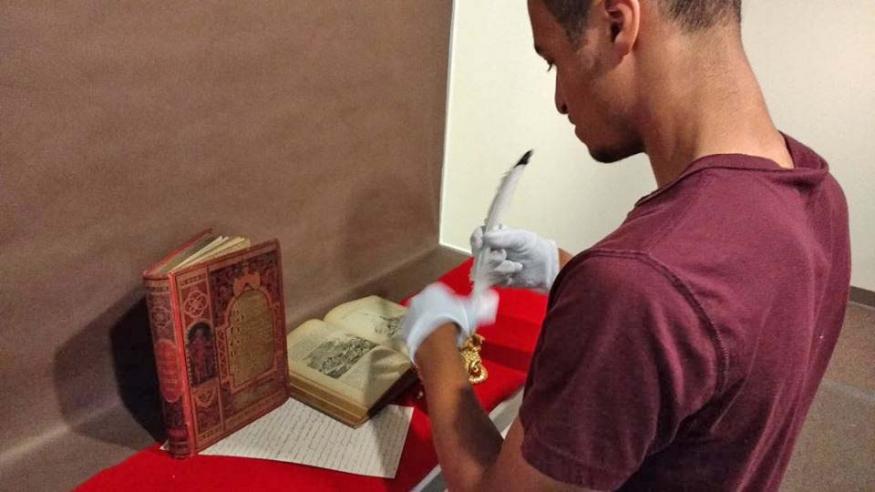 News
Museum internship 'most rewarding thing'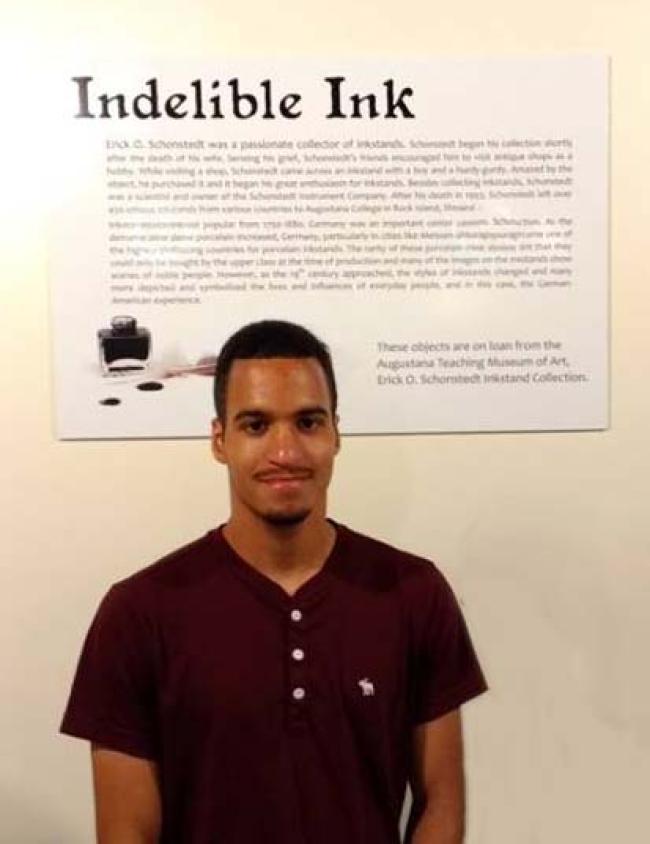 Visitors to the German American Heritage Center in Davenport can see the curatorial work of Augustana senior Rashaun DeBord.
He spent last summer helping to select inkstands from the Augustana Teaching Museum of Art to be included in the center's current exhibit, "Indelible Ink." It is on view through Jan. 8.
A history major, DeBord said he pursued the opportunity to work with the exhibit to explore his options as a history major. "I loved museums and was interested in learning how to expand my research skills and show it off to the public," he said. His advisor Dr. Brian Leech, helped to arrange the internship.
The college's Erick O. Schonstedt Inkstand Collection contains more than 400 inkstands, from various time periods and in many different styles: one dating back to 1766. So DeBord had a lot to look through.
"There are many connections to the courses I've taken at Augustana," he said. "Making an exhibition takes a lot of research skills and I was able to use this skill in a more hands-on way when dealing with inkstands.
"Finishing an exhibition was one of the most rewarding things I've ever done. It's not only inspired me to pursue another internship at the German American Heritage Center, but has also influenced me to possible attend grad school for museum studies."
He thinks people will be surprised at the beautiful and unique designs in the inkstand collection. "Inkstands have an intriguing way of telling a story about a certain culture," he said.
Visiting the center
The German American Heritage Center is at 712 West 2nd St., at the foot of the Centennial Bridge.
It is open Tuesday through Saturday from 10 a.m.- 4 p.m.; and Sunday from noon-4 p.m. The museum will be closed Dec. 24, Christmas Day, Dec. 26, Dec. 31 and New Years Day.
Admission is $5 for non-members.