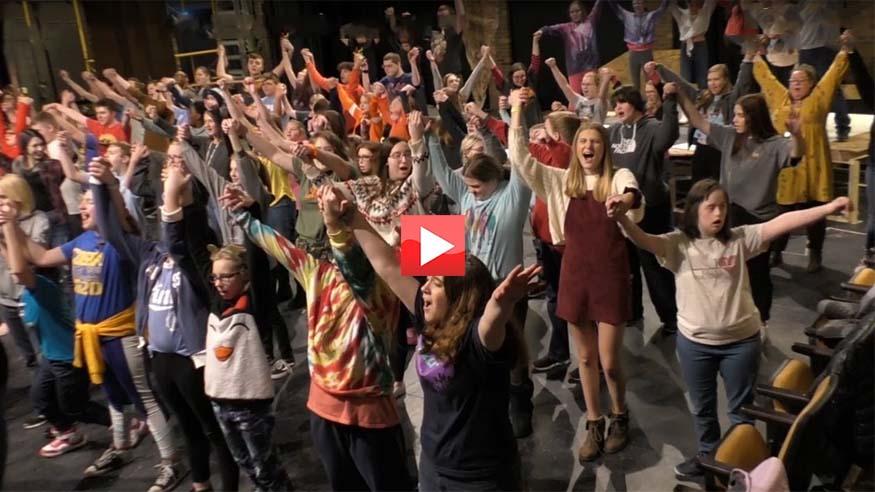 News
'Most truthful performance you'll ever see on stage'
When the young cast of "The Lion King Jr." takes the stage for a sold-out show, each actor is joined on stage by a special someone.
That someone is the performer's mentor or "shadow" — an Augustana student who has worked side-by-side with them through months of rehearsals.
This is Augustana's chapter of the national Penguin Project, which gives children with special needs a chance to develop creative skills in the theatre arts. Once a year, the children perform a modified version of a well-known Broadway musical. Previously the local group has done "Seussical," "Beauty and the Beast" and "Annie."
"The beauty of the Penguin Project is that it puts them in the spotlight. And so our students, as their shadows, learn how to engage with people who have physical challenges, who have intellectual and developmental challenges," said Jeff Coussens, Augustana professor of theatre arts.
"But it also transforms them because they can see it's the most truthful performance that you'll ever see on stage. These young artists give their all to it. They're full committed to it and we accept their performance on their terms."
"The Lion King Jr." shows are Jan. 24-Feb. 2. But, like all Penguin Project productions, these dates were sold out quickly.
However, a simulcast of the Jan. 25 and 26 shows will be available across the street from the theatre in Centennial Hall. Tickets for the simulcast are $5 at the door or online.