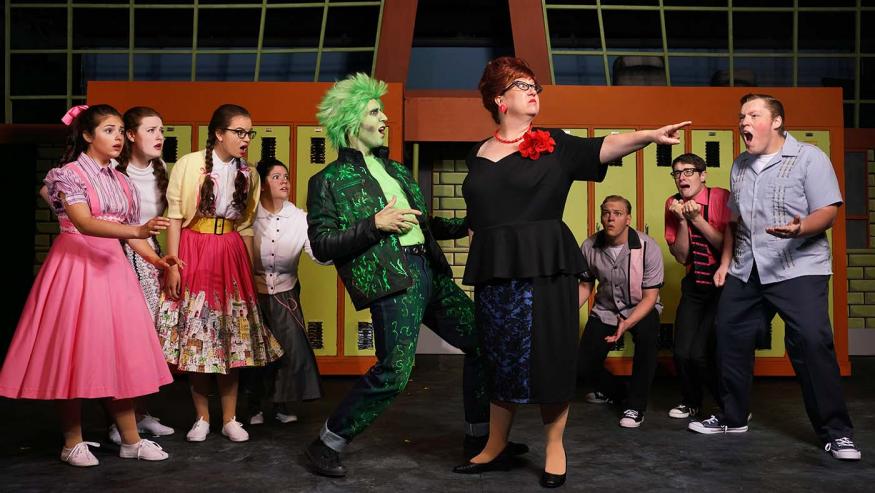 News
Mississippi Bend Players debut with 'Zombie Prom'
To launch the Mississippi Bend Players 2017 season, Broadway director Philip Wm. McKinley brings his rock-and-roll hit "Zombie Prom" to the Quad Cities.
"Zombie Prom" was McKinley's New York City off-Broadway directing debut in 1996, and it has garnered a cult following ever since.
This girl-loves-ghoul musical is set in the atomic 1950s at Enrico Fermi High, where the law is laid down by a zany, tyrannical principal Miss Strict, played by Shelley Walljasper.
Emily Gulden and Don Denton play high school sweethearts, Toffee and Jonny. When family pressures force Toffee to end the romance, Jonny charges off on his motorcycle to the nuclear waste dump and returns, glowing and determined, to reclaim Toffee's heart. He still wants to graduate, but most of all he wants to take Toffee to the prom.
Scandal reporter Eddie, played by Tom Walljasper, seizes on him as the freak du jour. History comes to his rescue while a tuneful selection of original songs in the style of 50s hits keeps the action rocking across the stage.
"With this production, the writers and I are being given the opportunity to revisit the material and discover new ideas," McKinley said. "The production will feature a new opening as well as new dialogue and lyrics. With the premiere of this new production of "Zombie Prom," MBP is taking its first steps to achieve our goal of producing new works every year."
The cast for "Zombie Prom" is sponsored by Leo Schubert and Susan Sharar.
Tickets
Performances of "Zombie Prom" are at 7:30 p.m. July 7, 8, 14 and 15, and at 4 pm. July 9 and 16. Tickets are $15 for adults, $12 for students, and $10 for groups of 10 or more. Buy tickets online through the Augustana Ticket Office or in person (Monday-Friday, 11 a.m.-1 p.m.), or call 309-794-7306.
On Fridays, July 7 and July 14, join "Frighteningly Fun-Filled Fridays!" Purchase a ticket for only $10 at the door when you dress in your best "Zombie Prom" attire.
Upcoming productions
The Players' season continues with "Wait Until Dark" in late July and Brighton Beach Memoirs in August. 
"Wait Until Dark" – 7:30 p.m. July 21, 22, 28 and 29, and at 4 p.m. July 23 and 30. In this thriller, a blind Greenwich Village housewife becomes the target of three con men searching for heroin hidden inside a doll.
"Brighton Beach Memoirs" – Aug. 4, 5, 11 and 12, and at 4 p.m.  Aug. 6, 13. Neil Simon's semi-autobiographical portrait shows an American family in post-depression, pre-war Brooklyn, through the eyes of a 15-year-old boy. 
Friday Fun Nights
 Mississippi Bend Players will host theme nights at every Friday performance; participants receive a discounted ticket price. Theme nights for the 2017 season include "Frighteningly Fun-Filled Fridays!," "Wait! It's Date Night!" and "Play Ball Fridays!" Friday Fun Nights tickets are available only at the door, and subject to availability.