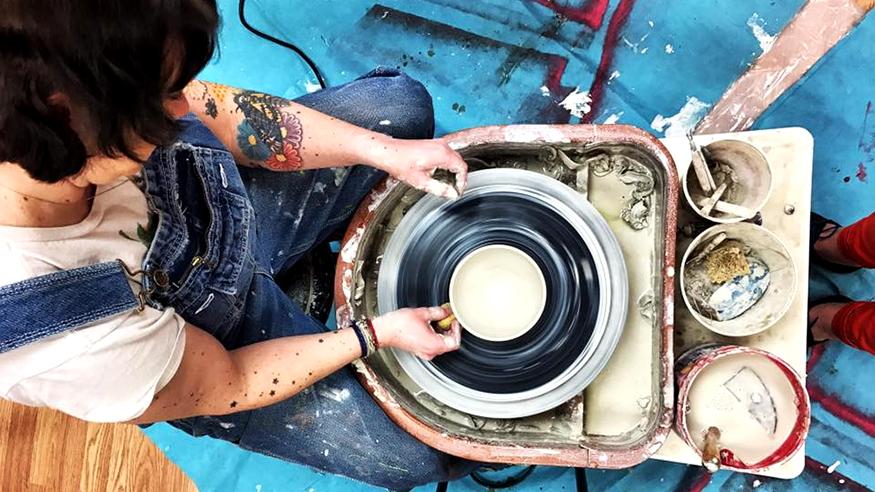 News
Making art, and making it in the arts, in the Quad Cities
Carolyn Krueger knew from the get-go that she would be an artist. What the Rock Island native didn't know was that she would stay in her hometown for college. But she did, choosing Augustana. And now the 2007 Augustana grad is very glad she did.
"Being local, I was looking at a lot of different schools and ended up staying in Rock Island and going to Augie," she said. "It's given me a lot of good connections in town. I am still really grateful to know and to still know my art professors there. They are all working artists in the area, too."
Her decision came down to Augustana's strength and versatility within the art world, compared with other schools.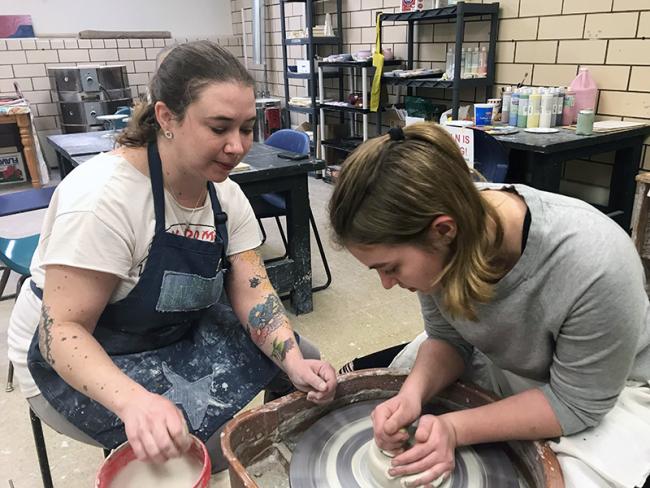 "They had a little bit of everything in their art department," Krueger said, "and I realized that a lot of other schools had a lot of one thing…. Maybe they had a really great photography department. But they didn't have a very good clay department or the fiber arts, or printmaking or painting, or any of that. 
"So I realized Augie had at least a little bit of everything. And I was given the flexibility by the professors there to take a little bit of everything. They were just awesome at giving me free reign of the studio space while I was there."
It's all worked out well for Krueger, who started, owns and runs the ARTery in the District of downtown Rock Island. Open Wednesdays through Saturdays, the ARTery is a commission-free gallery where artists rent and earn their spaces. It has about 35 artists and constantly changing exhibits, and celebrates its 10th anniversary this year. She partners with MidCoast Fine Arts' Gallery West in the endeavor.
"The gallery is very important to me because it is a great place for developing artists to show their work and become comfortable in a gallery setting, which can be intimidating," she said. 
Krueger taught at the Family Museum in Bettendorf for 14 years, including the years she was at Augustana, but is fully self-employed now. She also gives pottery lessons and classes at a makerspace called the QC Co-Lab in downtown Davenport. One of many members there, Krueger runs the clay studio.
Her career finds her still in conversation with her favorite Augustana professor, fiber artist Rowen Schussheim-Anderson, though they work in different media. Schussheim-Anderson also was her first boss, when at age 16 Krueger began teaching children's Kaleidoscope art classes on campus. 
So while Krueger always knew she would be an artist, her post-graduation career path keeps expanding—including a local business, public art-making and more. Augustana has both prepared and inspired her.
"I love teaching it, too," Krueger said. "It's been really important to me."
Favorite place on campus: The clay studio

Favorite place off campus: Theo's Java Club in Rock Island, where she also worked

Favorite Class: Sacred and Profane (a "very cool" religion class)