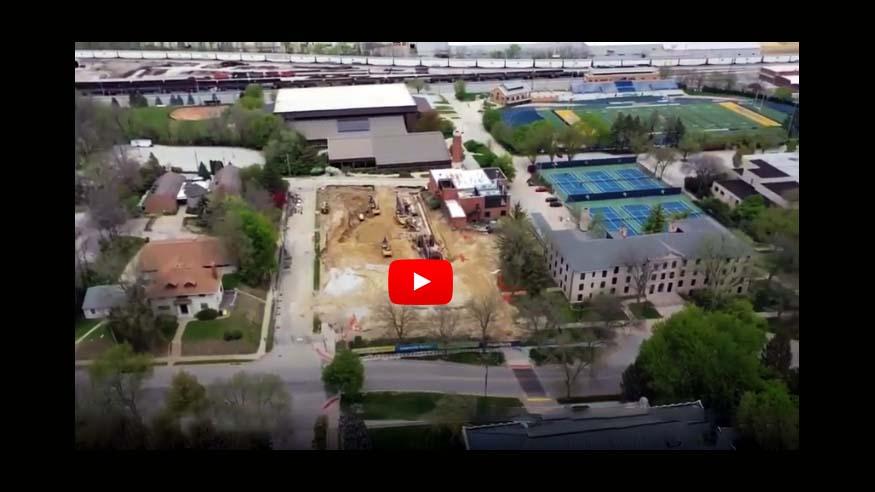 News
Live video tour offers look at Lindberg construction
Kinesiology students lining up for new major
Augustana College took its community on a live virtual tour Thursday at the construction site of the newest building on campus: the Peter J. Lindberg, M.D., Center for Health and Human Performance.
The $18 million Lindberg Center, slated to open in the spring of 2021, will be home to programs in health-related careers requiring a major in kinesiology or public health. It also will house an aquatic center and natatorium, replacing the pool in the adjacent Carver P.E. Center, and bringing with it new teams in men's and women's water polo.
The new kinesiology program has already sparked a lot of interest, said Dr. Shaun Edmonds, assistant professor of kinesiology.
"We have already about 20 students who have declared kinesiology as a major in just the past three weeks," he said. "And that's not including all the great people I've had the opportunity to talk with who are coming here in the fall."
So far, 18 incoming first-year students have indicated kinesiology as their first choice for a major, and another 10 list it as their second choice.
"It will be a place that will prepare Augustana students for careers in some of the fastest-growing occupations in our country," said Kent Barnds, executive vice president for external relations, who hosted the live tour. "In addition, it will greatly expand athletic opportunities for our swimmers, divers and our soon-to-be water polo players on campus."
Design walk-through
Those who may not have been on campus for weeks may watch the video tour to get a sense a sense of how things look on the corner of 7th Avenue and 35th Street, as Russell Construction has cleared the site and excavated for the foundation of the 55,000-square-foot building.
Ted Haug, design principal for Legat Architects, walked viewers through the building and offered some insights about the thoughts behind its appearance.
He said the design offers a "tremendous opportunity" for the college to provide the campus community with a place that brings together all the components of the human experience: body, mind and spirit.
The center will offer multiple options for physical fitness, he said, but also a contemplative meditation space and room for socialization and interaction throughout the building. The student commons will be the most public aspect of the building, along 7th Avenue.
The two-story commons with its grand staircase is the heart of the building, Haug said.
"The grand stairway within the commons draws you up to the upper level. This will no doubt become a prime location for students to meet, socialize and study while people-watching," he said.
He said the design respects the traditional aesthetic of other buildings on campus by using an "architectural vocabulary of integral colored precast concrete with thin brick to respectfully fit in with the existing context and to create a cost-effective, energy-efficient durable building."
"The way these materials are organized on the building facade, along with large expanses of glazing, clearly communicate that this building is both of this time and place while joining the other campus buildings in their timeless quality."
Brian Edgar, senior project manager for Russell Construction, and other project leads explained the construction process and walked viewers around the site, using 3-D overlays to show how the finished building will look.
They said that likely in July the "tip up" precast concrete panels will be in place, and by September, the building will take its final shape with a roof.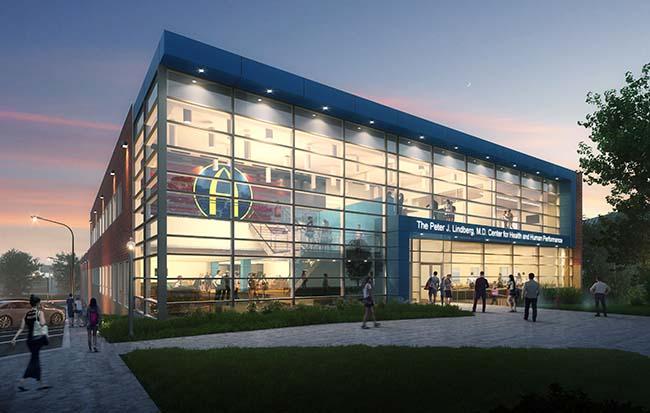 Faculty share excitement
Dr. Lena Hann, assistant professor of public health; Dr. Shaun Edmonds, assistant professor of kinesiology; and Dan Lloyd, head swim coach, also stood on the site and spoke about their plans and hopes for the new center.
"When I look at the construction and the progress of our new building, I'm very proud of Augustana for its leadership and vision in combining the health sciences and liberal arts to make sure that we can continue addressing these complex health issues out in our community for years to come," said Dr. Hann.
An enthusiastic Dr. Edmonds, standing on a pile of earth next to the site, said that when students return, they are in for a huge and pleasant surprise since construction had not started when they left in March. 
Coach Lloyd said the new aquatic center will allow athletes to work on technique and racing strategy and will include a swim performance lab and SwimEx system for sports physical therapy and training.
"It was built for a dual purpose," he said. "Not just for swimming, but also for water polo as well, to expand that roster and bring in students from across the nation and internationally."
"It's going to be the best facility in our conference by far and one of the best in the Midwest," he said.