News
List of Senior Honors for 2021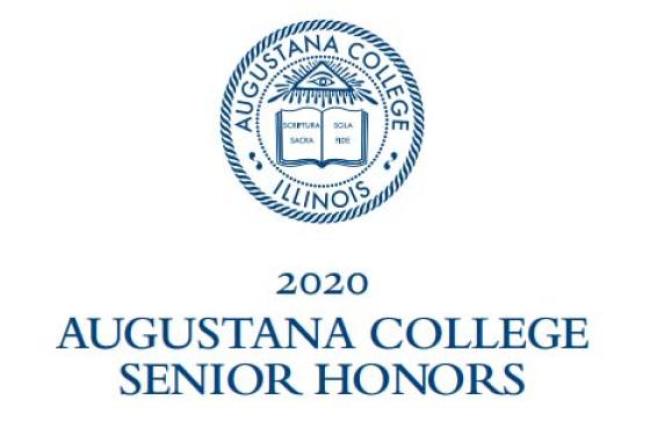 Augustana College traditionally holds a Senior Honors Convocation each May in Centennial Hall. Due to the COVID-19 pandemic, the ceremony was held outdoors this year.
In a video message, President Steve Bahls salutes the honors students.
"Honor students, you finished your college years at an extraordinary time. Thanks to you your diligence and your care for shared community, your senior year was exceptional, even if it was unique in Augustana's 161-year history
"You are leaders and that won't change when you leave here. Thank you for your leadership at Augustana."
Following is the program and list of honors.
Athletics
Knut Erickson Awards
Jenna P. Dvorak
Aleksander James Jacobs
Student Government Association Awards
Outstanding Student Leader
Jacob Noah Washington
Outstanding Student Organization
Black Student Union
Presidential Service Award
Peyton William Couch
Alpha Delta Sigma
Marina Elise Belshause Pickslay
Emily Elizabeth Edwall
Maaya Ito
Jessica Rose Manly
Celina Louise Rippel
Makenzie Autumn Walk
Courtney Marie Wehmeier
Lincoln Academy of Illinois Student Laureate
Nadia Ayensah
Mortar Board
Lucy Grace Adlfinger
Christianne Elizabeth Albers
Zeeshan Ali
Allison Elise Bandera
Omidullah Barikzay
Skye Dorisa Iris Brugler
Kristen Louise Calvert
Jason Christopher Cassens
Elizabeth Marie Cook
Taylor Ann Curley
Camila Davila
Kara Catherine Eder
Emily Elizabeth Edwall
Erica N. Gamboe
DiAngelo Gonzalez
Justine E. Gorzny
Owen Michael Patrick Greenfield
Zachary D. Gunderson
Amber Lynn Hanke
Laura E. Heuermann
Tabitha Hoey
Madison Paige Hoffeditz
Megan Brianne Hoppe
Kyle Alexander James
Brady Thomas Johnson
Lucy Catherine Kebler
Dylan Masters Kropp
Kaylee Lynn Kuta
Kayley Marie Larson
Megan Laufer
Gabrielle Victoria Lenger
Stuart Lombard
Daniele N. London
Catherine Marie Lotz
Megan Lynnae Lundblad
Jazmin Martinez
Alex M. McLean
Samantha McCain Meyers
Caroline Morris
Kristian Paul Mrazek
Sherifah Kemigisha Muzungu
Muhammad Furqan Naqvi
Alison Rien Ng
Jessica Phuong Nguyen
Rachel Nicole Oliver
Joel Addison Padgett
Cecelia Elzora Peine
Tracy D. Pham
Rae Elizabeth Pooley
Madelyn Prodoehl
Morgan Nicole Rottinghaus
Marissa Louise Smith
Sander Sørhaug
Sriram Sugumaran
Cassandra Renee Talbot
Monica May Thompson
Tiffany Thompson
Makenzie Autumn Walk
Serenity Michelle Kay Williams
Dana Lauren Wojciechowski
Omicron Delta Kappa
Zeeshan Ali
Olivia G. Banach
Molly M. Bastida
Vladislava Botsul
Emily Rose Brooks
Alexandra E. Buffington
Camila Davila
DiAngelo Gonzalez
Justine E. Gorzny
Amber Lynn Hanke
Tabitha Hoey
Olivia Karl Hogenkamp
Kyle Alexander James
Kayley Marie Larson
Sherifah Kemigisha Muzungu
Kaitlyn Marie Normoyle
Tracy D. Pham
Madelyn Prodoehl
Departmental Honors and Awards
Accounting
Outstanding Student in Accounting
Freja B. Hager
Lupita Toscano
Students of Distinction in Accounting
Vladislava Botsul
Mai Duong
Emily Elizabeth Edwall
Justine E. Gorzny
Zachary D. Gunderson
John Jacob Hayes
John Castro McGuire
S. James Galley Scholarship
Olivia G. Banach
Art
Augustana Art and Graphic Design Research Senior Award
Ann Irene Wheeler
Art History Scholar Award
Sydney Ann Ion
Monica May Thompson
Dr. Donna Bergen and Dr. Thomas Madden Whistler Research Fellow Award
Jordan Nicole Delinski
Sydney Ann Ion
Zoey Anne Krawczyk
Kaitlyn Marie Normoyle
Jordyn J. Strange
Monica May Thompson
Biology
Biology Majors with Distinction
Marina Elise Belshause Pickslay
Iva Vucic
Biology Majors-Honorable Mention
Taylor Ann Curley
Matthew Scott MacArthur
Jazmin Martinez
Pre-Medicine Majors with Distinction
Isabella Marie Koutsopanagos
Pre-Medicine Majors-Honorable Mention
Jack Ryan Kroll
Alex M. McLean
Sherifah Kemigisha Muzungu
Neil Francis O'Shaughnessy
Nhung Phan
Business Administration
Outstanding Senior Business Administration Majors
Houssam Diouri
Emily Elizabeth Edwall
Celina Louise Rippel
Lupita Toscano
Honors in Business Administration
Vladislava Botsul
Ngoc Minh Bui
Jason Christopher Cassens
Houssam Diouri
Ha N. Do
Mai Duong
Jenna P. Dvorak
Emily Elizabeth Edwall
Justine E. Gorzny
Zachary D. Gunderson
Freja B. Hager
John Jacob Hayes
Daniele N. London
Duc Pham
Celina Louise Rippel
Marissa Louise Smith
Lupita Toscano
Makenzie Autumn Walk
Outstanding Senior International Business Administration Major
Sander Sørhaug
Honors in International Business Administration
Amen Wubtaye Belayneh
Maaya Ito
Nicolete D. Moyo
Katrina Marie Lyn Rodriguez
Alex A. Sandev
Sander Sørhaug
Courtney Morgan Veitch
Chemistry
Albert L. Eliason Endowed Scholarship Award
Rae Elizabeth Pooley
Classics
Classical Association of the Middle West and South Awards for Outstanding Achievement in Classical Studies
Shawn R. Geison
Eta Sigma Phi Honorees National Classics Honor Society
Shawn R. Geison
Isabella Marie Koutsopanagos
Jessica Rose Manly
Communication Studies
Outstanding Senior Inquiry Award
Nadia Castillo
Chad Meyer Endowed Scholarship
Brandon Kristopher Johnson
Rhavin Zaria Lindsay
Scott Alden Johnson
Memorial Endowed Scholarship
Charles Nawara
Multimedia Journalism and Mass Communication
Outstanding Senior Inquiry Award
Natalie Ruth McMillan
Jacob Noah Washington
Frank and Barbara Wright Observer Award for Excellence in Journalism
Brady Thomas Johnson
Economics
Tallgrass Capital Endowed Award for Outstanding Seniors in Economics
Thao-Nhi Truong Huynh
Aleksander James Jacobs
Honors in Economics
Ngoc Minh Bui
Thu Ho
Marissa Louise Smith
Joshua Lee Teets
English
Roald Tweet Scholar in English Studies
Jaclyn Sara Hernandez
Dorothy Parkander Scholar in English Studies
Emma Elizabeth Terronez
Peggy Anderson Creative Writer
Daniel Joseph Cuneo
Lalini Shanela Ranaraja
Geography
IIllinois Geographical Society Outstanding Senior Geographer Award
Natalia Czachorowski
Robin Hoffmann Award for Scholarship and Service
Jue Jue Wai Hin Thaw
Senior Research Award
Ryan Lefaivre
Geology
Distinction in Geology
Allison Elise Bandera
Joel Addison Padgett
Geology with Merit Departmental Honors
Carson R. Cerquone
Quintin C. Powers
Thomas Stanley Stritch
Joseph McCormick Hoare Endowed Scholarship in Geology
Sydney Drier
Autumn Peele
Quintin C. Powers
Thomas Stanley Stritch
Dr. C. Leland Horberg Merit Scholarship
Allison Elise Bandera
Carcon R. Cerquone
Joel Addison Padgett
Sigma Gamma Epsilon National Honor Society for the Earth Sciences
Joel Addison Padgett
History
Cletus Melchior Award for Outstanding Future Educator
Eric Andrew Johnson
Kathryn H. Weber
Daughters of Founders and Patriots Award for Outstanding Achievement in American History
Kaitlyn Marie Normoyle
Maria Sophia Wood
O.F. Ander Award for the Outstanding History Student
Shawn R. Geison
Megan Lynnae Lundblad
Mark Schwiebert Spirit of History Award
Thomas James Coleman
Joseph Daniel Knapik
Mathematics and Computer Science
Donald E. McLaughlin Award for Excellence and Achievement in Computer Science
Jonathan Marc Reaban
Harry Nelson Award for Excellence and Achievement in Applied Mathematics
Duc Pham
al-Khwarizmi Society, Computer Science Honor Society Seniors
Samuel John Cregan
Vu Ngoc Phuong Dinh
Olivia Karl Hogenkamp
Hai Minh Nguyen
Duc Pham
Wesley Joseph Pulver
Jonathan Marc Reaban
Chi Kim Tran
Nguyen Truong
Michael Justin Wardach
Daniel Douglas Zwiener
Pi Mu Epsilon, National Honorary Mathematics Society Seniors
Lucy Grace Adlfinger
Olivia Karl Hogenkamp
Kristian Paul Mrazek
Hai Minh Nguyen
Ngoc Minh Nguyen
Aira M. Peregrino
Duc Pham
Jonathan Marc Reaban
Chi Kim Tran
Nguyen Truong
Georgia Nicole Votta
Michael Justin Wardach
Emmanuel Van Yeboa
Music
Presser Scholar
Sarah R. Anderson
Pi Kappa Lambda
Sarah R. Anderson
Anne Elizabeth Bak
Grant M. Estes
Luke Samuel McMillan
Joel Addison Padgett
Physics
Physics Major with Distinction
Kristian Paul Mrazek
Physics Service Award
Katherine J. Syer
Physics Research Award
Georgia Nicole Votta
Sigma Pi Sigma
Lucy Grace Adlfinger
Kristian Paul Mrazek
Georgia Nicole Votta
Political Science
Department Leadership Award
Yinuo Li
Outstanding Political Science Major
Aleksander James Jacobs
Kaitlyn Marypat Watkins
Political Science Majors with Distinction
Owen Michael Patrick Greenfield
Allison Marie Kestler
Stuart Lombard
Public Health
Distinguished Scholars in Public Health
DiAngelo Gonzalez
Alison Rien Ng
Religion
Outstanding Religion Major
Chloe Lynne Anderson
Molly M. Bastida
Sociology and Anthropology
Alpha Kappa Delta, International Sociology Honor Society
Natalia Czachorowski
Amber Lynn Hanke
Laura E. Heuermann
Jessica Jean Kurkowski
Kaylee Lynn Kuta
Mackenzie Rae Peterson
Tracy D. Pham
Theatre Arts
Augustana Endowment Society CAST Award
Virgil Hajdys
Women's and Gender Studies
Nancy Huse Award for Outstanding Women's and Gender Studies Senior
Vanessa C. Iroegbulem
World Languages, Literatures and Cultures
Asian Languages
Outstanding Academic Achievement Award in Japanese
Alexander M. Disabato
German
Delta Phi Alpha, the German Honor Society
Madison Anne Parks
Eva V. Schmitt
Jacob A. Wyco
Scandinavian Studies
Outstanding Senior in Scandinavian Studies
Alexandria Katherine Hart
Excellence in Swedish – Beginning Level
Megan Lynnae Lundblad
Scandinavian Studies Award 2020
(First prize) Rebecca Garbe: "Passing Down the Rolling Pin: Lefse, Memory and a Norwegian-American Identity"
(Second prize) Ainslie Lounsbury: "Marching Straight in Sweden: The Parated of A Queer Swedish Utopia or False Hope?"
Spanish
Louis C. Belby Award for Outstanding Achievement in Spanish
Megan Lynnae Lundblad
Mike D. Finnemann Award for Outstanding Senior Inquiry Project
Maria Sophia Wood
Barbara Olsen Herrarte Award for Outstanding Spanish for Professional Use Major
Jordan Elizabeth Macneil
Honors Capstone Projects
Kayla Elizabeth Dillon: "Diversifying Provider Supply in Mental Health Services: A Literature Review"
Advisor: Troy Larson
Megan Brianne Hoppe: "Making History: The Research, Sewing and Wearing of Reproduction Dresses, 1865, 1900 and 1915"
Advisor: Brian Leech
Carstyn Florence Joiner: "Exploring and Presenting the Healthcare Barriers that Monolingual Spanish Speakers Face in a New Light"
Advisor: Umme Al-wazedi
Sara Ann Mazrimas: "Discrimination in Organ Transplantation for People with Down's Syndrome"
Advisor: Cathy Webb
Monica May Thompson: "Ever Yours, Vincent: The Effects of Van Gogh's Mental Health on his Art and Self-Image"
Advisor: Catherine Goebel
Maria Sophia Wood: "Through Her Voice: Early Settler Women in the Quad Cities"
Advisor: Jane Simonsen
Lincoln Academy of Illinois - Student Laureate
Aleksander James Jacobs
Thomas F. Mayer Research Prize for Senior Inquiry in the Humanities
Benedict and Donna Zobrist Scholarship, Harry S. Truman Good Neighbor Award Foundation
Jouwana Bzal
Senior Honors
(4.0 GPA or above)
Daniel Joseph Cuneo
Monte Michael Schwartz
Ann Irene Wheeler
(3.5 GPA or above)
Lucy Grace Adlfinger
Pierce Gregory Albert
Zeeshan Ali
Bailey Rose Allison
Elizabeth Elaine Alsup
Chloe Lynne Anderson
Sarah R. Anderson
Elizabeth Christine Aniol
Kara Jean Auchstetter
Anne Elizabeth Bak
Bailey Nichole Bambrick
Allison Elise Bandera
Omidullah Barikzay
Isabelle Kathleen Bartscher
Molly M. Bastida
Tristan Dyan Bautista
Naomi L. Beckley
Amen Wubtaye Belayneh
Marina Elise Belshause Pickslay
Samantha M. Berggren
Carley J. Berneking
Alexandra Elizabeth Bernheimer
Abby Madilynn Berry
John M. Bevan
Nolan John Blassingham
Vladislava Botsul
Kathryn Regina Boyle
Emily Rose Brooks
Nora Patricia Brown
Skye Dorisa Iris Brugler
Alexandra E. Buffington
Ngoc Minh Bui
Kristen Louise Calvert
Kennedy G. Carey
Maxx J. Carpenter
Jason Christopher Cassens
Carson R. Cerquone
Alejandro Chavarri
Zachary Grant Clough
Elizabeth Marie Cook
Kelly Lynette Coons
Jessica Ann Crofton
Taylor Ann Curley
Natalia Czachorowksi
Ally Brielle Daniels
Audrey Datzman
Camila Davila
Caio Naganuma de Rezende
Rosemary Kathleen Devine
Melanie M. Diep
Kayla Elizabeth Dillon
Vu Ngoc Phuong Dinh
Houssam Diouri
Alexander M. Disabato
Brian Do
Ha N. Do
Jake Robert Dooley
Megan Jennifer Drab
Mai Duong
Jenna P. Dvorak
Thomas Leonhard Dyer
Kara Catherine Eder
Emily Elizabeth Edwall
Skylar C. Eisman
Zainab El Abied
Grant M. Estes
Chase P. Fahy
Javeria Fatima
Jennifer Anne Filotto
Brady Ryan Fischer
Richard Fordjour
Lauren Quinn French
Janine Marie Gagnon
Keely Elizabeth Gallagher
Erica N. Gamboe
Ailin Garcia Byrne
Shawn R. Geison
Logan Giesler
DiAngelo Gonzalez
Justine E. Gorzny
Karissa Anne Gottardo
Owen Michael Patrick Greenfield
Sarah Elizabeth Greenwood
Caleb E. Gruden
Zachary D. Gunderson
Katlyn Megan Haeflinger
Zoe Collette Haenisch
Freja B. Hager
Amber Lynn Hanke
Nathaniel A. Hanson
Alexandria Katherine Hart
Grace Elizabeth Harvey
John Jacob Hayes
BenjaminTate Henrikson
Jaclyn Sara Hernandez
Juliana Angela Hernandez
Laura E. Heuermann
Ryan T. Hirschel
Thu Ho
Nghia T. Hoang
Tabitha Hoey
Madison Paige Hoffeditz
Olivia Karl Hogenkamp
Megan Brianne Hoppe
Jacob Michael Huffer
Vanessa C. Iroegbulem
Aleksander James Jacobs
Emma Christine Jacobs
Haleigh Ann Jacocks
Kyle Alexander James
Marissa Susanna Jaskae
Brady Thomas Johnson
Eric Andrew Johnson
Kacie Pearl Judge
Cassandra Ruth Karn
Kaley Anne Kearns
Lucy Catherine Kebler
Emily Christine Keiner
Stephanie Lynette Kerno
Allison Marie Kestler
Taylor A. Kies
Lindsey Nicole King
Brett Kliegl
Joseph Daniel Knapik
Mitchell Dean Knollenberg
Rebecca Anne Knuth
Isabella Marie Koutsopanagos
Joseph G. Kreis
Jack Ryan Kroll
Dylan Masters Kropp
Jessica Jean Kurkowski
Kaylee Lynn Kuta
Matthew M. Lampasona
Jessica LiYun Lang
Kayley Marie Larson
Megan C. Laufer
Tran Ngoc Le
Ryan Lefaivre
Gabrielle Victoria Lenger
Yinou Li
Shelby Elizabeth Limbach
Stuart Lombard
Julie Ann Lombardi
Daniele N. London
Catherine Marie Lotz
Alyssa K. Luczynski
Megan Lynnae Lundblad
Morgan Lynch
Mathew Scott MacArthur
Jordan Elizabeth Macneil
Jessica Rose Manly
Joseph Alexander Marcet
Jazmin Martinez
Sabrina N. Massa
Katherine Xia Maxwell
Sara Ann Mazrimas
Megan Nicole McDonald
John Castro McGuire
Alex M. McLean
Luke Samuel McMillan
Maxwell Winter Mead
Hailey Mendell
Hunter James Menke
Laura L. Meyers
Samantha McCain Meyers
Sarah Delaney Margaret Meyers
Kayla Noelle Millan
Andrew Julian Mimlitz
Caroline Morris
Nicolete D. Moyo
Kristian Paul Mrazek
Sherifah Kemigisha Muzungu
Zachary Leonard Myatt
Muhammad Furqan Naqvi
Charles Nawara
Brittnany Diana Nelson
Gillian L. Nevins
Olivia LeeAnn Newcomb
Alison Rien Ng
Lauren Ng
Hai Minh Nguyen
Nguyen Ngoc Mai
Ngoc Minh Nguyen
Thai Duy Nguyen
Claire Van Thanh Nguyen
Brett Oscar Niederer
Kaitlyn Marie Normoyle
Neil Francis O'Shaughnessy
Katie Lynn Oestmann
Rachel Nicole Oliver
Jack Christopher Olson
Ariane Omerza Call
Abigail Marie Overmann
Mitchell Samuel Owens
Joel Addison Padgett
Madison Anne Parks
Cecelia Elzora Peine
Katherine Olivia Peregrine
Aira M. Peregrino
Francesca Marie Persiani
Elliott Samuel Peterson
Mackenzie Rae Peterson
Garrett J. Petreikis
Cameron John Phalen
Duc Pham
Tracy D. Pham
Pham Thi Hong Giang
Nhung Phan
Brianna Marie Pickering
Rae Elizabeth Pooley
Quintin C. Powers
Sara Beth Prier
Madelyn Prodoehl
Wesley Joseph Pulver
Lauren Christine Ragone
Samridha Jung Rana
Lalini Shanela Ranaraja
Jonathan Marc Reaban
Shannon Christine Rees
Celina Louise Rippel
Ashley Grace Rivas
Katrina Marie Lyn Rodriguez
Johann Roman
Morgan Nicole Rottinghaus
Alex A. Sandev
Genesis Isabelle Sarmiento
Megan Schlebecker
Kylie Ane Schultz
Elizabeth Jefferds Schweibert
Amal N. Sharaan
Akankshya Shrestha
Sambridha Shrestha
Grace Christine Sigler
William Anton Sikich
Marissa Louise Smith
Natalie E. Smith 
Sander Sørhaug
Amelia N. Sorensen
Anne Marie Stanislawski
Karli Suzanne Stankus
Jillian Marie Stone
Jordyn J. Strange
Katherine Marie Streicher
Thomas Stanley Stritch
Sriram Sugumaran
Emily R. Szabo
Cassandra Renee Talbot
Madison Renée Teague
Joshua Lee Teets
Emma Elizabeth Terronez
Jue Jue Wai Hin Thaw
Clayten Jacob Thompson
Monica May Thompson
Tiffany Marie Thompson
Joseph Edward Timm
Lupita Toscano
Chi Kim Tran
Khoa Tran
Emily Julia Trinkner
Nguyen Truong
Thao-Nhi Truong Huynh
Michael Steven Turzynski
Courtney Morgan Veitch
Anna Marie VerCautren
Chance W. Vicary
Georgia Nicole Votta
Iva Vucic
Sofia Wajner
Makenzie Autumn Walk
Michael Justin Wardach
Ana Jo Warkocki
Jacob Noah Washington
Kaitlyn Marypat Watkins
Kathryn H. Weber
Courtney Marie Wehmeier
Walker John Whalen
James Manning Wheeler
Isabella Marie Whiting
Serenity Michelle Kay Williams
Justice Nachelle Edell
Dana Lauren Wojciechowski
Ruth M. Wolde-Gabriel
Maria Sophia Wood
Jacob A. Wyco
Emmanuel Van Yeboah
Samuel Vincent Zammuto
Ashley Noemy Zariñana
Gabriel James Zeigler
Brianna L. Zientara