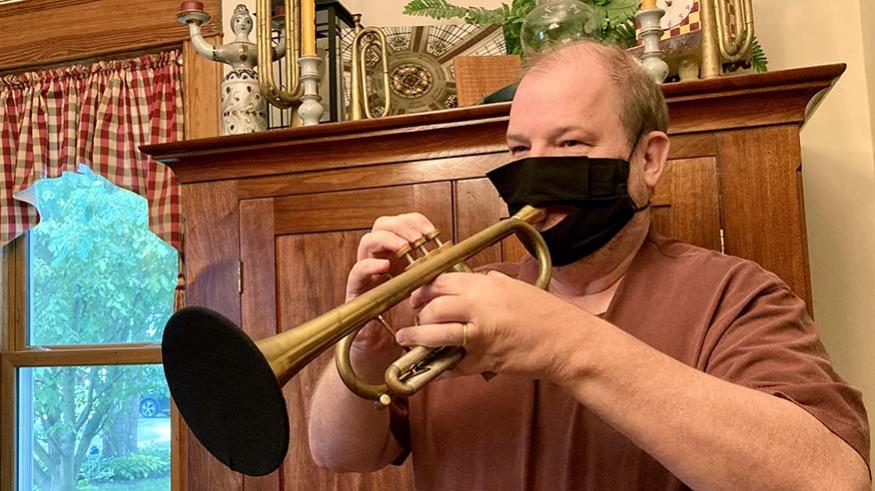 News
To keep making music, they first had to make music masks 
If Augustana students and faculty were to keep making music this fall, they first had to have masks. 
Very special masks. Not available in any store.
Dr. James Lambrecht, music department chair, knew they had to figure out how to play their instruments safely, not only by distancing, but by stopping the aerosol droplets that can carry COVID-19.
Based on research commissioned by a group of performing arts groups, he decided that musicians could play safely with special masking and extra distancing for some instruments, such as trombones.
"It appears that if players wear surgical style masks with a slit for mouthpiece and bell covers, aerosol emission is reduced," he said. 
This meant they had to mask the people and the ends of the instruments in order to share the same space. 
Music faculty spent the summer researching and developing personal protective equipment specific to the needs of musicians. 
One size would not fit all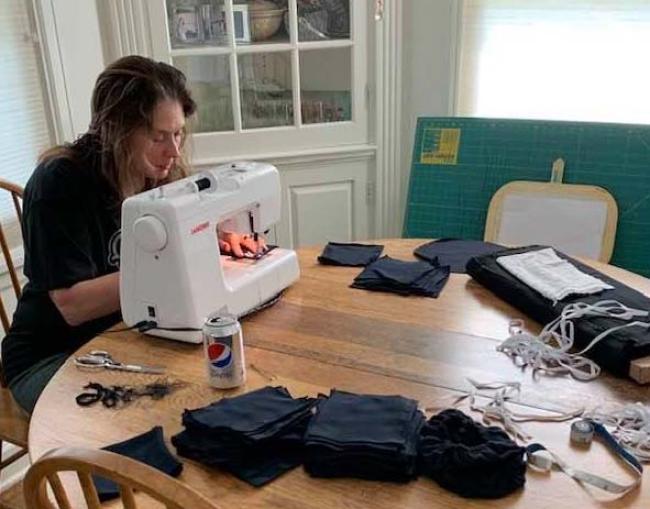 Faculty got to work. Cynthia Lambrecht designed, developed and manufactured oboe PPE and brass bell covers. Susan Schwaegler took on masks and covers for all the clarinets and saxophones of various sizes. Janet Stodd enlisted the help of three friends to create flute PPE.
They spent the summer perfecting their technique. Using materials donated by students' families, they sought to outfit each student and instrument with a mask. Faculty members hand-stitched more than 200 masks using patterns they created. 
Music students and faculty have adapted quickly to playing with the masks. "The biggest challenge is the breathing and not being able to take the flute down during rests!" said Stodd.
Schwaegler not only created and manufactured bell covers, but she also shared her own tutorials and patterns on YouTube. 
And their designs have traveled beyond Augustana. Dr. Michelle Crouch, assistant professor of music, shared the designs with her mother, who resides in Canada. She created 65 instrument covers that were donated to a local high school where Crouch's former student is the band director.