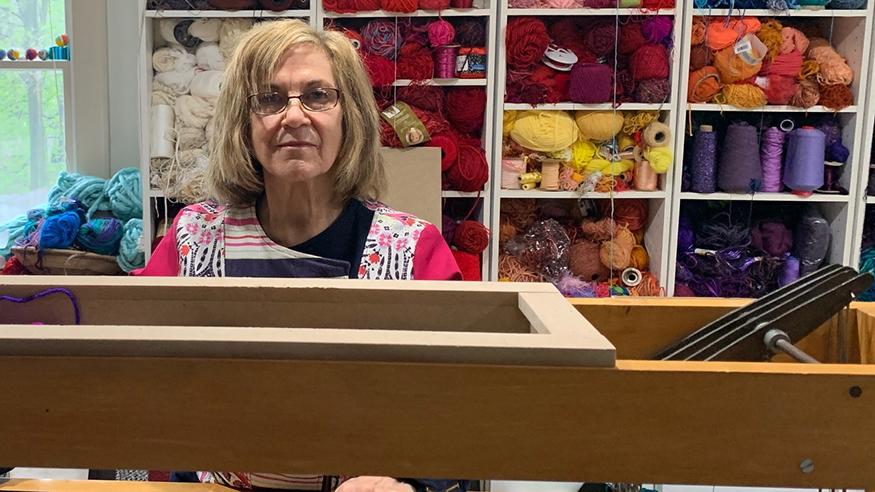 News
John Deere Art Collection lands Augustana artist's "Landrise"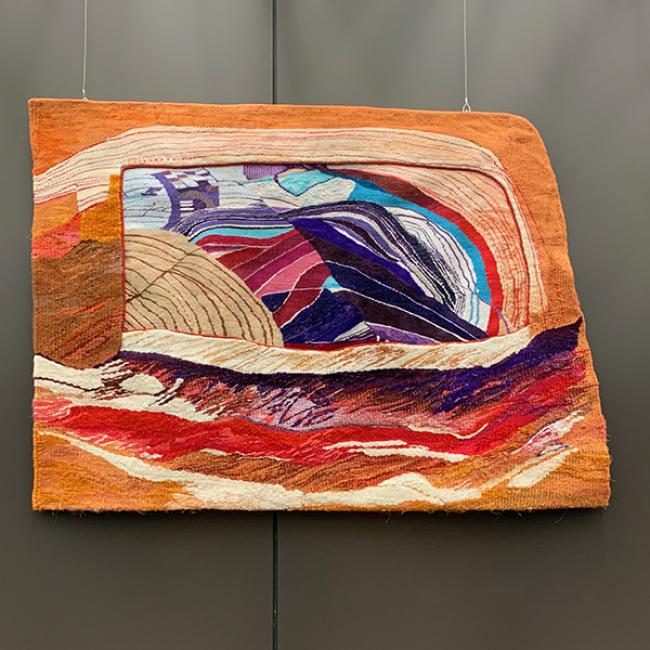 The art collection at the Deere & Company World Headquarters includes works by artists from around the globe. Located in neighboring Moline, Illinois, the headquarters features fewer works by local artists. Augustana art professor Rowen Schussheim-Anderson's "Landrise" is one of the newest works in the John Deere Art Collection.
While former CEO William Hewitt purchased many important tapestries for the collection in the 1960s-70s, Schussheim-Anderson's piece arrived by a different route: She was commissioned by the Quad Cities Cultural Trust to create the piece as a gift to Deere & Company, thanking the company for their support of local arts organizations.
Nathan Augustine, art collections manager for Deere & Company, called Schussheim-Anderson's work a particularly good fit.
"I was inspired by some of her tapestries that include what she calls 'windows.' I had the idea of using this to depict a bird's eye view landscape with wild uncultivated land surrounding a 'window' of tamed farmland like you would see flying over Iowa or any other Midwestern state."
Schussheim-Anderson used linen, wool, rayon, sisal and cotton to create the piece. She said she also used corn husks "in recognition of John Deere's Midwestern routes," adding that "yarns from different parts of the world, including Latin America and Asia, were integrated to represent John Deere's worldwide presence."
For her layered landscape window design, Schussehim-Anderson looked at aerial photos, especially of the Quad-Cities area.
"It seemed fitting to incorporate a sense of landscape—of planted fields and rolling prairies—for a work commissioned for the world headquarters that links equipment and people to the land."
"Landrise" is displayed on the main floor of the Deere & Company World Headquarters in Moline. To see this piece and any of the other works in the John Deere Art Collection, contact Nathan Augustine at Deere & Company.