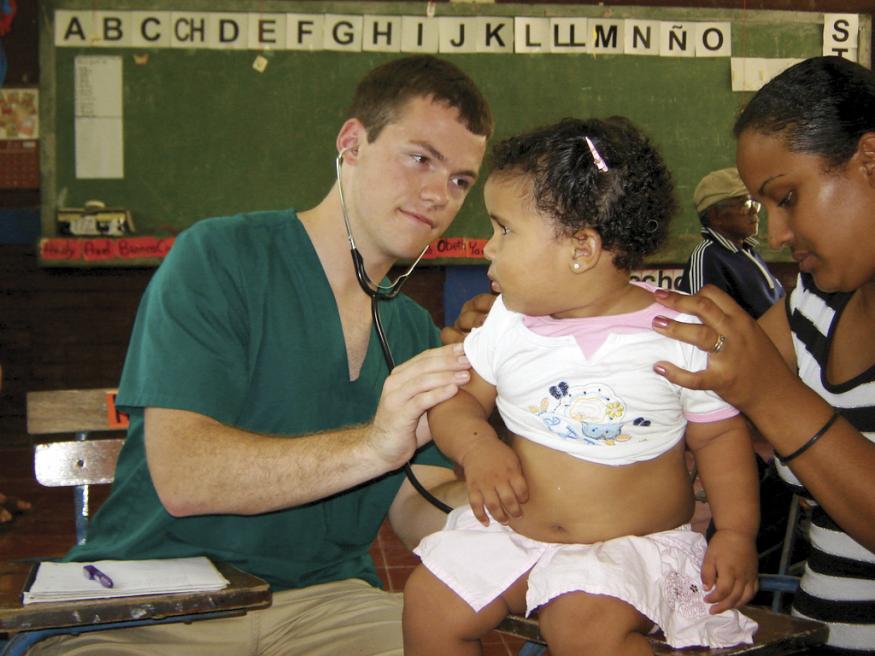 News
JETS alumni invited to return to Nicaragua
Joining in Education Through Service (JETS) began in 2008 to give Augustana students a chance to serve through healthcare outreach. Now JETS alumni have a chance to revisit that experience.
They are invited to return to Nicaragua with Dr. Dara Wegman-Geedey and Dr. Darrin Good for a health care service trip June 10-17, 2018.
The trip is open to any of the 300-plus JETS alumni. Many of the student reflection papers written during the first 10 years of the JETS program included statements indicating they would like to return, said Dr. Wegman-Geedey.
The group will work with Praxis, the partner for JETS trips since 2011. There will be clinic options for physicians, nurses, nurse practitioners, physician's assistants, dentists, optometrists, physical therapists, occupational therapists, veterinarians and pharmacists.
"This is a wonderful opportunity for JETS alumni to reconnect and return to the place of one of their most memorable and rewarding experiences," said Kelly Read '02 Noack, director of alumni relations.
Itinerary
June 10 – Arrive in Managua (afternoon, if possible!)
June 11 – Introductions and preparation; afternoon tour of Tiscapa and Managua
June 12-13 – Clinic days near Tepeyac
June 14 – Activity day in Masaya (volcano, craft market, etc.)
June 15-16 – Clinic days near Granada
June 16 – Celebration send-off dinner in Granada
June 17 – Transport back to Managua airport in early morning and travel home
What's included
Lodging in air-conditioned hotels (includes breakfasts), ground transportation, lunches on planning and clinic days, oversight by local health care providers in clinics (required by Nicaraguan Ministry of Health), interpreters, medications and supplies (including compressors for dentists), bottled water, admission to Masaya Volcano, a pair of Augustana scrubs, and a celebration send-off dinner in Granada.
Also, Praxis will coordinate submission of the travelers' professional documentation so that they are approved by the Nicaraguan Ministry of Health to work in country.
The cost of the trip is $1,700 double occupancy or $1,900 single occupancy. Airfare, entry visa ($10), dinners, souvenirs are not included. A $500 deposit to reserve a place is due by Jan. 7, 2018. The balance is due by April 1, 2018. The airfare will be about $800, depending on the city/country of departure. 
FAQs with Dr. Dara Wegman-Geedey
Q: Can my spouse/partner travel with me or meet me in Nicaragua after the trip?
A: Yes, if your spouse/partner participated in JETS. This seven-day trip is for JETS alumni only, but a non-JETS spouse/partner can meet the group in Granada June 17, if you'd like to extend your stay.
Q: I participated in JETS, but I didn't receive a professional health care degree after Augie. Can I go and help out in clinics anyway?
A: Yes, all JETS alumni are welcome. You'll be assisting a doctor or other professional; we will not use the "student circle" format we used for the JETS service-learning trip.
Q: I participated in JETS and would love to help out, but those dates don't work for me. Is there another trip planned for the future?
A: Not at this time, but it would be a consideration if the first trip is successful. If you'd like to provide financial support for this trip or the next student JETS trip,contact the Augustana Office of Alumni Relations.
Q: I did not participate in JETS, but I did complete a professional health care degree after Augie and would love to have a chance to do service work in Nicaragua! Will you ever do a trip like that?
A: We've heard this from a handful of alumni — so if the interest is there, we could organize a trip like this in the future.
Q: I would love to get a pair of those Augie scrubs, but I cannot go on the trip. Can I order a pair of those? 
A: Contact the Office of Alumni Relations. The pricing is about $50 per pair (heavyweight cotton/poly blend).