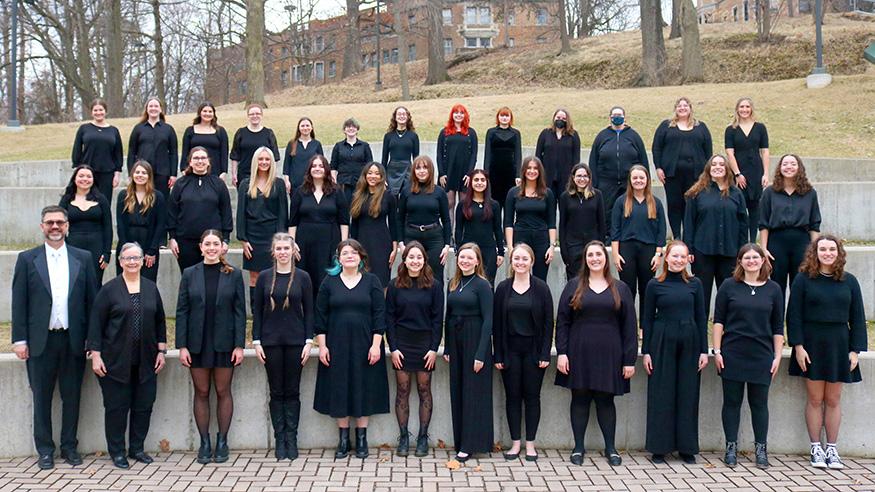 News
Jenny Lind Vocal Ensemble touring in April
Augustana's Jenny Lind Vocal Ensemble, under the direction of Dr. Michael Zemek, will embark on a performance tour April 14-16 in Missouri and Iowa. They will also perform selections from their tour on April 29 on campus.
"Our program is titled 'And I Can Sing,' and it celebrates the joy of being able to sing together once again while seeking to understand the barriers and challenges we may encounter along the way," said Zemek.
Some of the selections the ensemble will perform are: "Jubilate Deo," Levente Gyongyosi; "Mantra," Tim Takach; "I Am the Wind," Elaine Hagenberg; "Lux Veritatis/Light of Truth," Daniel J. Hall; "Stardust," B. E. Boykin; and "Ta na Solbici (And so we dance in Resia)," Samo Vovk.
Tour performances:
April 14 at 7 p.m.: First Presbyterian Church of Kirkwood, 100 E. Adams Ave., Kirkwood, Mo.
April 15 at 7 p.m.: Holy Family Parish Ss. Mary & Joseph Church, 410 11th St., Fort Madison, Iowa.
April 16 at 1:30 p.m.: Gloria Dei Lutheran Church, 123 E Market St., Iowa City, Iowa.
The Jenny Lind Vocal Ensemble is a select treble ensemble for students who wish to develop advanced choral skills and a better understanding of various styles of choral music composed for sopranos and altos. The ensemble's chosen repertoire — from folk to contemporary, ancient to modern — focuses on moving forward and upward, overcoming challenges and celebrating compassion.
The ensemble performs on campus and at community events. It is named after Jenny Lind (1820-1887), a Swedish opera singer known as the "Swedish Nightingale" and considered the finest coloratura of her day.