News
Hansons donate $8 million to name Science Building
Former Deere CEO and alumnus Robert A. Hanson and Patricia Hanson honored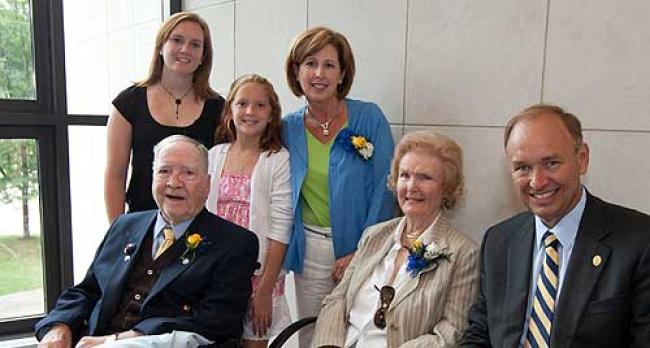 On a warm summer day 62 years after he graduated from Augustana College, Robert Hanson returned to campus with his wife, Patricia, to give the college $8 million.
It was the largest single donation in the college's 150-year history, and to honor it, Augustana has named its largest academic building the Robert A. and Patricia K. Hanson Hall of Science.
The Hansons' attorney, Robert Noe, said the couple assumes that students will simply call it "Hanson Hall" and that will be fine with them.
The reason for the gift is straightforward. Robert and Patricia Hanson believe Augustana College and the professors who taught there had a lot to do with the success he had in his 40-year career with John Deere; he was CEO from 1982-1990.
Hanson grew up in nearby East Moline, Ill. He entered Augustana in 1942 but he didn't graduate until 1948 because he took three years off to serve in the Marines during World War II.
A large group of faculty, friends, college trustees, students and staff gathered in front of the building as college President Steve Bahls and Kim Brunner, chair of the board of trustees, thanked the Hansons. The couple sat behind the podium, holding a thick, white envelope.
Hanson spoke only briefly, but was obviously pleased and happy. "Thank each of you for coming to this little program. We are delighted to see so many of you," he said. "It could cool down about 20 degrees," he added, provoking a wave of laughter.
"Thank you, Steve and Kim, for your kind words. We appreciate them a lot and we are very pleased to make this gift to Augustana," he said. "And we hope sincerely that many young students will enjoy studying and attending class in this science hall. It's a beautiful facility."
The Hansons' niece, Lisa Wood of Cincinnati, and two of her daughters, Pamela and Jennifer, attended the ceremony. As part of the $8 million gift, the south wing of the building, which contains two large lecture halls, classrooms and a greenhouse, will be named the Lisa A. Wood Lecture Hall Wing.
An expression of gratitude
Noe, who followed Hanson at the podium, pointed out to the crowd that "in his usual humble way," Hanson had already unobtrusively passed the white envelope, containing a check, to Brunner.
"Today's gift is an expression of gratitude and support by the Hansons for Augustana, which has been there for Bob Hanson's family for three generations," Noe said. "His parents attended Augie. Bob earned his degree in economics in '48 after coming back from his stint in the Marine Corps. And his niece, Lisa Wood, also graduated from Augustana in 1982. So it's been a long connection between Augustana and the Hanson family.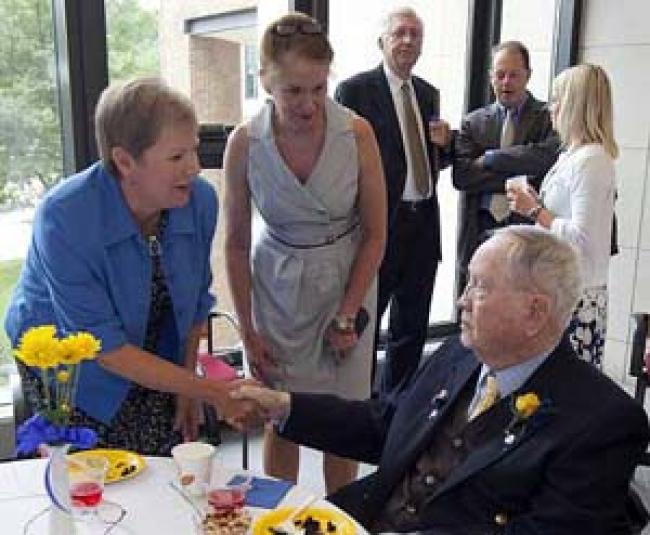 "Over the years Bob has credited Augustana and the education he gained here for his success in the business world and the things he and his beloved Patty have been able to enjoy during their marriage of more than 55 years.'
He said the Hansons wanted the gift to honor both their niece and a "key component of the Quad Cities, and that is Augustana.
"Augustana benefits another key citizen of the Quad Cities, John Deere, by preparing its future leaders," Noe said. "The Hansons hope that this gift today will stimulate others, especially Augie alums, to step up to the plate and provide needed support for Augustana."
Calling it "a remarkable gift," Brunner said the money will support the academic program, the campus master plan, and "enhancing the learning experience of all Augustana students."
"We believe it's precisely this kind of breadth that provides Augustana graduates much more than a street map to a job, but indeed an atlas to pursue the world of possibilities available to them in deciding how they choose to live their lives and how they can contribute to the greater good," Brunner said. "It is exciting for my fellow board members and for me to know that beginning with this fall's incoming class and for many decades to come, every Augustana student will discover part of their direction right here in the Hanson Hall of Science. What a great way to launch Augustana College into its next 150 years!"
When the science building was dedicated in 1998, Bahls said, "It was engineered from the ground up to be a place that facilitates the kind of transformative learning for which Augustana has been known since its earliest days.
"But it was also hoped that this building would one day be graced with a name as meaningful as those that adorn Augustana's other centers of learning. Halls like Bergendoff, Denkmann, Olin and Carver... Today, ladies and gentlemen, that hope is realized."
By Leslie DuPree
Photo gallery: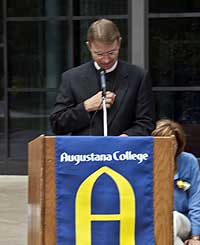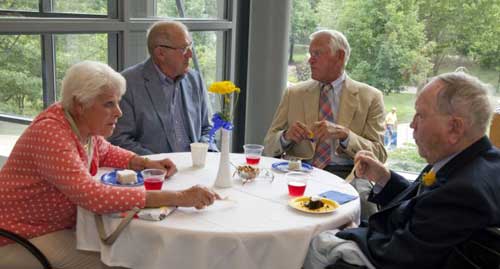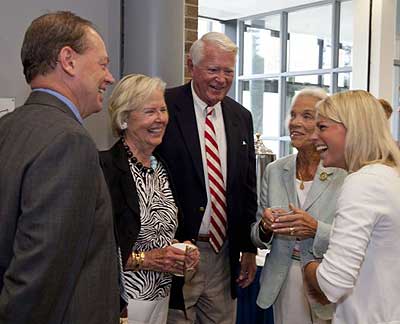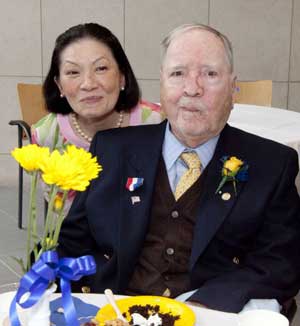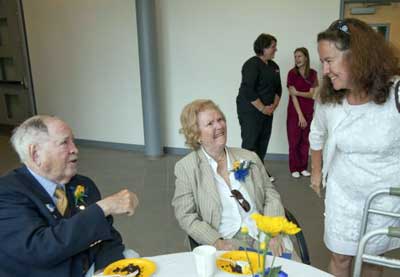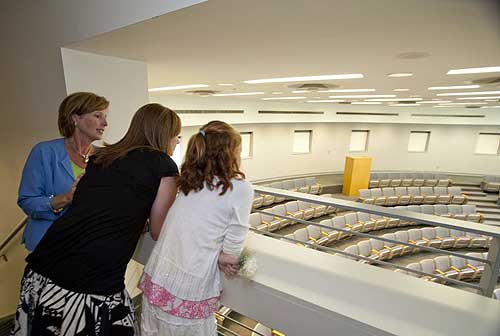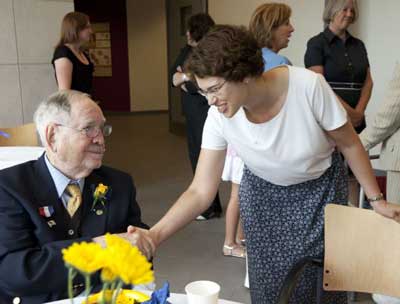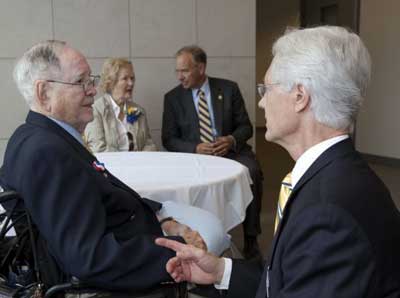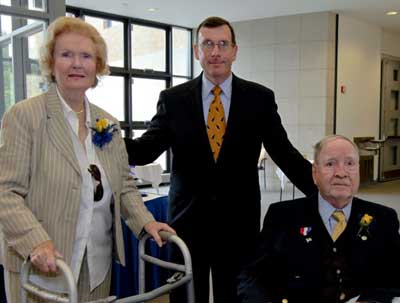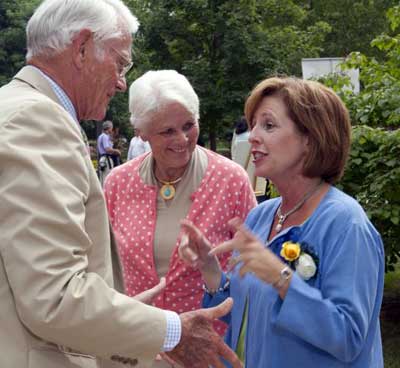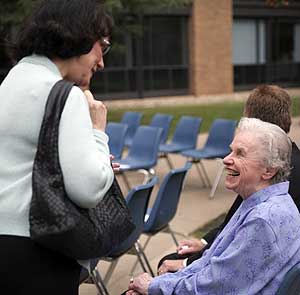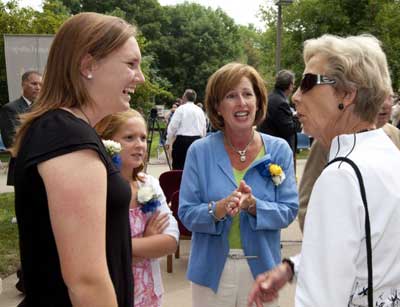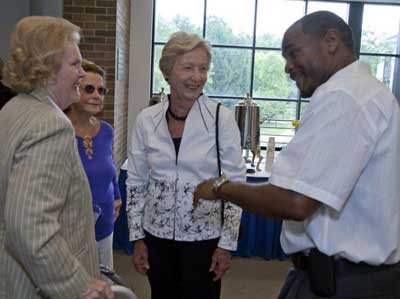 ​​​​​​More information: