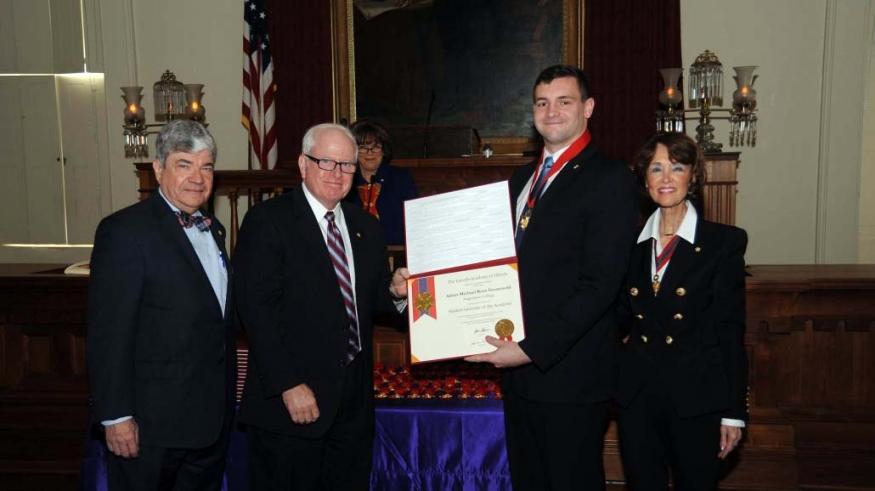 News
Gronewold named 2018 Lincoln laureate
Augustana senior Adam Gronewold was honored with the Abraham Lincoln Civic Engagement Award Nov. 17 in Springfield, making him a student laureate of the Lincoln Academy of Illinois.
The awards are presented for excellence in curricular and extracurricular activities to seniors from each of the state's four-year, degree-granting colleges and universities, and one student from the community colleges in Illinois.
Each winner receives a Lincoln Academy Student Laureate Medallion, a certificate of achievement and $1,000. 
Asked to submit a summary of what Lincoln's legacy has meant to him, Gronewold noted:
"Like President Lincoln, I try to live my life…knowing that my life is no more valuable than another and working with the highest regard to improve the well-being of those around me. Abraham Lincoln lived with others at the forefront. He inspires me to do the same."
Gronewold is majoring in engineering physics and applied mathematics at Augustana. In 2017, he was awarded a $10,000 Rossing Physics Scholarship from the Evangelical Lutheran Church in America (ELCA) Foundation. He is serving as president of the Augustana Student Government Association this year.
He is from Galena, Ill.
This is the 44th year the Lincoln Academy has celebrated student excellence in Illinois. 
Augustana list of laureates:
Bruce Hamming (1975)  
Michael Phillip Nolan (1976)  
Barbara Ann Mather (1977)  
Willie James Rucker (1978)  
Steven A. Betts (1979)  
Jonathan H. Morrison (1980)  
Deborah A. Morales (1981)  
Janet S. Marsden (1982)  
Kevin C. Nelson (1983)  
Tamra L. Kerr (1984)  
Valerie L. Boyd (1985)  
Judy A. Bennett (1986)  
Wednesday L. Rodgers (1987)  
Miriam Z. Foster (1988)  
Paulina M. Elago (1989)  
Katherine J. Hulin (1990)  
Chris R. Falk (1991)  
Jennifer D. Moore (1992)  
Krita L. Sommerschield (1994)  
P. Kasi Ramanathan (1995)  
Joseph A. Bovi (1997)  
Kristine R. Mace (1999)  
Emily G. Klehm (2000)  
James R. Urton (2002)  
Bradley J. Cosentino (2003)  
Theresa E. Wenzel (2004)  
Nicole Dexter (2005)  
Amanda J. Essling (2006)  
Kristin E. Sentman (2007)  
Mohamed Z. Rajput (2008)  
Max C. Petersen (2009)  
Benjamin Zimmerman (2010)  
Rebecca Ann Kamp (2011)  
Astrid Tello-Rodriguez (2012)  
Jenna Orabutt (2013)  
Natali K. Bode (2014)  
Aubrey Waddick (2015)  
Christopher S. Saladin (2016)  
Abigail M. Wieland (2017)