News
Grant-funded Prison Education Program provides new channel for Augustana's mission
Education is transformation, and a national movement is underway in support of prison education programs that give incarcerated people a chance to return to the community with job skills, dignity and the ability to uplift their communities.
"For taxpayers, it's about the best value for the money and time invested," said Dr. Sharon Varallo, the driving force behind the inaugural Augustana Prison Education Program (APEP). "For every dollar spent on college classes for incarcerated people, five dollars are saved on the cost to the community."
Ten men are attending classes this fall at East Moline Correctional Center, pursuing a bachelor's degree in communication studies through APEP. No institutional or tuition funds are used to finance the program.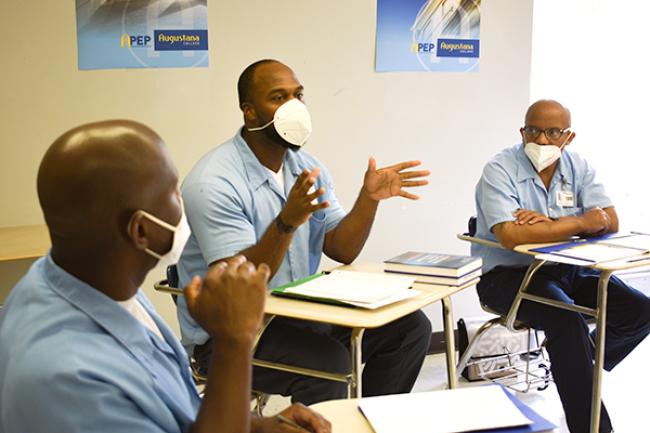 Dr. Varallo, professor of communication studies, and other faculty make regular trips to the prison to teach the same classes they offer on campus. One of Augustana's most popular classes — African-American/Black Literature taught by Dr. Paul Olsen — is one of APEP's five courses this fall. The curriculum mirrors Augustana's liberal arts focus.
APEP is modeled after one of the most rigorous and effective prison education programs in the nation — the Bard Prison Initiative in New York — that captured national attention after it was profiled by filmmaker Ken Burns. The documentary illustrated several success stories, and shattered many stereotypes of people in prison.
"My hope is that people in the community realize that people who are incarcerated are not different," Dr. Varallo said. "They are bright and gifted and have as much to give as anyone, and sometimes they are motivated even more. It's just untenable that we would throw their lives away.
"APEP encompasses so many of our values at Augustana. It's outreach that offers a new life for people who want it so much."
"At Augustana we believe in the power of education for people to learn about their options, and be transformed, even if they don't have the regular channels to get to the main campus of Augustana."
APEP was launched with a grant from the Austin E. Knowlton Foundation, where Eric Lindberg, the chief investment officer, has been leading an initiative for prison education reform.
"Regardless of political affiliation, everyone understands that there are a lot of incarcerated people who need to be given the chance to build a new life and emerge to live constructively in society," Lindberg said. "Whether your priority is deconstructing structural racism or creating law-abiding tax-paying citizens, people support this idea."
According to the Prison Policy Initiative, graduates of prison education programs like APEP are about 20 times less likely to return to prison after their release. The savings add up quickly when every incarcerated person is costing taxpayers about $30,000 per year.
The savings are compounded when graduates return as productive members of society, said Dr. Jason Mahn, a religion professor who is also teaching an APEP class. He was an early supporter of the program because he believes it fulfills Augustana's mission in the most fundamental way.
"APEP encompasses so many of our values at Augustana," he said. "It's a profound connection between the college and the community. It's outreach that offers a new life for people who want it so much, to find their calling, to be upstanding citizens with life-sustaining careers, to support their families, who want to become a member of the PTA, or their church.
"In that sense, every time I step into the APEP classroom, I think there is no better place I could be, in terms of what is offered here."
For Dr. Varallo, the mission of APEP is very close to home. She became an outspoken advocate for prison reform after her daughter went to jail for a crime she didn't commit. It gave her a firsthand look at a system she saw as fatally flawed, and the energy to press for change through the medium she knows best — education.
"It feels like everything I've done in my life has led up to this," Dr. Varallo said. "Everything."
APEP is a grant-funded program, supported through the generosity of individual, foundation and corporate donors. Gifts can be made online at www.augustana.edu/makeagift, or through wire transfer, gifts of stock or personal check. When making an online gift, select "other" as an area of support, and enter "APEP" in the box provided. Mail checks to: Augustana College, Advancement Services, 639 38th St., Rock Island, IL 61201. For major gift support ($5,000 or more), contact Kent Barnds, executive vice president of external relations, at kentbarnds@augustana.edu or 309-230-7743.