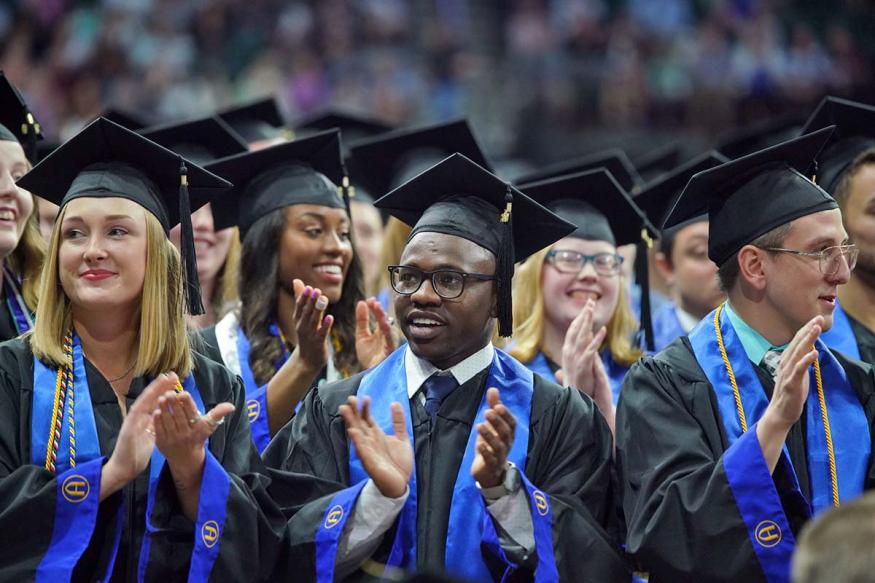 News
Graduation: virtual May 23, in person Oct. 11
Although the coronavirus pandemic delayed its traditional ceremony, Augustana College will celebrate its Class of 2020 virtually in May and in person in October.
The college will host a short online ceremony at 2 p.m. May 23, the date and time originally scheduled for graduation.
"The college will honor your accomplishments in an online ceremony, so you can begin to call yourself an Augustana graduate," President Steve Bahls wrote in an email to students.
On Oct. 11, the college will hold a traditional commencement at 2 p.m. at the TaxSlayer Center in Moline. Baccalaureate will take place at 10 a.m. that day in Centennial Hall. The college also will celebrate its 100th Homecoming the weekend of Oct. 9-11.
Augustana's 160th Commencement Convocation on Oct. 11 will be live-streamed and recorded for those who cannot attend.
"You've clearly demonstrated how your liberal arts background has prepared you to adapt to unexpected situations," Bahls wrote. "I could not be more proud of the resiliency you've demonstrated, and we look forward to celebrating your Augie accomplishments."
Another Augustana tradition, the Last Lecture and Senior Toast, will take place virtually at 7 p.m. May 7. Seniors voted earlier to choose their three favorite professors, who will give a last lecture to their soon-to-be graduates.
At that event, President Bahls traditionally shares a champagne toast with the seniors. This year the champagne will not be provided, but the college is sending each graduate a commemorative champagne flute.
"I look forward to celebrating the Class of 2020 and congratulating each of you for your accomplishments," Bahls wrote. "I know you have a bright future, because now more than ever, the world needs Augustana graduates."
Dr. Millicent Knight '82 will speak at the virtual graduation May 23. She is a member of the Augustana Board of Trustees and a vice president of the eye care company Essilor of America in Dallas.
The Rev. Richard Priggie '74, college chaplain, will speak at the baccalaureate service in October. Retiring this year, he was named chaplain in 1999 after 18 years of parish ministry in Massachusetts, Connecticut and Illinois.