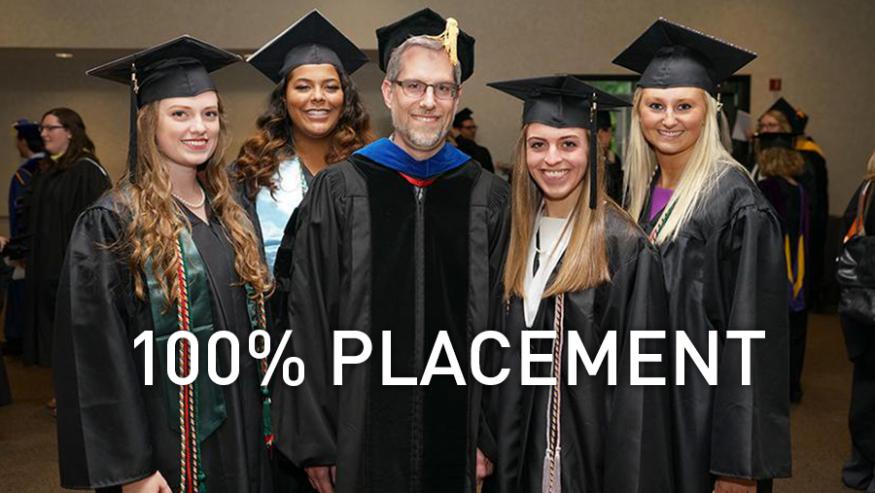 News
Future dentists, 100%
The national average for acceptance into dental school is around 45%. Augustana's rate is around 70%. But that average jumped up in 2017, when 100% of Augustana students who applied to dental school were accepted. They are only four, but perfect is perfect.
What it takes to get into dental school
Dr. Jason Koontz, associate professor of biology and pre-dental advisor, says there's a lot to the application process. Much of a student's preparation focuses on the DAT (Dental Admissions Test), a multiple-hour exam on chemistry, biology and perceptual ability.
"You have to visualize in 3D, which is unique to that test," Dr. Koontz said. "The stringent requirements for scores on the DAT go up higher every year."
The process also includes crafting a personal statement, getting references, practicing for interviews, and lots of waiting.
Students apply between their junior and senior year when the application service opens on June 1. They submit online to one source that shares applications with multiple schools. The first acceptances usually happen around December 1.
"Students are on pins and needles until December," Dr. Koontz explained. "After your materials are in, it's kind of like any job or college application; you don't know the applicant pool, who's reading your application, or if your judge is having a bad day. There are multiple rounds of acceptances, which adds an extra layer of stress, and April is usually the latest people get in."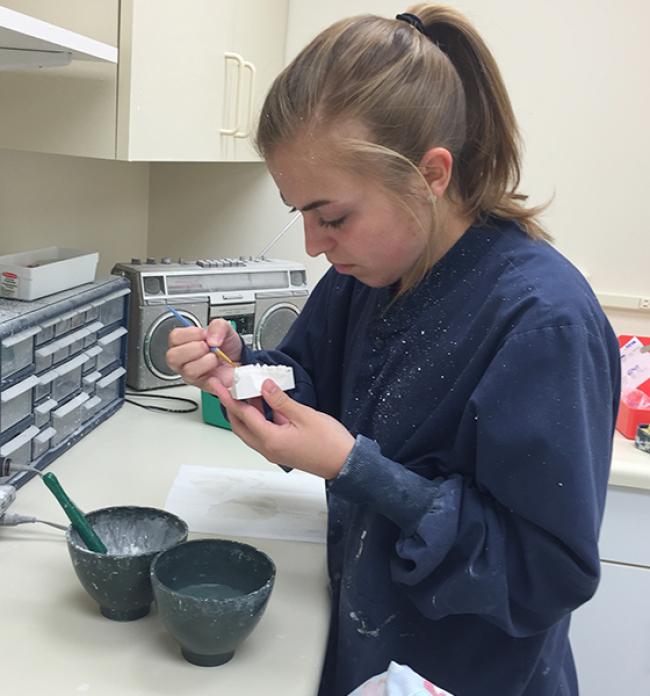 His method for coaching students through this anxiety-laden process? Don't panic until April 1.
"I tell them, 'You've gotta breathe. You did the best you can do with your metrics, your references and your personal statement as to why you'd be a good dentist—and backing that up with evidence,'" he said.
"This process goes back to Augustana's First-Year Inquiry, learning how to craft a theory and back it up. The whole process is an exercise in patience."
Dr. Koontz attributes students' success to Augustana's liberal arts model. The philosophy of helping students become good thinkers and well-rounded individuals puts them on the right track.
"You're not a pre-dental major here. You're a biology or chemistry or biochemistry major studying biochemistry, social sciences… and you're exposed to as many disciplines as possible. I often push students to art to help with that 3D visualization that's key to the DAT," he said.
"That's the beauty of the liberal arts education model: you're asked to approach real-world problems from multiple perspectives. We want you to be broader, to help you be adaptable in the world."
Skills combined with adaptability to real-world problems are what dental schools want to see in students. And after all, that's what patients want to see in their dentists—that and a perfect smile.
Carli Hogan, Marquette University
Carli Hogan '17, biology major, art history minor
Marquette University, Milwaukee, Wisconsin
I do not think I would have gotten into dental school had I not transferred to Augustana.
I have wanted to be a dentist for a long time. My dad is a periodontist and my mom is a dental hygienist, so I grew up learning about the value of teeth and the importance of the dental field ... I also like how dentistry can often provide immediate relief to the patient. Lastly, I like how many areas of dentistry can help patients feel more confident about themselves after they have work done, which is very rewarding.
I think Augustana was instrumental in my success as a student, mostly because of the dynamics of the school. The small class size was helpful because the professors were able to get to know each of us and tried their best to be attentive to their class and make sure everyone was on the same page.
Lauren Nicholson, Southern Illinois University
Lauren Nicholson '17, biology major, biochemistry minor
Southern Illinois University School of Dental Medicine, Carbondale, Illinois
I have wanted to be a dentist since I was 5 years old. I have a passion for the health sciences and helping people in any way that I can. The first thing I see when I look at people is their smile, and it brings joy to me that I can make their smile brighter!
The day I got into dental school was a complete surprise … I decided to check my email. And there it was! I opened the email with shaking hands and my eyes watering as I was reading.
"Congratulations, Lauren, from Southern Illinois School of Dental Medicine!"
My advisor, Dr. Jason Koontz, was able to answer all of my questions and steer me in the right direction for schoolwork, experience, and preparing for my interviews. Overall, the education I received from Augustana has been exceptional. It has provided a great foundation for further education and really shaped me as a respectable student and contributor to society.

 
Kelly Walker, Oregon Health and Science University
Kelly Walker '17, biology major
Oregon Health and Science University, School of Dentistry, Portland, Oregon
Ever since I was a child, I LOVED going to the dentist. My mom always said that I'd ask him a million questions about what he was doing and why. I knew that was something I wanted to do, to help people reduce their anxiety and fear of going to the dentist. It combines my interest in the medical field and allows me to help others, which is something I think is very important.
When I got the interview for OHSU, I couldn't stop crying because I adored that school. When I got the email saying that I had been accepted, I was just in shock.… I reread the email several times to make sure I wasn't hallucinating. I called my parents immediately and they were so proud of me ... It was a perfect moment.
I am not at all surprised that Augie has a 100% acceptance rate for the pre-dentistry majors. I have met and have had classes with the three other students, and they are all very smart, talented, and ambitious people. Combine that with the amazing professors in the science department, and it guarantees success!
Amber Were, Meharry Medical College School of Dentistry
Amber Were '17, biochemistry major
Meharry Medical College School of Dentistry, Nashville, Tennessee
Originally, I had every intention of going into medical school. I volunteered for 50+ hours in the ER and decided that I did not like it at all … After that, I started working at Just Kidz Dentistry, in Peoria, Ill., and I immediately fell in love with the atmosphere. All three dentists were women and of different nationalities, and they proved that you could help people and have a social life, as well.
As an African-American female, the amount of doubt and surprise that I have received when people find out that I graduated with a biochemistry degree and am heading to dental school is astounding. ... However, it is a really great feeling to know that you can achieve with hard work, and neither your race nor your gender should ever make you feel unworthy.
Meharry Medical College is a historically black college that graduates 70% of the black dentists in the United States. The history behind the college was fascinating to me, and I feel it gives me a chance to be a part of something bigger than a dental school.
In addition, Meharry offers more contact with pediatric patients and opportunities for service overseas, both of which are my ultimate end goals. I love to travel, and I hope to be able to start dental clinics in both Africa and India.