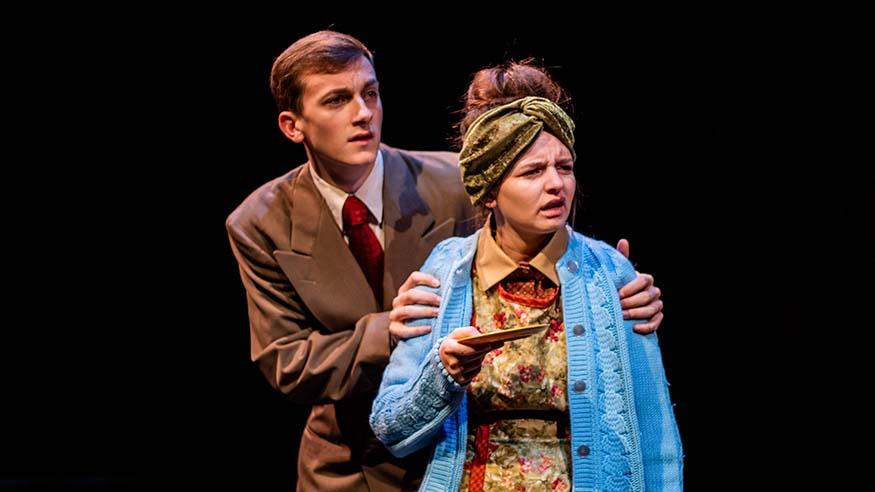 News
'Funniest farce' on stage at Augustana Oct. 17-20
Augustana College will present "Noises Off" — called "the funniest farce ever written" by the New York Post — Oct. 17-20.
It's a play within a play about a sex farce called "Nothing On," complete with missed cues, missing props, romantic rivalries and rifts, slamming doors and mounting chaos.
Director Jennifer Popple said "Noises Off' gives the audience an insider's view.
"We so often lament that the audience doesn't get to see the 'making' of the performances of the play. This play does that — although on a larger, more dramatic scale — showing the stops and starts, the behind-the-scenes drama, and all while demonstrating why this art is so much fun to work on," she said.
"We are having a great time unpacking the layers of the show and we are excited to show the audiences what our college actors can do with this hilarious, physical, love story to the theatre."
The cast includes Augustana students Peter Alfano, Lindsey Edwards, Bradley Heinrichs, Noah Hill, Jarod Kovach, Amy Nicholson, Abby Overmann, Ariela Policastro and Michael Tarchala.
Augustana students Samantha Flipp and Sam Ramont serve as stage manager and sound designer, respectively. Susan Holgersson is the scenic designer and Gary Holmquist is lighting designer. Mark Lohman is technical director and Ellen Dixon is costume designer.
Ticket information
Performances will begin at 7:30 p.m. Thursday-Saturday, Oct. 17-19, and at 1:30 p.m. Sunday, Oct. 20. Tickets are $15, or $12 for senior citizens and Augustana faculty/staff, $10 for students and children ages 12 and under, and free for Augustana students with ID. Tickets can be purchased through the Augustana Ticket Office 309-794-7306 or online.