News
Flag football team competes at regional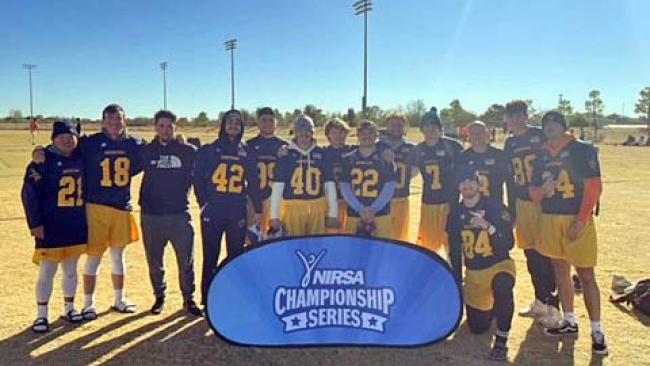 The Viking men's IM flag football champion team went 1-2 in the NIRSA Flag Football Regional last weekend at Oklahoma State in Stillwater.
This team was selected to represent Augie at a regional because they won the Augustana Men's 7 x 7 Flag Football League. The team is made up of varsity baseball players (mostly upperclassmen) who have been playing flag football together the past few seasons in the Augie league.
They went 1-1 in pool play, defeating a team from Oklahoma State in their opening game 31-6. Their next pool play game was against a team from Emporia State, and the Augie men came up short losing 20-18.
All teams entered single elimination bracket play in which Augie was once again paired up against a team from Oklahoma State (OSU BCM) that defeated Augie 27-7. OSU BCM won the championship.
Campus Recreation sponsored by trip.
"They took it upon themselves to make the 9-plus hour drive to Stillwater and compete," said Don Umland, Augustana director of intramural sports and recreation. "I am very proud of how they represented Augustana and Campus Recreation. I am sure this is something they will remember from their experiences while attending Augustana.
"The jerseys were a throwback from a purchase of jerseys worn by teams of the past. It was great to see them bust out the uniforms and represent!"
Team members include Patrick Miller, co-captain; Trey Schmidt, captain; Jonathan Berry, Austin Ford, Michael Gattuso, Zach Gooding, Dylan Grammer, Cole Green, Spencer Hasselroth, Jake Irwin, Joe Marcucci, Nate Sammer, Andy Shover and Zachary Vrbancic.