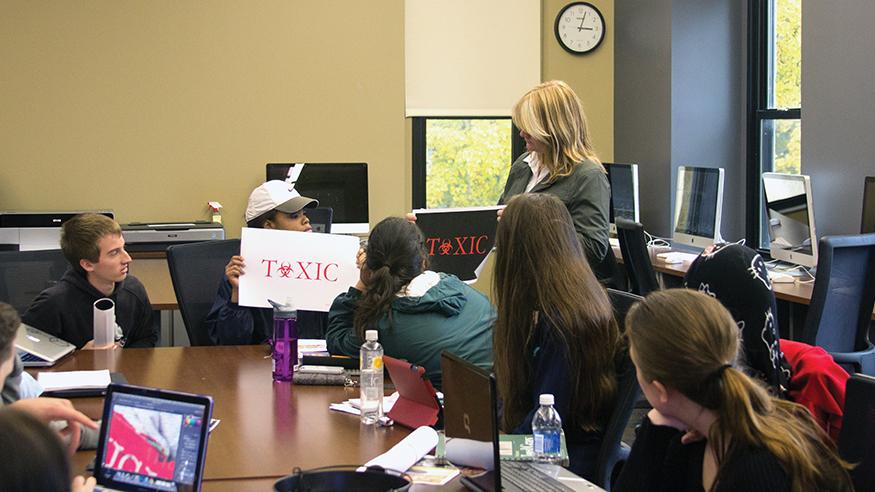 News
Five Questions: Vickie Phipps
Five Questions is a series of profiles of people at Augustana College. Contact sharenews@augustana.edu if you know someone you'd like to respond to five questions.
Vickie R. Phipps is an assistant professor of art and graphic design at Augustana.
What drew you to the field of graphic design?
First let me say, there are so many different definitions of graphic design that I collect them. A common view of graphic design focuses on production and therefore, for many, design is about learning a computer program. For me, graphic design is about learning how to think and make.
My personal definition of design? Graphic design literally means the pursuit of VIVID MEANING. Graphic = Vivid. Design = Meaning. Take a moment to consider the idea of vivid meaning. According to the Oxford Dictionary, vivid means  'producing powerful feelings or strong, clear images in the mind.' Then of course we have all the rich explorations of meaning (or the lack thereof) throughout history. In short, for me, graphic design is the quintessential version of liberal arts in its modern form. This is why I fell in love with design.
How, if at all, has teaching helped you grow as an artist?
As a maker, it is fun to be around makers. That energy is contagious and invigorates my own work.
What does your ideal graphic design department at Augustana look like 10 years from now?
For me, an ideal department means an ideal learning experience. My ideal art/design studio is a classroom on the move — a classroom of and in the world, and this exists today at Augustana: including Art and Design in Ghana, Morocco, Senegal, The Netherlands, Sweden and Norway.
My ideal art/design classroom is a classroom on the move — a classroom of and in the world, and this exists today at Augustana….
In the recent past and the near future, faculty have been or will be in Arizona and Amsterdam, Morocco and Moline, Italy and Iceland and Israel. Our current department chair, Rowen Schussheim-Anderson, has a long track record of maintaining a global art practice. Rowen has spent cumulatively three years abroad with Augustana students. In addition to traveling with Augie students, the art department faculty actively works with folks from around the globe and brings those experiences back to inform our classrooms in Old Main and the Abbey Studios and the Pottery Building. Rowen regularly teaches in Latin America over the summer. For the past two summers, I have been in Japan working with students at Kobe City University of Foreign Studies, but I have a long way to go before coming close to the high bar Rowen has set.
It is also important here to mention all the things our design students are doing individually, enabled by the hard work of folks at places like CORE and foundations housed in various academic departments. Internships opportunities in New York City and Australia and Denver and Texas, study abroad experiences in Finland and China and everywhere. 
In 10 years, I would like to see art and design have an endowment and dedicated budget line to bring in a rigorous lineup of thinkers and makers. I would like a gallery space run by faculty and a gallery space run by students. I would like a studio space where students could leave their work up for a semester or a year. But we already have the important stuff, and I hope to see this rigor going strong in 10 years.
Do you have a favorite design project you've worked on?
My favorite design project never changes. My favorite design project is always the project I am currently working on.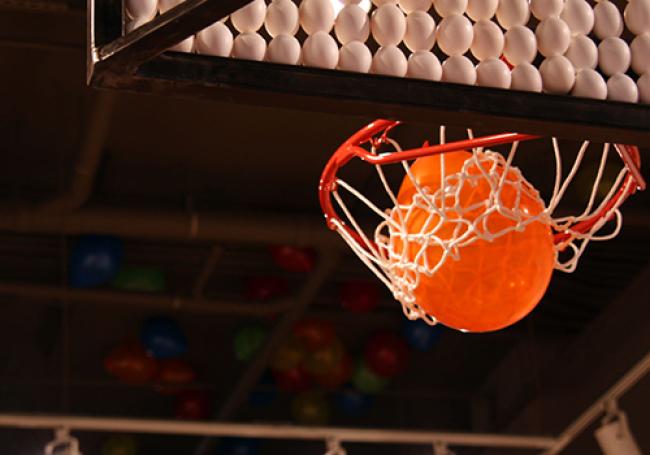 Past favorites have included work with the Holocaust Museum in Washington DC, the branding of a small town in Tennessee, designing dynamic websites to enable complex emergency response efforts for the Secretary of Defense of the United States, and pop up art shows on my art gallery on wheels. Once I had a dream about a basketball goal with a backboard made of eggs and then I made it. The result was a life size basketball goal with an egg backboard (and balloon for a basketball) for an art show. This was very satisfying.
Right now my favorite design project is working with Augustana students and the Moline Development Corporation to ask: "How can design and art activate and energize a neighborhood that is struggling from an economic perspective?"
What role do you believe graphic design has in today's world?
Today design is making our tomorrow.
— Jack Harris '20, Writers Bureau