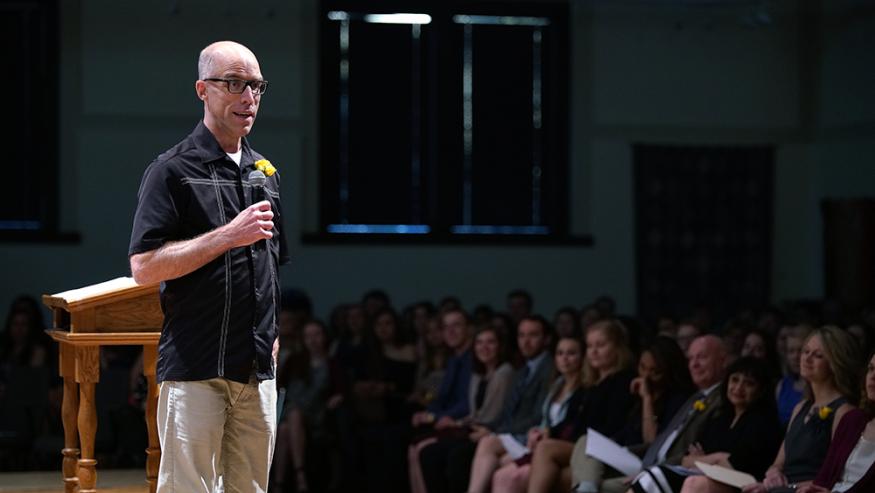 News
Five Questions: Dr. Scott Gehler
Five Questions is a series of profiles of people at Augustana College. Contact sharenews@augustana.edu if you know someone you'd like to respond to five questions.
What is your favorite part about teaching?
The unpredictability of any given day. Even when I teach the same course more than once, the personality and needs of a class change, challenging me to consider different ways that students can build their understanding. Some days I am present for their 'a-ha' moments. Other days I have the privilege of hearing how students' experiences shape their successes and failures. Through these interactions, I learn just as much from my students as they learn from me.
Please describe the research you conduct with your students.
I recently took a new direction, looking at the effects of natural compounds on breast cancer cell motility and metastasis. Natural compounds are chemical substances produced by plants, animals and other living organisms. They could potentially have therapeutic effects in treating various cancers, but relatively little is known about natural compounds as a preventative or therapeutic cure.
"If money were no object, one of my pipe dreams would be to explore how cancer cells co-opt normal cells to promote tumor progression."
What contributed to your interest in cell motility?
Cell motility is important for cells, such as nerve cells or immune cells, to move through the body as they contribute to the normal function of an organism. However, cell motility is also important for cancer cells to move away from the primary tumor and metastasize to other parts of the body. What fascinates me is how cancer cells hijack the normal motility machinery of a cell in order to spread through an organism.
What do you hope your students gain from their research experiences?
A critical component for students to learn while conducting research is the interconnectedness of cancer biology across disciplines. We have conversations about how cancer encompasses different areas of biology, but also how it is implicated in many social dimensions.
Another aspect is perspective. My students analyze research problems from numerous experimental "angles" to uncover information that will address the problem. They gain additional tools to tackle complex issues in cancer research and apply those perspectives in other areas of their lives.
If you could choose a second or different focus for your 

research, what would you explore?

Cancer does not work alone—it tricks normal cells, such as those involved in the immune response and wound healing processes, to do their evil bidding. If money were no object, one of my pipe dreams would be to explore how cancer cells co-opt normal cells to promote tumor progression.

By Rachel Reiter '18, Augustana Writers Bureau