News
Evald Hall: new name, stunning transformation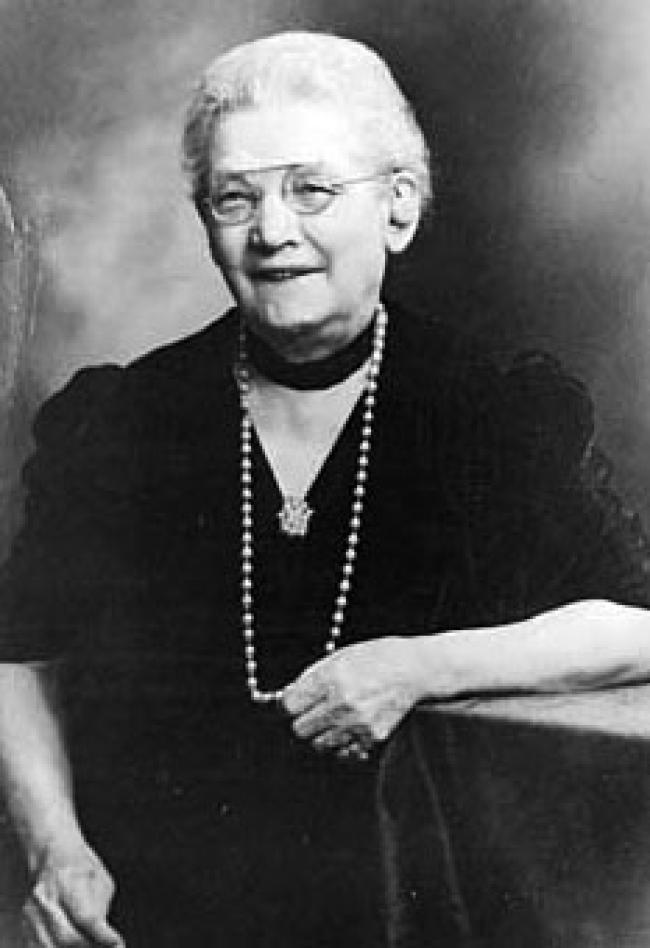 Eighty years after it was named for someone else -- and looking brand-new -- Carlsson Hall will be dedicated to the woman who envisioned it in the first place: Emmy Carlsson Evald.
The community is invited to an open house at Evald Hall from 10:30 a.m.-12:30 p.m. Thursday, Oct. 2. It is on 7th Avenue across from Old Main.
There will be a short program, refreshments and tours. The former dormitory has been transformed into a stunning new academic building that is home to accounting, business, economic, education and psychology, plus the Center for Vocational Reflection and the Office of International Programs.
Evald Hall's metamorphosis helps fulfill a goal of Augustana's strategic plan to "provide the necessary infrastructure for academic excellence and student growth." The dedication of Evald Hall also completes the second of the four major building projects of the greatest campaign in the college's history, "Authentically Augustana: A Call to Action."
Emmy Evald (pronounced AY-vahld) was all about action. She once wrote, "The powerful and willing leader is the one who says: 'Come, let's do it.' Such persons believe in themselves, in the thing they are trying to do, and in their colleagues, and they become excellent leaders. The best leader is the one who is not at all afraid of being criticized, and is not easily hurt. A person who does nothing is never criticized."
This remarkable woman once was named the greatest Swede living abroad 
Evald was critical to the hall's construction in 1928. When the need to provide housing for female students was recognized in the early 1920s, her Augustana Women's Missionary Society raised most of the money to build what first was known as the Woman's Building. (The WB, as students called it, gained national notoriety as the site of the first documented "panty raid" in American history in 1949.)
When it was converted to a men's residence in 1960, the Woman's Building was renamed in memory of Erland Carlsson, father of Emmy Carlsson Evald, who served as chair of the Augustana board from 1860-1889. The current Board of Trustees voted to change the name to Evald Hall as part of this year's renovation.
Fascinating facts about Emmy Evald
Emmy knew Susan B. Anthony, Carrie Chapman Catt, and Clara Barton.
She was a delegate to the first International Women's Suffrage Conference.
She went to school in Sweden (before entering Rockford College).
On the day when Abraham Lincoln's assassination was announced, Emmy came downstairs to breakfast and found her father, Erland Carlsson, crying. She thought God had died.
A girls' school in China was named for her.
(Contributed by Ann Boaden)
Biography
Born in 1857, she was sent by her parents, Erland and Eva Carlsson, to study at Sweden's Fryxellska flickskolan (Fryxell Girls School) in Rostad, run by Cecilia Fryxell and said to be one of Scandinavia's finest preparatory schools. She later graduated from Rockford College, where she was a classmate of Jane Addams, who won the Nobel Prize in 1931.
In 1892, Evald founded the Kvinnornas Hem-och Hednamissions-Förening af Augustana-Synoden, later renamed  the Women's Missionary Society (WMS). Led by its first president for 43 years, the WMS focused on health and education both domestically and overseas. In addition to building hospitals and schools around the world, the WMS raised more than $100,000 in support of what would become known as the Woman's Building, which opened at Augustana in the fall of 1928.
In 1922, Evald was awarded the Vasa Order by Sweden's King Gustav V. Also in the 1920s, a Swedish newspaper, Allsvensk Samling, polled its readers by asking them to name the five greatest Swedes "now living in other lands." Evald's name topped the list.
Her vitality was legendary. In one two-month stretch in 1925, she spoke 49 times in 39 churches, staying in 31 homes (she was 67). Just shy of 70 years old, Evald made a world tour to investigate work supported by the WMS in the Middle East, China, India and several European countries.
Her take on leadership was forthright, as she wrote in one of her regular columns for the WMS journal, Missions-Tidning, "The powerful and willing leader is the one who says: 'Come, let's do it.' Such persons believe in themselves, in the thing they are trying to do, and in their colleagues, and they become excellent leaders. The best leader is the one who is not at all afraid of being criticized, and is not easily hurt. A person who does nothing is never criticized." [Emmy Evald, Syskonkretsen (Siblings) column, Missions-Tidning, June 1926.]