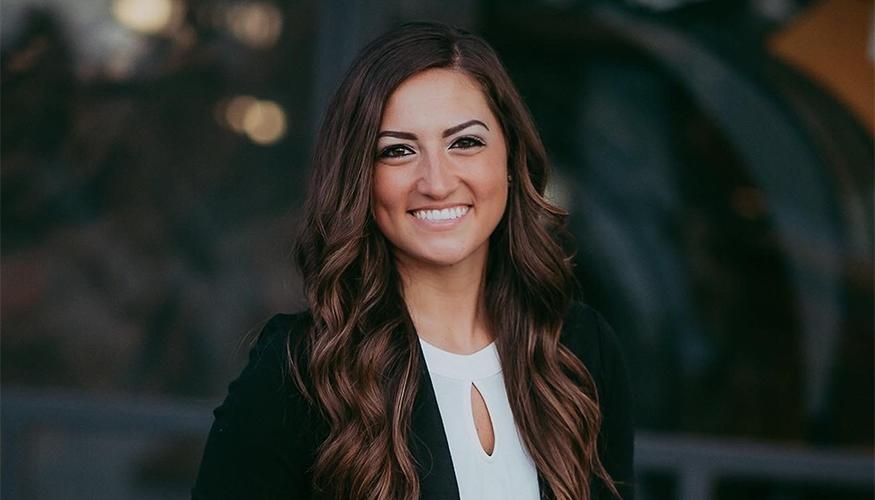 News
DeGreve '20 brings mental health support to even more schools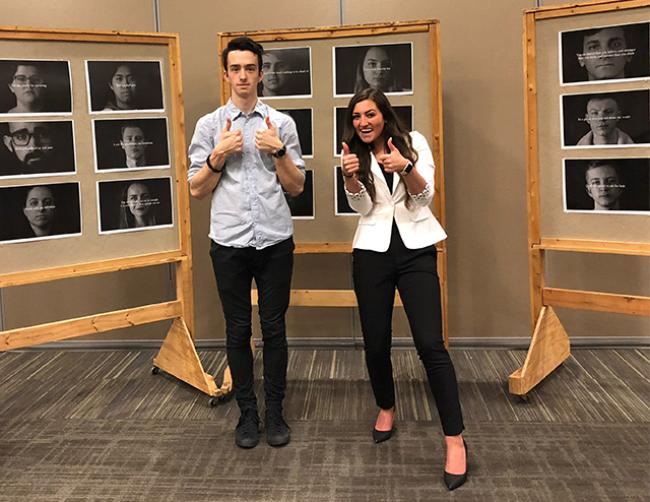 It started with posters and the hope of sparking mental health conversations on Augustana's campus. Today, Haley DeGreve's The Gray Matters Collective has chapters springing up at schools across the Quad Cities and beyond.
DeGreve, a Moline native and 2020 Augustana grad, works as a John Deere communications specialist. But if you ask her, her days are filled with two full-time jobs: the work she loves at Deere that keeps her learning and on her toes and the work she does to keep The Gray Matters Collective (TGMC) running. 
"I wish I was five people every day," DeGreve said. "From 7:30 a.m. to 3:30 p.m. or 4:30 p.m., it's tractors, construction, forestry or something else. It's a different world after work — full-time The Gray Matters. I joke with people that I work two full-time jobs and get paid very differently.
"With The Gray Matters, I receive no form of payment, but in so many other ways it fills my heart."
TGMC is a mental health and suicide awareness initiative that aims to combat the stigma surrounding mental health and seeks to push for mental health change in education, legislation and other areas. DeGreve said it started as a "natural grassroots movement" when she teamed up with classmate Kevin Donovan '20 for a poster campaign to get students talking about mental health. 
Launched officially in February 2019, TGMC now has student-led chapters at five high schools: Moline, Orion, Geneseo, Alwood and Rockridge; and two colleges: Augustana and St. Ambrose University. The growth continues, with chapters soon forming at Rock Island High School and Scott Community College.
DeGreve said she'd love to see TGMC in every school in Illinois and Iowa, and possibly even schools throughout the nation. She hopes to continue the momentum, to be able to empower people in need who will then in turn empower the next person. 
"The Gray Matters is a collective more than a movement," she said. "It's a collective of people who have been through mental health problems, or have experienced them through other people, learning together how to heal and how to find hope."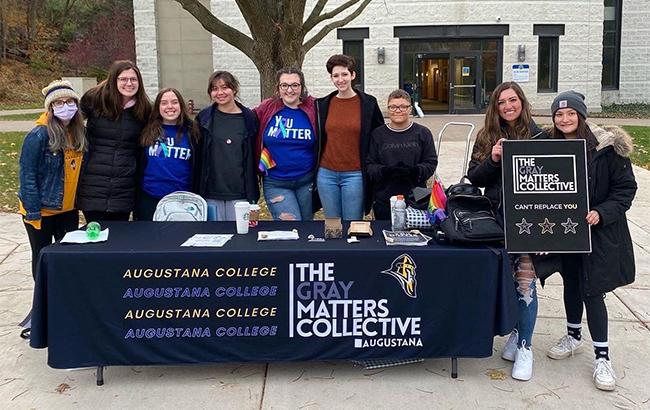 Finding the passion to help others
DeGreve, who has struggled with anxiety, depression and suicidal thoughts, said she has learned to live with mental illness and credits the place she is in today to therapy and self-care.
She also credits the support of her family and friends over the years, including Mamata Marmé, Augustana assistant professor of business administration, for pulling her through during some of the lowest moments of her life. 
DeGreve struggled during the height of the COVID-19 pandemic, and Marmé scheduled daily virtual check-ins with her to keep tabs on her health. DeGreve said she's still blown away by Marmé's personal care and her faithful support of TGMC.
Marmé describes DeGreve as an exceptional student and exceptional individual. 
"Over the time I have known Haley, she has handled horrendous personal and emotional issues with grace and without anger," Marmé said. "She has found a passion that allows her to help people struggling to articulate their problems."
Marmé said DeGreve's ability to truly listen and create safe places for others has inspired her. "She has taught me a lot about compassion and the need to have a judgment-free space available for all my students."
Sending a message of hope into schools
DeGreve said COVID-19 drove home the necessity of prioritizing mental health for everyone. It also helped TGMC hone its focus on reaching people ages 10 to 34 because suicide is the second leading cause of death for that age group.
In DeGreve's mind, getting messages of hope and resources into schools will have the greatest impact. Student chapter leaders have truly embraced TGMC and do a great job bringing ideas for awareness efforts.
TGMC can now raise funds for starting even more chapters thanks to its recent 501(c)3 non-profit status. Donations also will go toward helping those in need afford counseling services. Aiding all this growth is a board of directors and committees that focus on event and organizational planning so DeGreve can focus on strategy and vision.
DeGreve continues to spread her message of hope beyond TGMC. She said Deere has learned about her mental health initiatives and given her the opportunity to present to thousands of employees. This spring she will give a TEDx Talk in Davenport on mental health and suicide prevention.
She credits her liberal arts education at Augustana for helping her explore all her passions and to move forward in the world to make a difference. "The education I received at Augustana prepared me to not only do well professionally in life, but to take everything I learned and do something really good with it."