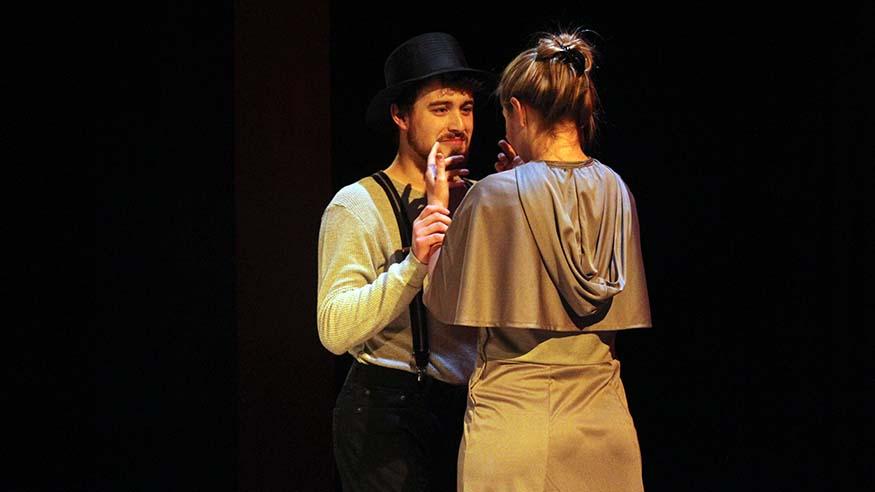 News
'The Crucible' will move into 2018 at Augustana
Augustana College's presentation of "The Crucible," Arthur Miller's classic drama about the Salem Witch Trials, will take the story out of the 1600s and into the future.
It will be presented Oct. 12-21 in the Brunner Theatre Center.
Premiering in 1953, the play is a partly fictional story and an allegory for the rise of McCarthyism in the late 1940s. The citizens of Salem are whipped into a frenzy by a series of escalating misinterpretations after a group of teenage girls is accused of witchcraft.
"I wanted to direct a mid-century classic for this year and the play that seemed most exciting was 'The Crucible,'" said director Dr. Jennifer Popple, assistant professor of theatre. "When I started thinking about what time to set it in, knowing it was written in the early 1950s and set in the late 1600s during the Salem Witch Trials, I just couldn't find a time in the past to put our production.
"It was the future that we realized held the answer for us. Our production is set in a futuristic world, where the greatest fears we have today — including degradation to the environment and continued economic disparity —  have damaged the world so much that a community like the one in "The Crucible" has responded by closing itself off from the outside world."
She said the Augustana production will focus more on the Salem girls who started the chain of events. They will be on stage most of the time, and their story will be presented at times through dance and movement, developed by Rachel Brauns, a senior student working as the play's movement director.
"Her work with the actors playing the girls will showcase their initial disempowerment and desperation to gain a voice in a society that won't listen to them," said Dr. Popple. "Their actions may be horrible but we hope it will cause reflection on times when we tell groups they aren't important in society. It can only cause ruin; our way to wholeness is to include all."
The cast includes Augustana students Jaryd Whitmore, Emily Mason, Natalie Brown, Peter Alfano and James Wheeler.
Augustana students Samantha Flipp and Tristan Odenkirk serve as stage manager and sound designer, respectively.  Rae Ellen Walker is the scenic and lighting designer, John D'Aversa is technical director and Ellen Dixon is the costume designer.
Performances will be presented in the Brunner Theatre Center. Shows are at 7:30 p.m. Oct. 12-13 and 19-20, and at 1:30 p.m. Oct. 14 and 21.
Tickets are $15, or $12 for senior citizens and Augustana faculty/staff, $10 for students and children age 12 and under, and free for Augustana students with ID.
Tickets are available at the door beginning at hour before each performance, or online or by phone at the Augustana Ticket Office, 309-794-7306. The office is open in Bergendoff Hall of Fine Arts, 3701 7th Ave., Rock Island.