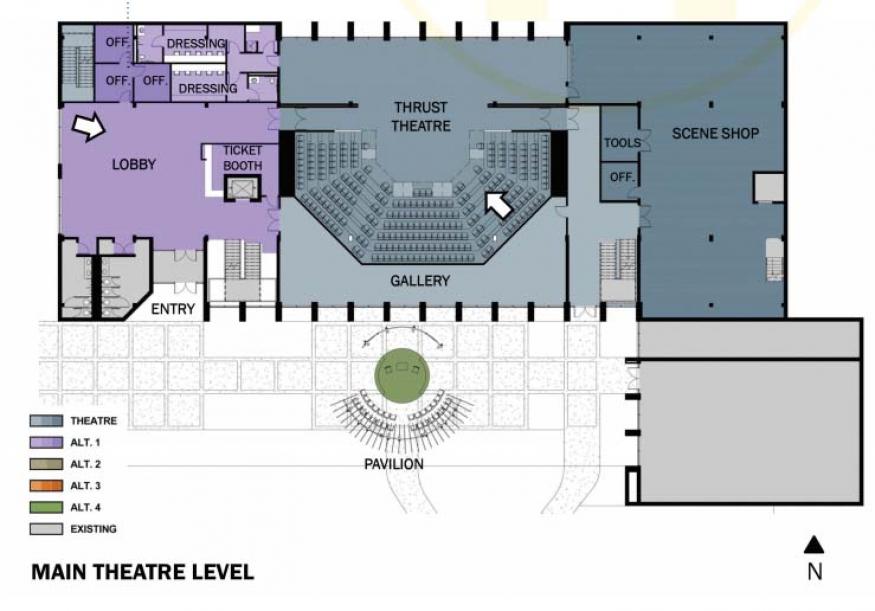 News
Construction of new theatre center underway
Augustana College's Department of Theatre Arts soon will have a new home. The college's board of trustees has given final authorization on the project that will transform Augustana's College Center into the Kim and Donna Brunner Theatre Center.
Kim '71 and Donna Brunner provided the lead and naming gift of $1 million. Kim and Donna both attended Augustana, and Kim Brunner retired as chief legal officer and executive vice president of State Farm Insurance in 2010. He also served on Augustana's board of trustees for several years, rounding out his service as chairman from 2009-2013.
"This new facility is positive proof of the value the college places on enhancing the performing arts," he said. "Donna and I are thrilled and elated to see this important addition to the campus move from concept to reality."
Donna Brunner noted that "Augustana is well regarded for its liberal arts curriculum and this new theatre will only enhance it. It offers the potential for an increased theatre presence for all of the students."
In recent months, Augustana's Department of Theatre Arts has won national honors and glowing reviews for their productions.
"This major investment in our top-notch theatre program will benefit not only those students who are theatre arts majors, but also the entire campus and Quad-Cities community," said President of the College Steve Bahls.
Highlights of the $4.2 million project include adding a 250-seat theatre that features a thrust stage and exhibit gallery outside of the theatre, a 60-80-seat black box/studio theatre, new set design and scene and costume shops, an outdoor pavilion venue and various mechanical and interior improvements. Hodge Construction is the general contractor for the project, with BLDD serving as the architects. Construction began in November 2015, and is expected to be complete by August 2016.
"A new theatre facility will allow us to produce a more ambitious season," said Jeff Coussens '80, professor and chair of the department. "Augustana will become a greater community destination for live theatre performances."
"It says a lot about our investment in theatre, and all of the benefits it can bring to students, the college and the community," added Dr. Jennifer Popple, assistant professor of theatre arts and women's & gender studies.
The project would not be possible without the generous support of numerous donors in addition to the Brunners, including the family of Ruth and Lefty Anderson, Steve and Jane Easter Bahls, BITCO Insurance Companies, Easter Family Fund, Julie K. Hamann, Tom and Wanda Hanson, Hunt and Diane Harris Family Foundation, Philip Wm. McKinley '73 and David A. Manning, and Peter and Sandee Simshauser.
Broadway director and Augustana alumnus and trustee Philip Wm. McKinley has been instrumental in planning for the new theatre. "I've been fortunate to be able to give back to my alma mater in this way," he said. This theatre will be a symbol of Augustana's commitment to the importance of the performing arts to a liberal arts education."
The renovation is part of the college's strategic plan, Augustana 2020, which includes expanding the footprint of the arts from Bergendoff Hall of Fine Arts to a "corner for the arts" that encompasses the new theatre space. Following the renovation of the College Center, the college will focus on a major renovation of Bergendoff Hall.