News
College renames hall in honor of Steve and Jane Bahls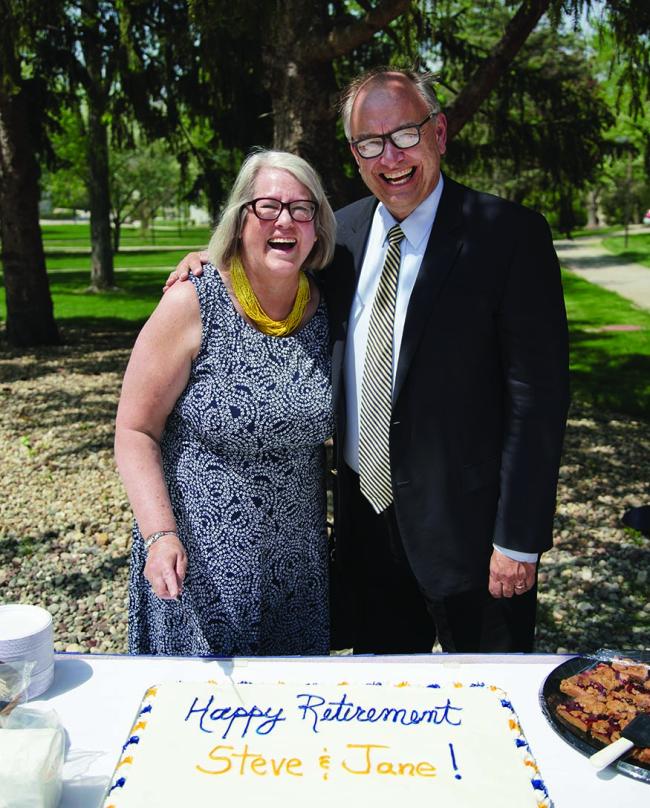 The Augustana College Board of Trustees unanimously has voted to rename Founders Hall in honor of President Steve Bahls and Jane Bahls.
The nearly 100-year-old building — which houses the Office of the President, other administrative offices and Ascension Chapel — is now known as The Steve and Jane Bahls Campus Leadership Center.
"This is a fitting tribute to an extraordinary leader and his partner and their 19 years of service to the college and community," said John Murabito '80, chair of the board..
Augustana dedicated the new space on May 12, coinciding with a special outdoor event to honor the retirement of Steve and Jane Bahls.
President Bahls' legacy highlights include:
• Successful capital campaigns that raised nearly $300 million and grew the college's endowment from $71 million to $219 million
• Strategic plans that reflected his belief that modern facilities and innovative programming are necessary to thrive in a competitive environment — six new buildings and six significant renovation projects; 18 new academic programs; and seven new varsity sports teams were established
• A foundation for an ethnically and racially diverse campus community and the hiring of the college's first vice president for diversity, equity and inclusion
• Augustana's CORE center, which has helped guide thousands of students toward their post-college endeavors.
"I've heard it said that true leaders don't create followers; they create more leaders," Murabito said. "Steve is a leader of leaders, and he's positioned Augustana for the future."
Murabito said trustees wanted to acknowledge Bahls' transformative presidency on the same level as that of past Augustana presidents: Bergendoff Hall of Fine Arts, Sorensen Hall and the Thomas Tredway Library.
Planned improvements in and around The Steve and Jane Bahls Campus Leadership Center, including renovation of the Office of the President, are scheduled for early summer before Andrea Talentino arrives on July 1, as the college's ninth president.
Alumni, parents and friends of the college who wish to make a contribution in honor of President Bahls' legacy may do so with the designation "Steve Bahls." These funds will go toward improvements for The Steve and Jane Bahls Campus Leadership Center.
Founders Hall was built in 1923 by the Augustana College and Theological Seminary. In 1967, the seminary, then administratively separated from the college, sold the property to the college.