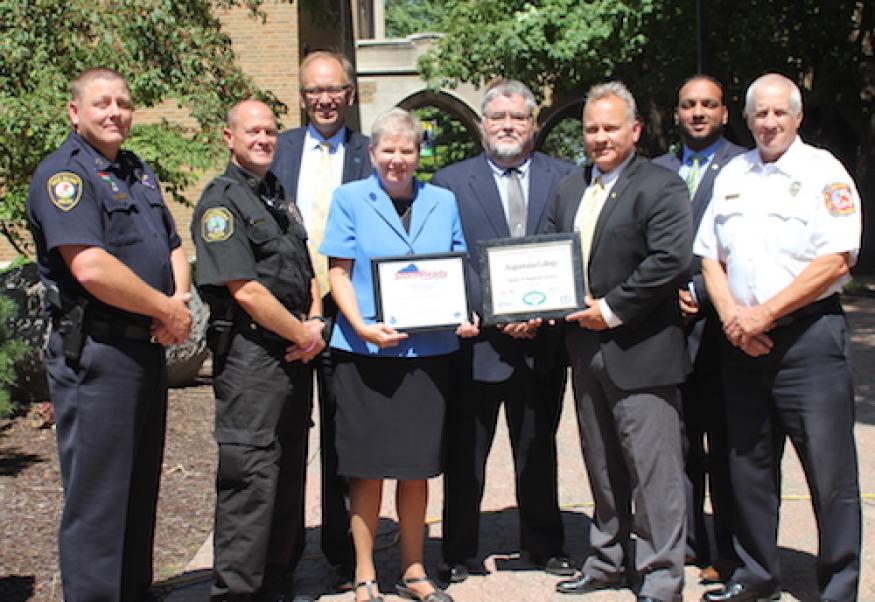 News
College recognized for emergency preparedness efforts
Augustana College was recognized today for its emergency preparedness efforts by the Illinois Emergency Management Agency (IEMA) and National Weather Service - Quad Cities office.
IEMA Director James K. Joseph commended the college for achieving the agency's Ready to Respond Campus designation and Steve Kuhl, meteorologist-in-charge of the National Weather Service - Quad Cities office, awarded the college StormReady status.
Augustana is one of only four Illinois colleges and universities to be recognized by IEMA as a Ready to Respond Campus.
"Augustana has been steadfast in its desire to be as well prepared as possible for an emergency situation," said Dr. Evelyn Campbell, vice president and dean of student life at Augustana. "We are grateful for the support of so many outside of Augustana, including the guidance we have received from IEMA and the National Weather Service, and the support of first responders throughout the Quad Cities, who have helped us prepare our campus community for any potential emergency."
Jim Fobert, Rock Island Fire Chief, and Jeff VenHuizen, Rock Island Police Chief, also were in attendance at today's ceremony. The college continues to work closely with both departments, among other local agencies, on emergency planning and preparedness.
Augustana conducts emergency drills each academic term, focusing on a variety of hazards that could confront the college. During these drills and in case of an real emergency, important messages are sent to students and college employees through a text message system. To sign up for the text messages go to www.augustana.edu/e2campus. The system is voluntary and there is no charge to use the system other than your mobile phone provider's normal fee for text messaging.