News
College plans three commencement ceremonies May 23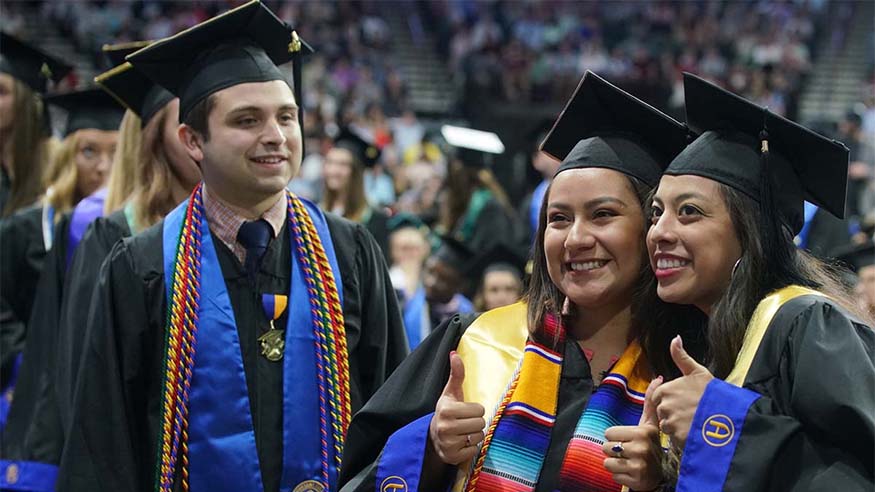 Augustana College will hold three separate graduation ceremonies for the classes of 2020 and 2021 on Sunday, May 23, in order to allow social distancing of students and families.
"The enthusiasm for celebrating the Class of 2020 and the Class of 2021 is as strong as ever," said President Steve Bahls.
"We remain committed to ensuring that the Class of 2020 and Class of 2021 experience a celebration worthy of their remarkable accomplishments during this unprecedented time."
Baccalaureate will be virtual, and will premiere on YouTube at 10 a.m. May 22. 
Senior Send-off will not be held this year.
Ceremonies and times on May 23
10 a.m.  — Commencement for the Class of 2020. Only students who have registered may participate. Students who have not registered should do so before May 1, 2021, by emailing or calling Rita Gustafson, 309-794-7322.
1:30 p.m. — Commencement for Class of 2021 students with last names beginning with A-L.
5 p.m. — Commencement for Class of 2021 students with last names beginning with M-Z.
All three ceremonies will be livestreamed and available on YouTube. Ceremonies will last about 90 minutes.
Tickets
Each graduate will receive six (6) guest tickets. Guests will be randomly assigned seats in advance. Tickets are free. Graduate themselves do not need tickets.
Tickets for the Class of 2021 will be distributed during Senior Days April 26-27 in the Pepsico Recreation Center on campus. 
Tickets for the Class of 2020 may be picked up in the Ticket Office within Bergendoff Hall on May 7 from 10 a.m.-3 p.m. and May 8 from 10 a.m.-2 p.m. 
Families also may request that their tickets be mailed by contacting tickets@augustana.edu by May 14. Otherwise, families can pick up their tickets at the TaxSlayer center on May 23 starting at 9 a.m. 
Since all guests and graduates will have assigned seats, families do not need to arrive early. The building will open one hour before each ceremony. 
COVID precautions
Everyone who enters the building will go through a brief COVID screening. The screening questions will be shared with the graduates in advance.
As a COVID safety precaution, everyone in attendance will be required to wear a mask and maintain social distance. Sanitizing stations will be available, and each group of six guests will be appropriately distanced from other groups.
For each of the three ceremonies, capacity inside the TaxSlayer Center will be reduced to approximately 20%. Surfaces will be cleaned and disinfected between ceremonies.
Anyone who feels ill should plan to view the livestream (and not attend in person).
After the ceremony, graduates will meet their families in the parking lot. Families are asked to leave the arena as promptly as possible to limit congregating in or outside of the TaxSlayer Center, and so the facility can be sanitized for the next ceremony. 
Graduates are advised to not bring anything with them that they cannot carry with them. There will be no place to store items such as bags or gifts. 
The TaxSlayer Center concession stands will be open for water and soft drink purchases only. 
Honors Walk
Instead of the traditional Honors Convocation, the college will host an Honors Walk, allowing each qualifying student time to celebrate their honors with a small group of friends or family on May 21 or May 22. Students who receive honors will be contacted by email with details.
Baccalaureate
Baccalaureate will be virtual. This beautiful service includes readings and prayers from Christian, Jewish, Muslim and other spiritual and secular traditions. The service will premiere on the college's YouTube channel at 10 a.m. on May 22, and will remain on YouTube for those unable to participate at that time.