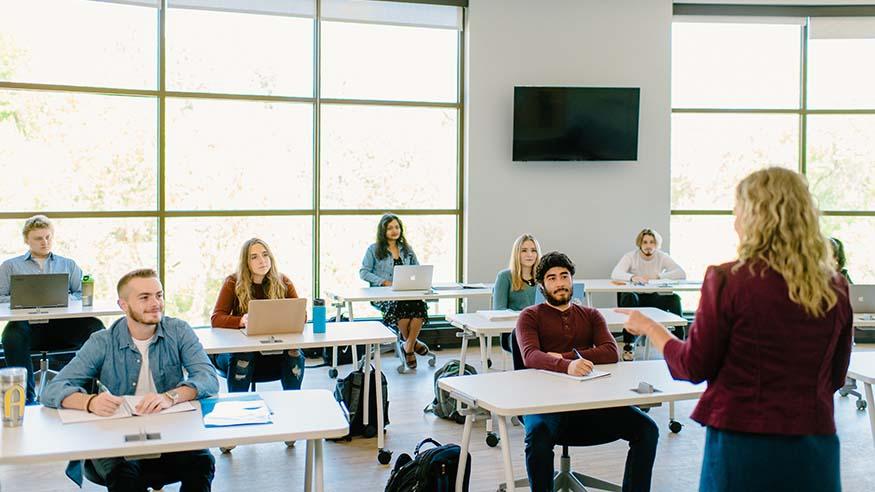 News
College plans new programs in health, film and new media
Augustana College has announced plans to add three new areas of study: a major in film and new media and two minors in integrative medicine and the humanities, and disability.
The college has added a number of new areas of study in recent years, including data analytics, engineering, kinesiology, public health, and geographic information science.
Film and new media
Augustana's current minor in entertainment and media, now a part of the communications studies department, will move to the theatre arts department and be redesigned as a film and new media major.
Within the liberal arts framework, students will develop skills in theatre, film, communication studies, business, graphic design, computer science and other areas to prepare them for developing opportunities in communications and entertainment.
"The nature of the film industry is that it draws talent from a wealth of disciplines, from accounting and finance to creative writing and theatre," said Dr. Jennifer Popple, assistant professor of theatre arts. "Students in those programs would benefit from both the facilities created by the project and by the opportunities, in internships and otherwise, to gain distinctive, practical experience."
The Quad Cities has an extensive media market and many performance venues, and Illinois is the country's sixth-largest film and media production location, targeted to become a $1 billion industry in the next five years.
In addition to film and media courses, students in this major will take courses in business, communications, writing and design.
Integrative medicine
The experiential minor in integrative medicine and the humanities primarily will serve students who pursue pre-professional degrees in health care fields. About 20% of students have majors in public health, kinesiology, neuroscience, biochemistry, biology, and chemistry, and/or pre-professional health-related programs.
The minor will integrate the humanities to nurture the ethical, emotional, spiritual and social skills necessary to prepare students to serve as health practitioners. It will establish an internship program focused on ethics and community outreach with UnityPoint Health.
"The challenges health care faces today yearn for clear-headed, evidence-based thinking," said Dr. Heidi Storl, professor of philosophy. "This minor, which integrates science with a study of humanities, fosters the kind of creative, interdisciplinary thought that will see us through the challenges facing us today and tomorrow."
Disability
The minor in disability will concentrate on the health disparities experienced by many disabled people, including a lack of understanding by professionals.
"Despite the large number of people with disabilities, the majority of nondisabled people are not knowledgeable about the social, structural, and medical barriers faced by people with disabilities," said Dr. Catherine Webb, assistant professor of communication sciences and disorders. "All people would benefit from learning more about how disability impacts people's lives."
Students in pre-health professions especially would benefit from learning more about this large minority population. When health professionals are more knowledgeable about disability, as well as the systems and structures that create barriers, disabled people receive better care, she said.
Contact: