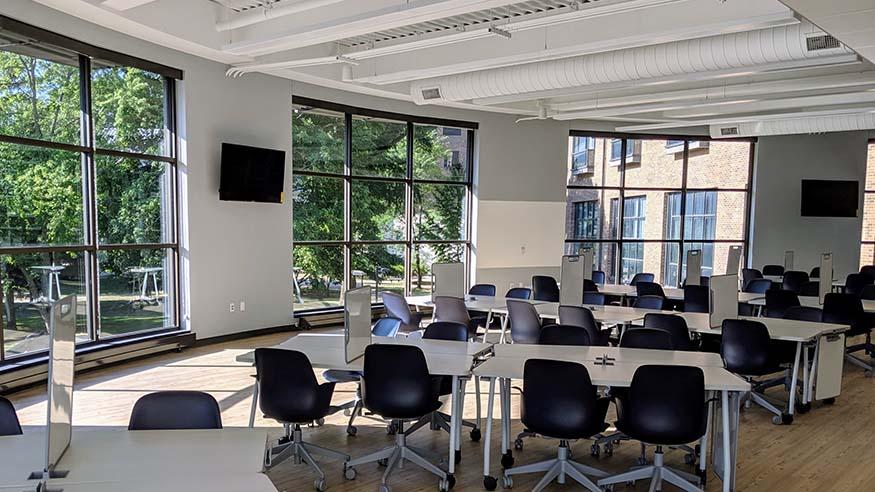 News
College opens expansion to Hanson Hall of Science
After 14 months of construction often halted by challenging weather conditions, the $8.5 million, 22,000-square-foot expansion to the Robert A. and Patricia K. Hanson Hall of Science is open on time and on budget.
A ribbon-cutting ceremony was held on the first day of classes Sept. 2.
Features include five studio-style flexible class/lab learning spaces, five interdisciplinary research labs, and four faculty offices with adjoining space for discussion and collaboration. 
"The beginning of any new academic year is a time of excitement as we consider the unlimited potential of our students," said Dr. Wendy Hilton-Morrow, provost and dean of the college. "It's evident that this expansion was built with the learning experience in mind, through flexible classroom design, the use of collaborative spaces and monitors to share work, and, of course, laboratories for study and discovery in the sciences. This will be a place where students, working closely with faculty, learn together today so that they're equipped to be our leaders of tomorrow."
President Steve Bahls also spoke and thanked the faculty who were instrumental in sharing their vision for the design of classroom and lab spaces. 
"The expansion to the Hanson Hall of Science builds on Augustana College's excellent programs and tradition of success in the natural sciences," said President Bahls. "The expansion is a perfect depiction of what Augustana students are able to achieve through a liberal arts education – flexibility, integrative thinking and collaboration." 
The labs and classrooms accommodate the changing learning styles of current and future students, and the demands of employers who expect high levels of proficiency, problem-solving and collaborative leadership in today's college graduates.
"We are honored to have contributed to Augustana's tradition of success through our partnership on the Hanson Hall of Science project," said Jim Russell, president and CEO of Russell Construction. "This building expansion is not only transforming the learning styles of current and future students, but the overall aesthetic feel of their remarkable campus. We are grateful to Augustana for trusting us as their construction partner and look forward to their continued growth."
Students who major in science programs at Augustana become leaders in almost every field of scientific study – fields that have immensely broadened since Hanson Hall opened in 1998.
Augustana sends 10-14 students to intern at the prestigious Texas Medical Center in Houston every year. This program has been so successful it served as a model for Notre Dame as it sought to establish a similar program.
For the study of biology, Augustana is ranked in the top 10% of four-year colleges and university programs nationwide, according to collegefactual.com.
The building is the latest in a series of capital projects Augustana has carried out in recent years, including the Gerber Center for Student Life, the $9.8 million renovation of Old Main and an $8 million upgrade to the track and football stadium.
The addition has been funded largely through donations, with much of it coming from the Muscatine-based Roy J. Carver Charitable Trust. Additional funding was provided through the generosity of alumni and friends of the college.