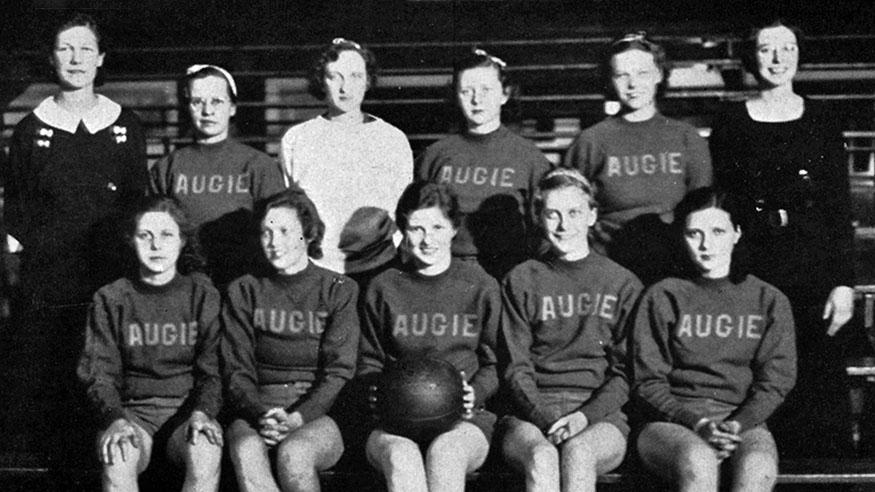 News
College names new swimming facility to honor pioneering alumna
Augustana College today names another high-profile facility after a pioneering woman leader with deep connections to the college and community.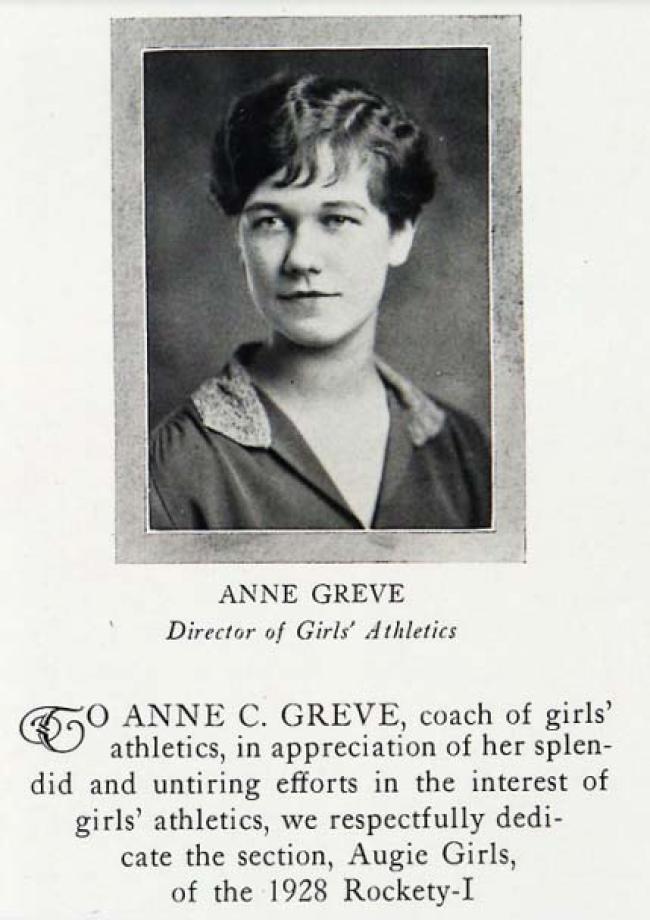 The college will name its new swimming and diving facility the Anne Greve Lund Natatorium in honor of the alumna who pioneered women's athletics here. 
"When I arrived at Augustana there were no spaces named for heroic women leaders," said Augustana President Steve Bahls. "Their stories were not being told and their impact was being overlooked. We've made progress, but we'd not yet told the story of Anne Greve Lund, whose impact almost 100 years ago was truly groundbreaking,"
Anne Catherine Greve '26 Lund was the first director of women's athletics at Augustana from 1924-1934. She assumed faculty status while still a student at the college and almost single-handedly pushed women's athletics toward the modern era.
She will join six other women — Emmy Carlsson Evald, Dr. Henriette Naeseth, Dr. Dorothy Parkander, Professor Barbara Roseman and Dean Betsey Brodahl — all of whom have been honored by the college for their leadership and impact.
The college formally announced the naming of the Anne Greve Lund Natatorium on Sunday, Oct. 11, the International Day of the Girl, to celebrate the contributions and successes of women at Augustana and across the globe.
Scheduled to open next spring, the natatorium will be housed in the Peter J. Lindberg, M.D.,  Center for Health and Human Performance. The project is part of a $18 million investment in health and human performance at the college.
'Every girl an athlete'
During her tenure, Lund organized two women's varsity basketball teams, baseball, volleyball, and tennis teams, a Red Cross Lifesaving Corps, and archery, horseback riding and riflery programs.
Her slogan was: "Every girl an athlete, participating in at least one sport," and in her decade-long tenure at Augustana, she came close to making that happen.
She also served as advisor for the Augustana Girls Athletic Association and the elite Valkyries squad. By the time she left in 1934, Augustana not only held its own with other schools of comparable size, but according to the Augustana Observer, could "justly... boast ...one of the most highly developed girls' athletic departments of any college in the state."
Anne Catherine Greve, originally from Rock Island, married classmate Wendell Lund in 1934. They lived most of their lives in the Washington, D.C., area. She died Dec. 22, 1979, in Washington, D.C.
 
A trailblazer for women
Women's and men's athletics at Augustana had separate directors until 2004, when the positions were combined.
Liesl Fowler '90, now Augustana registrar, was Augustana's head volleyball coach from 1992-2001 and the women's director of athletics from 1998-2004. 
"Anne Greve Lund was not only a trailblazer for women's athletics at Augustana, but she was promoting equality on the court and on the field at a time when advocating for women's rights in any form was not well-accepted," Fowler said.
 "I'm delighted to see Augustana name an athletic venue for one of the women who built the foundation I stand on today."
Augustana selected the International Day of the Girl to highlight the contributions female student-athletes have made at Augustana. The college fields 14 women's varsity athletic programs and 250 female varsity athletes, which is 10% of the student population. Augustana is No. 10 in the nation for graduating Academic All-Americans, an award given to students balancing the title of student-athlete. Fifty-eight are women. 
The Anne Greve Lund Natatorium will include the competition pool and viewing stands, team rooms and offices, and locker rooms. It also will include a Swim Performance Lab featuring a SwimEx pool system for sports physical therapy, training and swimming stroke analysis. 
The Peter J. Lindberg, M.D., Center for Health and Human Performance was made possible by a lead gift of $8 million from the Austin E. Knowlton Foundation. In addition, the foundation also issued a dollar-for-dollar match up to $1 million from additional supporters. Approximately $500,000 remains in this match.