Notices received as of Jan. 31, 2018.
1968
Rich Tibbits is serving his fourth term as city treasurer of Prospect Heights, Ill. He was first elected in April 2003. He also has developed, built and operated the AV Department of the city since 2008.
1970
Beth Holland retired on Jan. 2, 2017, after 37 years working as a medical technologist (ASCP) in two hospitals in McHenry and Woodstock, Ill. She earned a Specialty in Hematology in 1995.
1971
Jim Allen retired on Dec. 4, 2017. He sold real estate for more than 40 years, and is now designated as Realtor Emeritus by the National Association of Realtors.
1974
Deborah Seidenzahl VanSpeybroeck retired from Augustana's Counseling Service staff (psychologist) in May 2017, after 36 years of service.
1975
Bruce Hamming was featured in a Quad-City Times article titled "Followup file: Bruce Hamming has no regrets in choosing Augustana."
1985
John Buric was appointed to the Southwest Regional Board of Directors of Thrivent Financial Services, a Fortune 500 Company, serving 2.3 million members.
1987
Kathleen Brown-Perez is an assistant professor in the honors college at University of Massachusetts Amherst, and consultant to law firms in Boston and New York that are suing the federal government on behalf of Native American tribes.
1990
John Hitchcock has been named the chief of police in Moline, Ill. He has been with the department since 1992, achieving the rank of captain in May 2016.
1991
Annette Kuhel Seabrook is the chief executive officer for Community Rehabilitation Hospital South in Indianapolis, Ind.
1999
Paul Allen's first book, "Eleanor Cameron: Dimensions of Amazement," was published by the University Press of Mississippi. He is a Title I reading interventionist at Stevenson Elementary School in Bloomington, Ill.
Amy Kieffer Hiller had a son, Andrew Anthony, on May 14, 2017 (Tim).
2001
Richard Nelson is associate director of publishing at the American Academy of Dermatology.
2003
Eliot Mosby is managing director, Global Catering Operations with United Airlines. He earned an Executive MBA from the University of Illinois in 2014.
Jane Tiedge retired from Augustana in 2016 after 24 years as the international student advisor, and is now working at The Project of the Quad Cities, an agency that provides health management and advocacy to those impacted by HIV/STI/AIDS.
2004
Justin Georgacakis was named the winner of the 2017 Gerald J. Carroll Jr. Exemplary Coaching Award by U.S. Lacrosse. He has been the head boys' lacrosse coach at his alma mater, Glenbrook North High School in Northbrook, Ill., since 2007. He is also an assistant football coach at Glenbrook.
Mike Koepp had a son, Linus James Koepp, on Oct. 5, 2017 (Alexandra; Lars, 2).
2005
Alanna Boyd is a therapist/clinical supervisor at the Southern Arizona Center Against Sexual Assault.
Eric Johnson was selected as a 2018 Illinois Rising Star by Simmons Hanly Conroy, one of the nation's largest mass torts firms.
Amanda Lake Nelson had a son, Ethan, on Oct. 27, 2016 (Caroline, 7; Daniel, 4).
2007
Sarah Konfirst Mayer had a son, Wyatt Mayer, on Dec. 27, 2016 (Nathaniel).
2008
Maureen McGonigle McPherson had twin sons, Asher Thomas and Clark Andrew, on Oct. 25, 2016.
2009
Amy Hultquist Carter had a son, Henry Thomas Carter, on Nov. 28, 2017 (Andrew).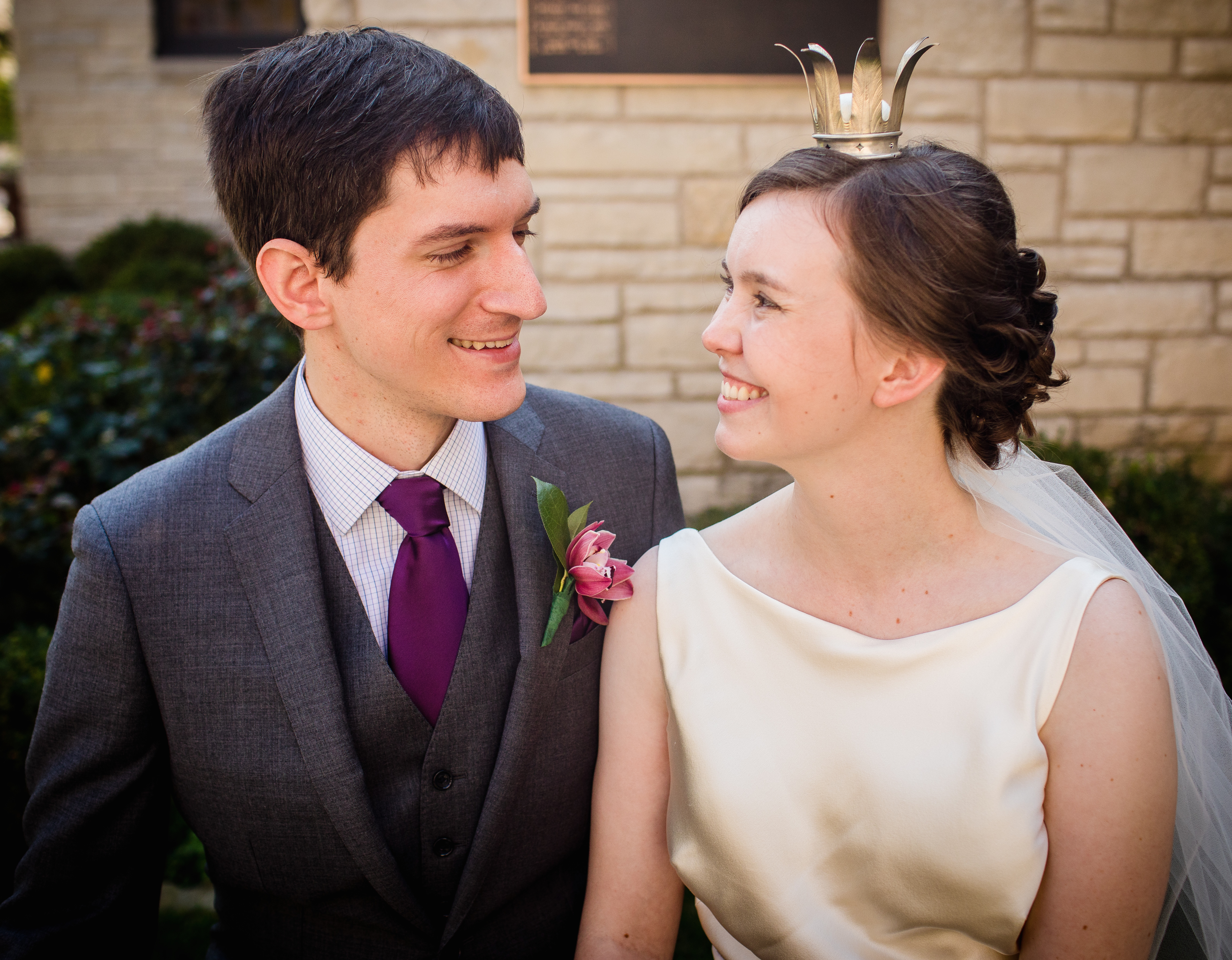 Rachel Lewis married Joshua Wachuta on Sept. 23, 2017. She wore the same crown borrowed from Augustana that her mother, Dr. Shari Holmer Lewis '72, wore for her wedding. 
Tara Bordenaro Mattiussi had a son, Andrew, in April 2017 (Dominic, 2).
2014
Hannah Estes and Austin Zarbuck were married on Oct. 7, 2017. They met while they were on the swim team at Augustana.
2015
Kristina Bowen earned a master's in public health from Emory University: Rollins School of Public Health. Kristina and Edgar Valle '15 are engaged.
Leslie Kane earned a master's in mental health counseling from Minnesota State University, Mankato. She works at the Center for Creative Arts Therapy in Downers Grove, Ill., while directing plays at Lemont High School. Leslie and Grant Bell '15 became engaged in July 2017.
2017
Erienne Davis is in grad school at Western Illinois University.
Deaths
Notices received as of Jan. 31, 2018.
Marguerite Steinke '39 Lashbrook on July 28, 2017.
Doris Quist '41 Anderson on Jan. 5, 2018.
Albert Boxerman '42 on Jan. 18, 2018.
Francis Johnson '43 on Jan. 15, 2017.
Ruth Palm '44 Johnson on Jan. 4, 2017.
Adeline Mlekush '49 Glenwright on Jan. 16, 2018.
Ernest Karlstrom '49 on Jan. 1, 2018.
Joy Montagne '51 Weissmann on Sept. 7, 2013.
Spencer Johnson '52 on Jan. 20, 2018.
John Swanson '53 on Dec. 23, 2017.
Lois Rasmussen '53 Swanson on Jan. 18, 2018.
Marjorie Dynes '55 on Jan. 23, 2018.
Doria Rosenboom '55 Eckman on Jan. 7, 2018.
Arnold Thoren Jr. '56 on Jan. 24, 2018.
Donald Anderson '60 on Jan. 1, 2018.
Karen Selander '62 Arnold on Nov. 5, 2017.
Lauren Miller '63 on Jan. 16, 2018.
William Curtis '69 on June 12, 2015.
Ronald Engstrom '70 on Jan. 15, 2018.
Bonnie Perrigo '71 Glaski on Oct. 13, 2017.
Joseph Vize '74 on Jan. 26, 2018.
Pamela Adams '81 on Jan. 11, 2018.
Kirk Connick '81 on Dec. 11, 2017.
Fredrick Desmond Cunningham '08 on Nov. 2, 2017.