1974
Donna Berg Runge was ordained and became the pastor of Our Savior's Lutheran Church in Plainview, Neb., in 2014. She married Thomas (Chris) C. Fonner on July 8, 2017. He is a retired mechanical/nuclear engineer.
1979
Cindy Carlson Boyenga, after 35 years of teaching reading and language arts at the middle school level, retired in June 2017. At the time of her retirement, she was teaching eighth-grade reading and language arts, and she was a team leader and the newspaper sponsor at K.D. Waldo Middle School in Aurora, Ill.
Renée Souba is a private practice therapist at Advanced Behavioral Health Services in Naperville, Ill.
1984
Nan Stutzman Eller is clinical director at Upward Bound Speech Therapy in Tustin, Calif.
1988
William Clay owns Pee Wee's Restaurant in Rock Island.
1990
Catherine Dangelis Angelos is principal at the John Schroder Early Childhood Center, Lombard School District 44.
1993
Anne Humphrey had a daughter, Wren Elizabeth, on July 12, 2017. This is her fourth child.
1997
Jay Howard has joined Fifth Third Private Bank of Detroit as senior vice president and wealth management advisor.
Jodi Rooney, city council member in Prescott, Ariz., is running for the state legislature.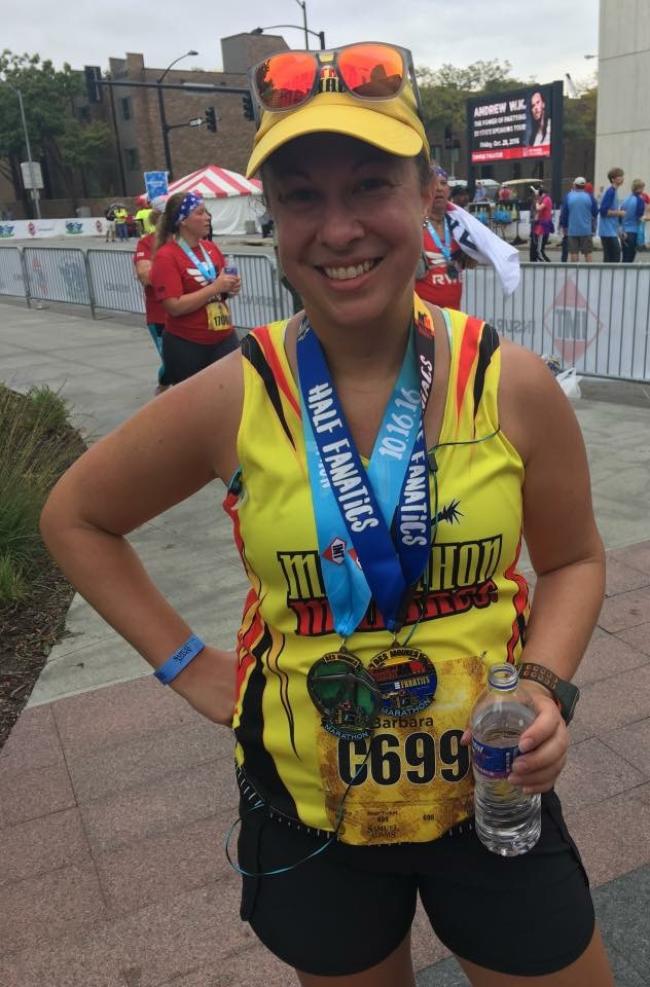 2001
Barbara Meinecke recently completed her goal of running a marathon in all 50 states (finished at Maui Oceanfront Marathon on Jan. 15, 2017). A 2007 graduate of  the Medical College of Wisconsin, she is a pediatric anesthesiologist at the Children's Hospital of Wisconsin in Milwaukee.
2005
Dawn Crowther married Nick Jonckowski on Oct. 29, 2016. They live in North Carolina, where her husband is a youth pastor and Dawn works in marketing for a local software company. She plays horn for the Triangle Wind Ensemble and is working on her latest novel.
2008
Kaitlin Bradley married Jared Holtgrave on Sept. 16, 2016. She is a physical therapist at Ann & Robert H. Lurie Children's Hospital of Chicago.
2009
Andrew Messerschmidt gives a shoutout to Augustana's swimming & diving program for allowing the Rock Island High School's swimming and diving team to practice and to host diving at the college's pool. His wife, Melissa Messerschmidt (Illinois Wesleyan grad who now bleeds Augustana Blue & Gold, he says) coached the high school's girls swimming and diving team to its first Western Big 6 conference title in 21 years.
2010
Brett Anderson married Lydia Housley on March 18, 2017.
Ashley Fuqua married Brett Darst on July 9, 2016. She is a third-grade teacher with Mannheim School District 83, headquartered in Franklin Park, Ill.
2011
Ryan Ferguson married Emily Bender '13 on Oct. 14, 2017.
Shannon Haan Westblade is the third-generation owner of Haan's 1830 Inn on Mackinac Island in Michigan.
2012
Danae deVries is an associate veterinarian at Wimberley Veterinary Clinic in Wimberley, Texas.
Katie Walker is attending optometry school to earn a doctorate of optometry.
2013
Emily Bender married Ryan Ferguson '11 on Oct. 14, 2017.
Michael Gyetvay is a senior accounting associate with Home Chef LLC.
2014
Colby Carr is a fourth-year medical student at Trinity School of Medicine.
Katie Kornaus received her secondary teaching certification.
2015
Arsal Shareef is a market specialist with Allsteel in Muscatine, Iowa.
2016
Mariah Logan is the worship arts coordinator at Calvary Church of the Quad Cities in Moline, Ill.
Jacob Torres and Kendall Smith were married on Oct. 20, 2017. Jacob is pursuing his master's at Western Illinois University.
2017
Emily Grooms is a graduate teaching assistant and enrolled in the Specialist Program in School Psychology at Western Illinois University.
Robert Rosene is a graduate research assistant and attends the University of Arkansas, pursuing a master's in agricultural economics.
Deaths
Notices received as of Nov. 27, 2017
Myrtle Engstrom '42 on July 22, 2017.
Robert Hawkinson '45 on March 18, 2017.
Greta Fryxell '48 on Sept. 24, 2017.
Warren Nelson '50 on July 17, 2017.
Francis Martin '50 on Aug. 11, 2017.
Byron Swanson '52 on Oct. 24, 2017.
George Schaub '53 on Nov. 13, 2017.
Richard Pierce '56 on Nov. 8, 2017.
Robert Butler '61 on June 2, 2017.
Richard Lovelace '63 on Nov. 9, 2017.
Brenda Graves '71 on Oct. 26, 2017.