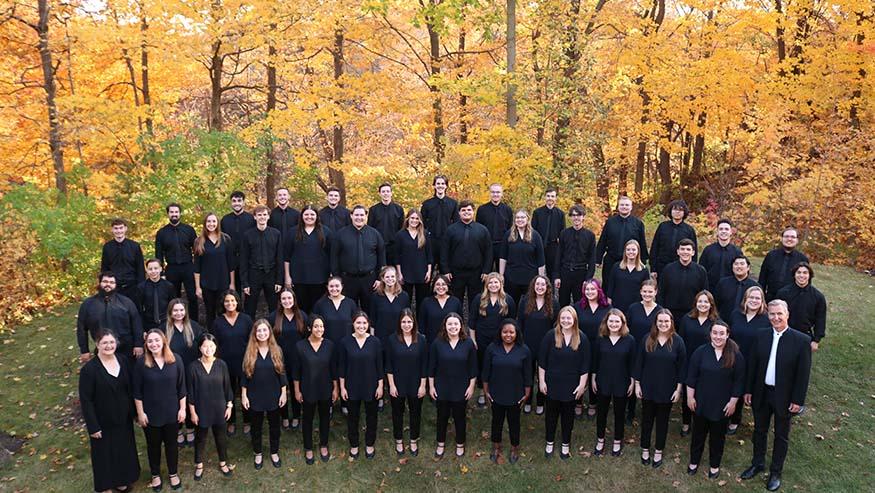 News
Choir lists spring tour stops in Midwest
The Augustana Choir, under the direction of Dr. Jon Hurty, will perform concerts in Illinois, Wisconsin, Minnesota and Iowa in March and April 2023.
The 52-voice ensemble will sing a selection of traditional and contemporary choral works. The choir is known for its innovative programming, attention to detail, and musical excellence.
The choir has a tradition of touring abroad and throughout the U.S. and has been invited to sing at many state and regional conventions. The group's most recent tour, in the summer of 2022, was to Germany and the Czech Republic.
"Our Midwest tours are always filled with the opportunity to interact with high school students," said Dr. Hurty. "We often collaborate with local high schools and have them perform a short set of music on our program and then sing together with them. This provides a rich experience, both for high school students that might consider attending Augustana as well as for our music education students. 
"Midwest tours also allow us to rekindle contacts with alumni and close friends of our program — something that is especially important to the choir."
Tour performances
All tour concerts begin at 7 p.m.
March 24: Our Savior's Lutheran Church, 3300 Rural St., Rockford, Ill.
March 25: Our Saviour's Lutheran Church, 815 S. Washington St., Naperville, Ill.
March 26: Our Saviour's Lutheran Church, 1234 N. Arlington Heights Road, Arlington Heights, Ill.
March 27: St. Luke's Lutheran Church, 300 Carroll St., Waukesha, Wis.
March 28: Luther Memorial Church, 1021 University Ave., Madison, Wis.
March 29: Abiding Savior Lutheran Church, 8211 Red Oak Drive, Mounds View, Minn.
March 30: Zumbro Lutheran Church, 624 SW 3rd Ave., Rochester, Minn.
The choir will perform a home concert at 2 p.m. April 15 at St. Paul Lutheran Church, 2136 Brady St., Davenport, Iowa.
A free will offering will be taken at each concert.
Established in 1931, the Augustana Choir has been conducted by Dr. Hurty since 1996. The choir has performed at Orchestra Hall in Chicago, and Alice Tully Hall and Carnegie Hall in New York City, as well as many major cathedrals and concert venues in Sweden, Norway, China, Germany, Italy, Austria, Japan, Korea, Spain, France and the Czech Republic.