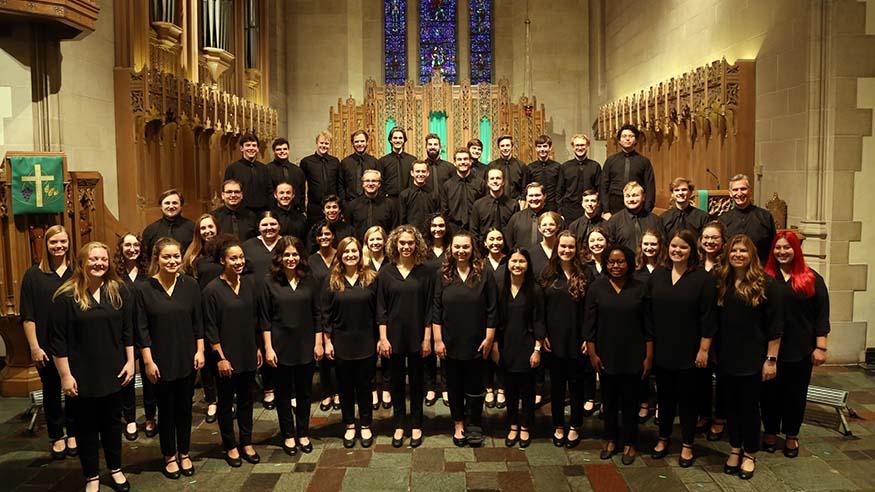 News
Choir headed for Germany, Czech Republic to perform
The Augustana Choir will perform in Germany and the Czech Republic during a tour May 24-June 7.
The choir has six musical engagements during the tour, most at historic churches such as the St. Thomas Church in Leipzig, Germany, which is associated with several well-known composers such as Wagner, Mendelssohn and Bach, who is interred there. Martin Luther preached at this church in 1539.
The group also will tour Schloss Sanssouci in Potsdam, the Monument to the Battle of the Nations in Leipzig, the Terezin concentration camp and memorial, Prague Castle and Karlstejn Castle.
The choir will offer a pre-tour concert at 3 p.m. May 15 at First Lutheran Church, 1230 5th Ave., Moline, Ill.
Tour performances
May 27: At the Hochmeisterkirche, a 1908 Protestant church in the Berlin district of Halensee.
May 29: Sunday service participation at the St. Thomas Church (Thomaskirche), Leipzig, Germany. 
June 1: At the Friedenskirche (Church of Peace), an Evangelical Lutheran church in Radebeul, Germany.
June 4: The cathedral of St. Bartholomew, a Gothic church on the Main Square in Plzeň, Czech Republic.
June 5: Sunday Service participation and short recital in St Nicholas's Church, Old Town Square in Prague.
June 6: At St. Saviour's Church, Prague.
The Augustana Choir has a tradition of touring the U.S. or abroad every two years. The 2020 tour of the East Coast was canceled due to COVID-19. The choir performed in Sweden in 2018.
Established in 1931, the Augustana Choir has been conducted by Dr. Jon Hurty since 1996. The choir's touring goes back more than 100 years to a precursor ensemble, the Wennerberg Chorus, 1905-1910.
Program
"Cry Out and Shout," Knut Nystedt
"Veni Creator Spiritus," Anthony Bernarducci
"Cantate Domino," Hans Leo Hassler
"Maalaulu," Michael McGlynn
"Improvisation for Chua-ay
"Chua-ay from Scenes from the North," Fidel G. Calalang, Jr.
"Hands, Jocelyn Hagen
"My Lord Has Come," Will Todd
"Ngothando," Mbuso Ndlovu
"Let My Love Be Heard," Jake Runestad
"Alleluia," Zdenék Lukáš
"Abendlied," Josef Rheinberger
"Hark, I Hear the Harps Eternal," arr. Alice Parker
"Shenandoah," arr. James Erb
"Wade in the Water," arr. Stacey Gibbs
"Children of the Heavenly Father," arr. Jon Hurty
The Augustana Choir
Jon Hurty, conductor

Sheila Doak, accompanist

Soprano I
Jessica Cotturone
Maria Coulter
Brianna Ebenroth
Emma Pilmer
Ariela Policastro
Abriana Tereza

Soprano II
Briana Castro
Madeleine Rodriguez
Julia Shaw
Jessa Simon
Courtney Thames
Cassidy Wiltjer
Anna Winn

Alto I
Izzy Dale
Sophie Douvris
Kaitlin Jacobson
Tamara Sneddon
Anna Triska
Sarah Walton

Alto II
Margaret Cannizzaro
Amber Johnson
Megan McLaughlin
Emma Raczka
Mattheia Rudolph

Tenor I
Colin Claytor
Caleb Conard
Ben Grafe
Nathan Maras
AJ Weber

Tenor II
Keenan Ellis
Jonathan Jaworowski
Ryan Jones
Jorge Mendez
Benedict Wood

Bass I
Eli Bates
Bailey King
Lorenzo Moreno
Jared Slusher
Xander Thomson

Bass II
George Behnke
Andrew Bradshaw
Brian Heffernan