News
Cheboi '16 is CNN Hero of the Year!
Nelly Cheboi '16 was named CNN Hero of the Year Sunday for her work with TechLit Africa, a nonprofit that redistributes recycled computers in schools in rural Kenya.
She attended Augustana College on a full scholarship and graduated with a bachelor's degree in applied mathematics and computer science. She accepted the top honor with her mother, Christine, on stage. 
Cheboi, who grew up in poverty in Mogotio, Kenya, credited her mother's hard work in raising her and her sisters for her success. She also thanked Steve Bahls, former Augustana president, and his wife, Jane, for their encouragement.
As CNN Hero of the Year, Cheboi will receive $100,000 to expand her work. She and the other top 10 CNN Heroes honored at Sunday's gala all receive a $10,000 cash award and, for the first time, additional grants, organizational training and support from The Elevate Prize Foundation through a new collaboration with CNN Heroes. Cheboi also will be named an Elevate Prize winner, which comes with a $300,000 grant and additional support worth $200,000 for her nonprofit.
She was one of 10 nominees for the honor, selected by audience voting. The CNN Hero of the Year was revealed live during "CNN Heroes: An All-Star Tribute," hosted by Anderson Cooper and Kelly Ripa.
The Bahls, who supported Cheboi during her time as a student and remain a supporter of her mission with TechLit Africa, learned of the win at a watch party they held with friends at their Montana home.
"Nelly Cheboi is one of the most talented individuals I have ever been associated with," Steve Bahls said Monday. "This is a well-deserved honor for her as she had a dream, went after it and climbed a huge mountain to get there with many obstacles. She is a role model for all Augustana students, as well as a graduate."
Bahls said Cheboi faced many barriers to achieving her work, including the struggle to ship computers across the ocean and skepticism from others about whether her dream for TechLit Africa would succeed, but she never lost her resolve. 
He said he was thrilled to see Cheboi wearing her Augustana T-shirt in the CNN video that showcased TechLit Africa's work and to see the pride she holds for the liberal arts education she gained at the college.  
"The commitment that Augustana faculty and staff have to public service was something that really motivated Nelly when she got here," he said. "She saw faculty, staff and students deeply engaged in the community and she asked herself, how I can engage in my community, especially her community back in Africa."
Jane Bahls said Cheboi and her co-founder Tyler Cinnamon have worked tirelessly to provide a sustainable way to provide economic opportunities to young people in rural Africa. 
"Being a part of Nelly's growth and development has been one of the deep privileges of our lives,' she said. "She's a remarkable young woman."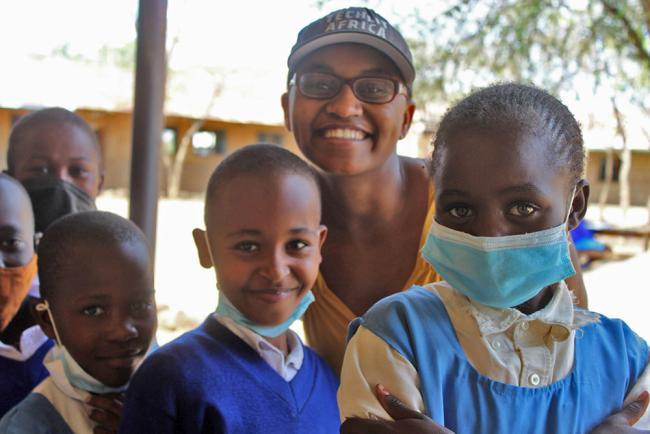 A community principle
President Andrea Talentino, who met Cheboi during a recent visit to campus, said Cheboi's leadership represents what's at the heart of Augustana's mission "to meet students where they are, and to equip them for lives of consequential leadership."
"This is a shared community principle at Augustana, and I am grateful for the alumni like Nelly Cheboi who really do change the world" she said Monday.
Dr. Forrest Stonedahl, Augustana associate professor of mathematics and computer science, who worked closely with Cheboi on a robotics research project, said he remembers her as a student who was fearless and determined to let nothing hold her back. 
"On behalf of the whole math and computer science department, we are so proud of Nelly and all she's accomplished," Dr. Stonedahl said Monday. "We're excited for all the great opportunities this opens up for TechLit Africa in the future."
As a junior, in 2015, Cheboi took the funds she earned from working campus jobs and built a school, Zawadi, in Kenya. The school is now four stories, serving about 300 students on the first floor. It is also the headquarters for TechLit Africa, with room for a literacy center and vocational classes for the community of Mogotio.
In addition to running TechLit Africa, Cheboi is a software engineer at Fuzzy, a California-based company focused on pet health care. She was honored as a social impact leader in Forbes magazine's annual "30 Under 30" list for 2022.
Another nominee with ties to the Quad Cities, Chad Pregracke, was the CNN Hero of the Year in 2013. He distributed his top prize among the other nine nominees.