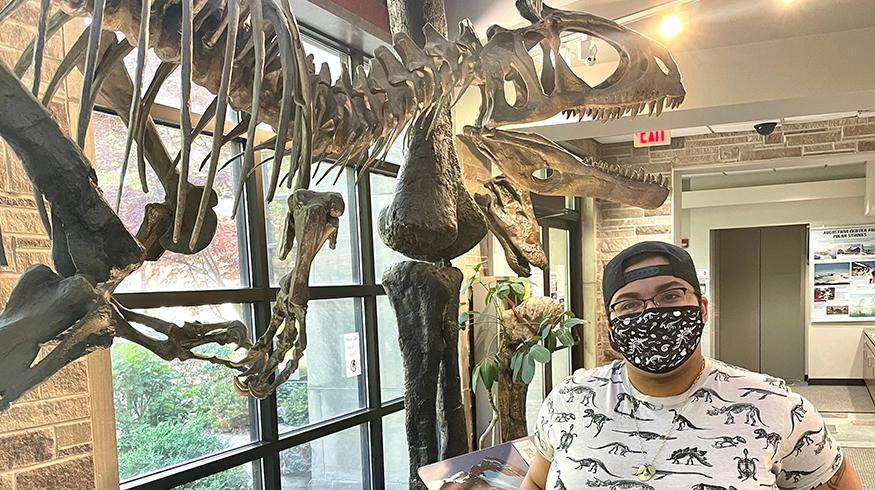 News
Celebration of Learning showcases the work behind the future of students
For Autumn Peele, dinosaurs. For Owen Greenfield, justice system inequities. For Molly Bastida, noise-induced hearing loss and the Catholic church's lack of guidance for interreligious dialogue.
On May 6, the Augustana community gathered virtually for the 2021 Celebration of Learning, the aptly named event to honor the research and creative achievements of students and faculty. From art and anthropology to philosophy and physics, 70 students delivered panel presentations and 24 delivered poster presentations.
"I was mildly concerned that we wouldn't get any submissions this year," said Dr. Mariano Magalhães, coordinator of student research and creative scholarship. "But I was wrong! Despite the uncertainty of what this virtual Celebration of Learning would look like and the very real 'zoom' fatigue that we are all experiencing, we had a phenomenal number of submissions."
"It tells me that students and faculty are still deeply committed to this part of who we are as a campus community."
Even though they are living in a pandemic, students continue to push themselves and devote their time and effort to do amazing things in their research labs, in their communities and in their creative activities.
"This commitment doesn't stop, hasn't stopped, and it was imperative that we find a way to showcase these achievements," he said, "especially for our seniors whose good work have helped them find their next adventure."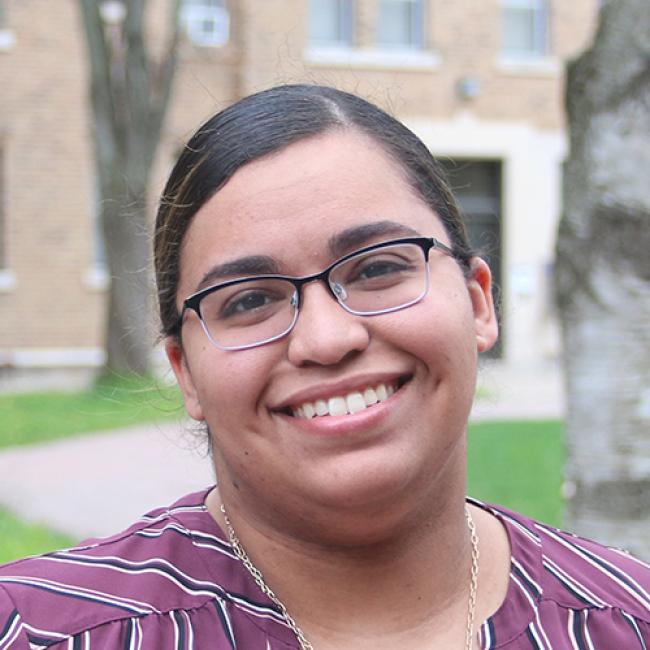 Autumn Peele '21
Geology 
"Since before coming to Augustana, all I've ever wanted to do was work with dinosaurs," said Autumn Peele, from Summerville, S.C. "Every day I walk into the paleontology prep lab is a dream come true."
At Celebration of Learning, Peele presented her Senior Inquiry research on her use of histological thin sectioning — a lab technique used to evaluate the morphology and structure of cells, tissues, and organs of fossils under the microscope — to determine ontogeny, or skeletal maturity, in dinosaur rib fossils. Her research looked at the lack of histological data from some of the most well-studied dinosaurs such as Triceratops and Edmontosaurus.
Peele's goal was to determine if histology conducted on rib fossils is a suitable method for determining ontogenetic age in Ornithoscelidan fossils. Based on her findings, she concluded it is promising.
For Peele, the months of work behind her Senior Inquiry not only led to new knowledge but a paid internship with the Wyoming Dinosaur Center this summer.
"I'll be giving tours of the fossil site to families and helping to excavate dinosaur bones and prep them in the lab," she said. "I am beyond excited and am counting down the days until it starts!"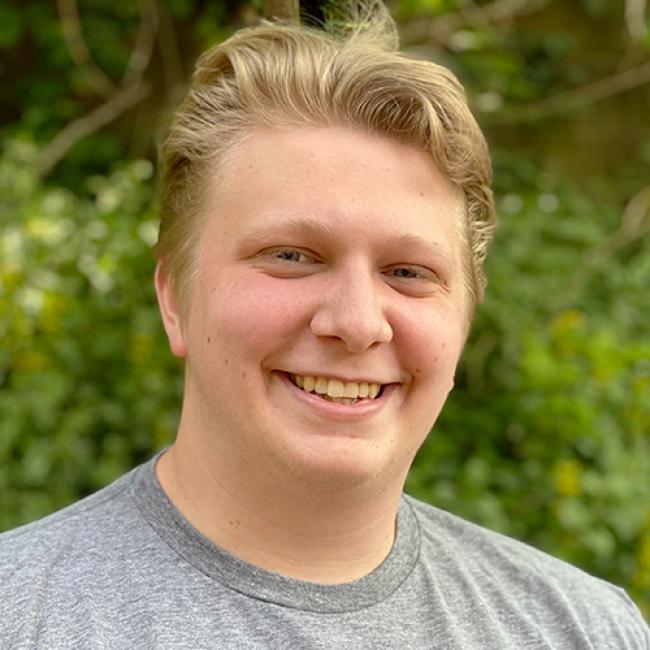 Owen Greenfield '21
Political science and psychology 
Owen Greenfield presented his research on the constitutional right for legal representation for all American citizens at Celebration of Learning. He found that the American poor frequently are at a disadvantage in regards to access and quality of legal representation.
"I wasn't even aware of this problem until I took classes in political science," said Greenfield, from Germantown Hills, Ill. "The first class I took introduced me to this issue and then with each class, the veil was pulled back more and more.
"I found my passion in those classes, and I couldn't escape it."
This fall, Greenfield will be studying at the University of Minnesota Law School.
"I'm not sure what kind of law I want to pursue, but I want to be a voice for the voiceless," Greenfield said. "The system doesn't set up people to want to do this work; it doesn't come with a big paycheck. I want to make the world a better place...the voiceless have legal needs just like anyone else, and they need help, and they're not getting it."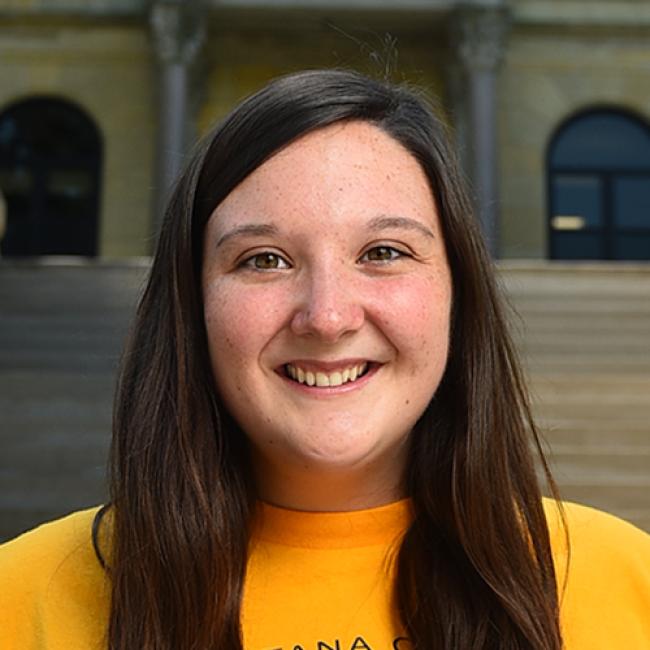 Molly Bastida '21
Communication sciences and disorders (CSD), and religion
At Augustana, students have the opportunity to choose seemingly unrelated majors that reflect their interests and career plans. Molly Bastida of St. Louis, Mo., discovered "two distinct majors that are now embedded into my values personally and as a professional."
Fittingly, Bastida presented twice at this year's Celebration of Learning. 
In her religion-focused presentation, "'Love your neighbor as yourself"… easier said than done according to the Catholic Church," Bastida found that although official church documents from Vatican II clearly state that the magisterium encourages the Catholic laity to engage in a dialogue of life and of deeds, the Catholic church does not provide any guidance to the laity on how to approach these forms of dialogue. 
Through her research, Bastida determined that the Catholic laity could gain guidance on how to actively participate in interreligious dialogue by examining the structure of a national non-profit interfaith dialogue organization, Interfaith Youth Core.
In Bastida's CSD-focused presentation, "Listen Up: Your Ears are Irreplaceable …," she explored research on college students' knowledge of safe listening practices and the hearing mechanism and theories behind effective hearing conservation programs for college students. 
This fall, she will attend Illinois State University to pursue a doctorate in audiology.
"Molly is a great exemplar of a liberal arts education, incorporating her religion and CSD majors to develop a more holistic understanding of others and our world," said Dr. Ann Perreau, CSD associate professor.
Because this year's Celebration of Learning was all virtual, parents, friends and others not on campus could watch the pre-recorded and live presentations. 
"The attendance was nothing short of spectacular," Dr. Magalhães said. "I heard that there were many people from outside Augie attending the sessions. I'd like to explore if there is some way of keeping this aspect in the future — even when we go back to in-person."