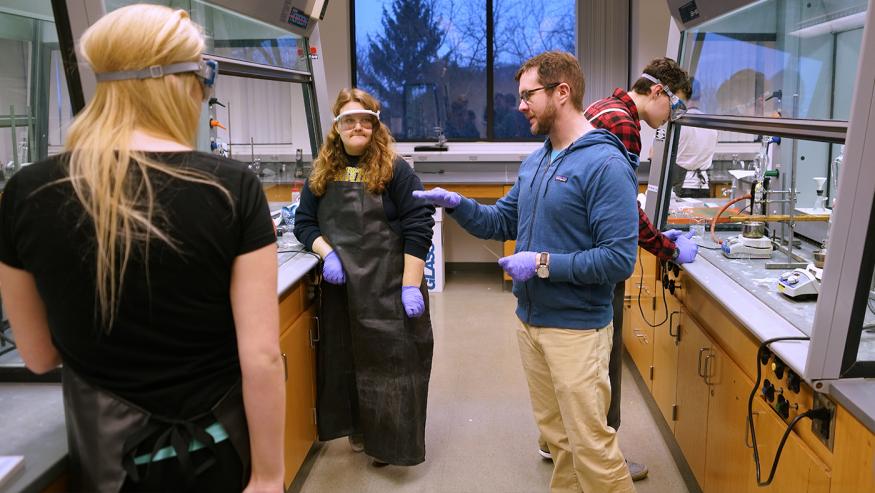 News
To catalyze your research, see Dr. Domski
In 2013, Dr. Greg Domski's new group of first-year advisees had a particularly strong chemistry. Along with taking classes together, two of those students joined another in Domski's research group, and all three worked together until they discovered something new—actually five new somethings.
The research of Alexa Gutauskas '15, Isaac Smith '17 and Joshua Zgrabik '17 has been published in the July 2017 issue of Inorganic Chemistry Communications. Their co-authors are fellow Augustana alumni: Dr. Domski '03, an associate professor of chemistry at Augustana (and their former first-year advisor), and his peer Dr. Danielle Gray '02 of the University of Illinois at Urbana-Champaign, who performed the project's x-ray crystallography.
Here is an abstract of their research: We have prepared and characterized five unreported ruthenium(II) and iridium(III) complexes supported by pyridine-functionalized N-heterocyclic carbene ligands including a bimetallic iridium(III) complex. When activated, all complexes are active catalysts for the transfer hydrogenation of acetophenone.
Why is this significant?
"My overarching goal ever since I started at Augustana has been to synthesize bimetallic catalysts," Domski said. "Two metal atoms in close proximity might cooperate, making their reactions faster at a lower temperature. Over time this means less energy input, which is better for the environment."
Training 'molecular architects and carpenters'
For any student in Domski's research groups, doing the work means learning how to "design and synthesize challenging, novel molecules."
"The reason I do research at Augustana, besides to keep myself busy, is for the students' benefit," he said. "I am basically training them to be molecular architects and carpenters—to both design molecules and build them."
…their work as carpenters will make them even more marketable in graduate school or industry.
To use the newly published research as an example: as "architects," Gutauskas, Smith and Zgrabik successfully reported (i.e., discovered) and characterized the new ruthenium and iridium complexes. Taking their work further as "carpenters," they activated the complexes as catalysts.
According to Domski, the students' work as architects is indispensible to the research. But their work as carpenters will make them even more marketable in graduate school or industry.
Fast reactions from the team
By the standards of undergraduate research in synthetic chemistry, the group worked fast. They began in the fall of 2014 and finished in spring of 2017.
2015 graduate Alexa Gutauskas had developed a liking for chemistry during her senior year in high school. She was a pre-veterinary student in the college's 3-4 coordinated degree program, but instead of transferring directly to the professional school after her third year at Augustana, she stayed one more year.
"She was so intellectually curious that she wanted to finish a fourth year for her chemistry degree," Domski said. "Without her, I would not have looked at the iridium compound in the project."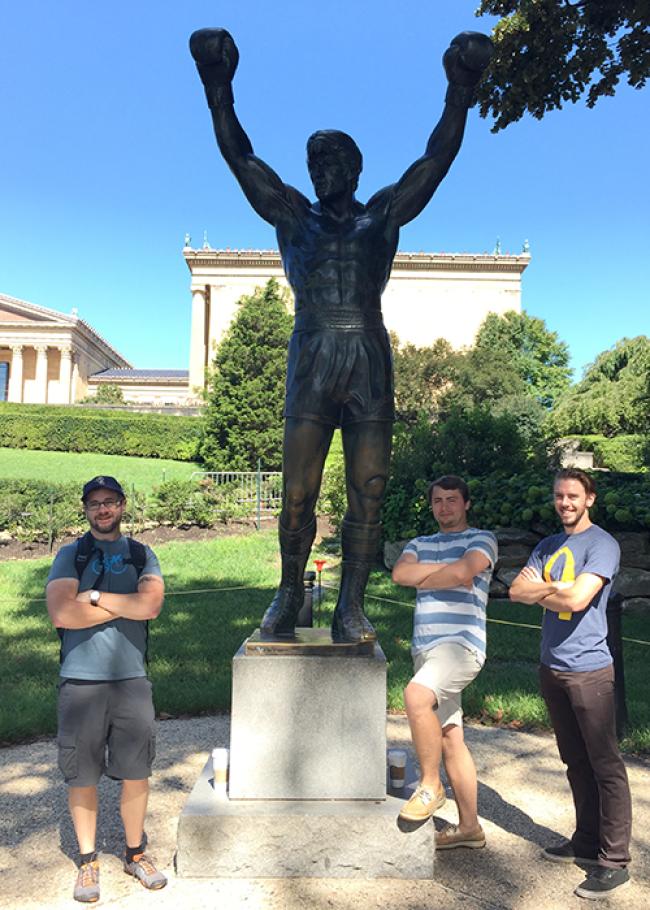 Gutauskas recalled, "We were looking for a new complex that was both stable and had even better catalytic activity for his reactions. Within my senior year, we were able to synthesize our complexes and run conversion test trials on them—which was pretty cool to have accomplished."
Now she is a third-year veterinary student at the University of Illinois in Urbana Champaign. After she graduated from Augustana, it was up to Smith and Zgrabik to complete the research.
 "Josh and Isaac, they really took the football into the end zone," Domski said.
Two days before the start of the 2016-17 school year, Smith and Zgrabik drove with Domski to the national meeting of the American Chemical Society in Philadelphia. They presented posters on their research, posed with the statue of Rocky Balboa, and then hustled back to campus for class.
Domski considers the two 2017 grads "very Augie" in the ways they balanced academics with other activities, and made the most of their college experience. Smith was a standout in Vikings track and field. In June he was named Academic All-American for the second time. Zgrabik was a Greek council board member and president of Delta Omega Nu. Today he works at the National Center for Advancing Translational Sciences in Alexandria, Virginia.