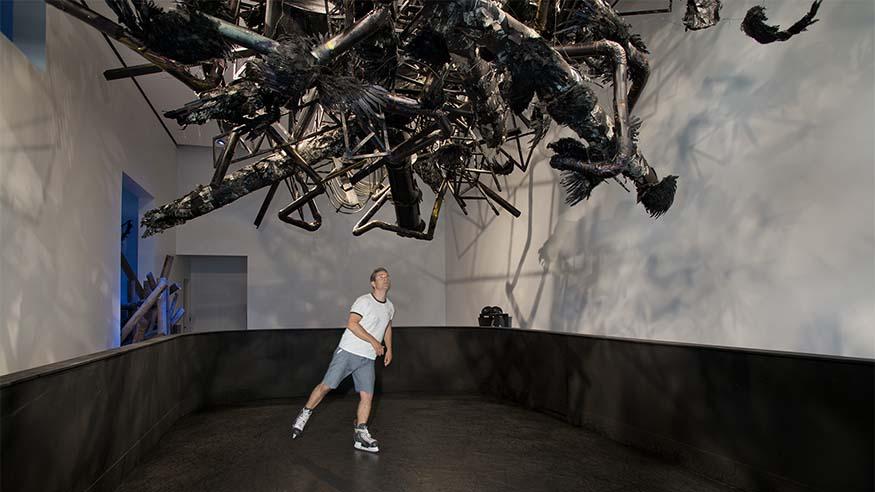 News
Canadian artist explores environmental effects of petroleum
The Center for Polar Studies at Augustana is a partner in presenting "Mia Feuer: Totems of the Anthropocene" at the Figge Art Museum, Davenport.
The exhibit runs from Sept. 21-Dec. 29. The artist is a native of Winnipeg, Manitoba, and assistant professor in sculpture at California College of the Arts.
Mia Feuer's exhibition envisions what the environment might become after prolonged exposure to petroleum products.
Her sculptures question humankind's exploitation of the environment. Visitors will encounter several installations and a one-person indoor synthetic ice rink, on which visitors will be invited to skate under a swirling vortex of ravens and uprooted trees.
The ravens and trees reference the environmental realities facing the Alberta tar sands of Feuer's Canada and to the decline of winter pond skating. The ponds on which many Canadians first learn to skate are disappearing as global temperatures continue to rise. The sensation of skating in this desolate landscape hints at the possible future.
This exhibition is presented in partnership with Davenport Parks and Recreation. Skates will be donated through The River's Edge.
Gallery talks at the Figge
Sept. 19: Mia Feuer will speak at 6:30 p.m. Her talk will be preceded by a happy hour and cash bar.
Oct. 3: Grant Deane, an oceanographer who worked to record, isolate and incorporate the sounds of melting ice and calving glaciers in the Mia Feuer exhibit, will speak at 6:30 p.m. (A shuttle will be provided to transport a limited number of students from Augustana to the presentation. RSVP to Dr. Jennifer Burnham  by Sept. 30.)
Nov. 7: At 6:30 p.m., Donald and Theresa Daradar of the Pointeau-Chien Native American tribe of Louisiana will discuss their tribe's ongoing efforts to combat the effects of global warming that threaten their tribe's land. Their work inspired Feuer to create "Mesh," one of her installations.