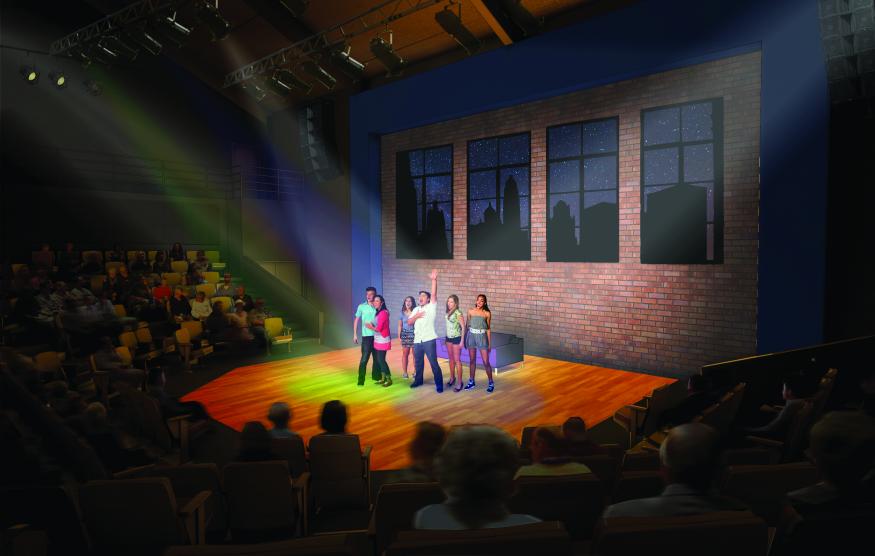 News
Brunner Theatre Center to open in August
Transforming Augustana's College Center into the Kim and Donna Brunner Theatre Center is on schedule, and the venue should be ready for the beginning of the 2016-17 academic year.
The $4.2 million project will not only strengthen the college's theatre arts program, but also anchor the college in the Quad-Cities' theatre scene.
Could Augustana's theatre arts department be more excited? Probably not.
Jeff Coussens '80 has been a familiar face around Bergendoff Hall for more than a couple decades. First a theatre student, then returning in 1987 to direct and teach, today Coussens is chair of the theatre arts department. As he sees it, "The new space will allow us to produce bigger, more popular titles that should bring us a wider audience from campus and the Q-C."
Inspired by New York City's Off-Broadway venue New World Stages, Augustana's new theatre facility will include three performance spaces: a 250-seat theatre that features a thrust stage, a flexible 80-seat black box/studio theatre and an outdoor pavilion performance area.
Philip Wm. McKinley '73, a Broadway director and Augustana trustee, was an important resource in developing the concept. His knowledge and vision for the renovation helped guide architects and consultants to develop a space unlike any other in the region.
"I've been fortunate to be able to give back to my alma mater in this way," McKinley said. "This theatre will be a symbol of Augustana's commitment to the importance of the performing arts to a liberal arts education."
The facility will create more opportunities for students from all majors to be involved in theatre productions onstage and behind the scenes. Music education majors will have greater exposure to musical theatre. Art and graphic design majors can be involved in sets and scenery; business administration majors in marketing and public relations; and students from departments across campus can explore social, political and other issues in new, interdisciplinary ways.
Here's what Coussens is especially excited about:
• The larger space and scene shop will make it possible to more easily design and build multi-level sets, resulting in a wider range of plays and musicals.
• The addition of a Black Box season will give student directors, performers, designers and technicians more opportunities to showcase their work.
• New state-of-the-art lighting equipment and more lighting positions will produce more visually stunning performances.
Construction of the new theatre center has set the stage for a new academic program as well. Beginning this fall, musical theatre will be a concentration within the theatre arts major and minor.
Creating a new academic program can be a challenge, but also a blank slate with immense opportunity. Jay Cranford, Augustana's newest theatre faculty member, prefers the latter.
"As my primary task is to develop a musical theatre program, my goal is to create a foundation of solid training to develop well-rounded, smart musical theatre artists," he said.
Cranford is a product of that vision himself with a bachelor's in music from University of Oklahoma, a master's in directing from Minnesota State University and nearly 30 years of teaching, directing and performance experience on- and off-stage.
In the spirit of a liberal arts education, Cranford has taken a collaborative approach to creating the musical theatre program. Some of this collaboration includes working closely with the music department in developing requirements and coursework and leading a musical theatre portion in the department's annual Vocal Academy with high school students in the summer months.
A new theatre center and opportunities for increased collaboration among departments align with the college's strategic plan, Augustana 2020, which includes expanding the footprint of the arts from Bergendoff Hall of Fine Arts to a "corner for the arts" that encompasses the new theatre space. After the transformation of the College Center, the college will focus on a major renovation of Bergendoff Hall for the music and art history departments.
This spring, the theatre arts department is working with Opera@Augustana to present Sweeney Todd on April 29-May 8.
Investing in the future of the performing arts
Kim Brunner '71 and Donna Huber Brunner provided the lead and naming gift of $1 million for Augustana's new theatre center.
Kim Brunner served on Augustana's Board of Trustees for several years, rounding out his service as chairman from 2009-2013. He retired as chief legal officer and executive vice president of State Farm Insurance in 2010.
"This new facility is positive proof of the value the college places on enhancing the performing arts," he said. "Donna and I are thrilled and elated to see this important addition to the campus move from concept to reality."
Donna Brunner added that considering "Augustana is well regarded for its liberal arts curriculum, this new theatre will only enhance it. It offers the potential for an increased theatre presence for all of the students."
The new theatre center would not be possible without the generous support of numerous donors. In addition to the Brunners, these include the family of Ruth '42 and Lefty Anderson '39, Steve Bahls and Jane Easter Bahls, BITCO Insurance Companies, Easter Family Fund, Julie K. Hamann '82, Tom and Wanda Hanson, Hunt and Diane Harris Family Foundation, Philip Wm. McKinley '73 and David A. Manning, and Peter '76 and Sandee Simshauser.
Within the new theatre center, the Black Box Theatre will be named in honor of Heidi Honkamp Myhre '90, who died in 1997 after a three-year battle with cancer. Heidi's mother, Joyce; her late father, Arnie; and the entire Honkamp family wanted to honor Heidi's memory with a gift for the theatre's construction.